Mother of Pearl by Davines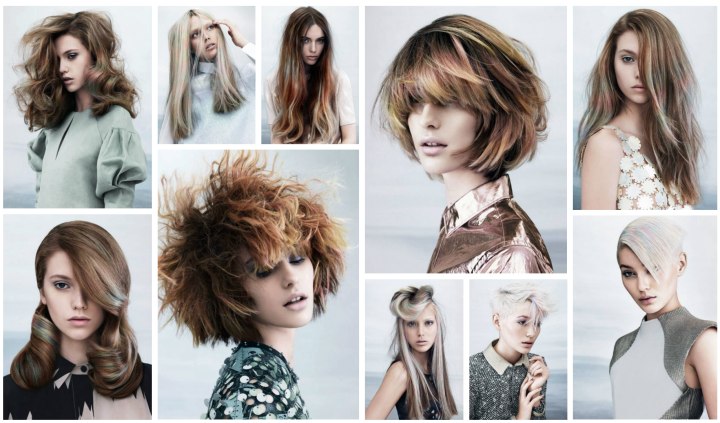 Every artist's goal is to capture light in its most beautiful shapes and forms. Using the hair as a canvas Davines now seduces us with their new Mother of Pearl Collection. Ambitious and creative, this series can only be described as poetry made into hair.

Dreamy colors with an iridescent finish, fluid pastel hues touching and complementing each other bring previously unknown luminescence into the hair and tease our eyes with their surprising effects.



All this takes place on simple cuts that are designed to be versatile and to exude a timeless elegance. The design of the cut is merely a backdrop to the hair color.


Versatile Long Fringe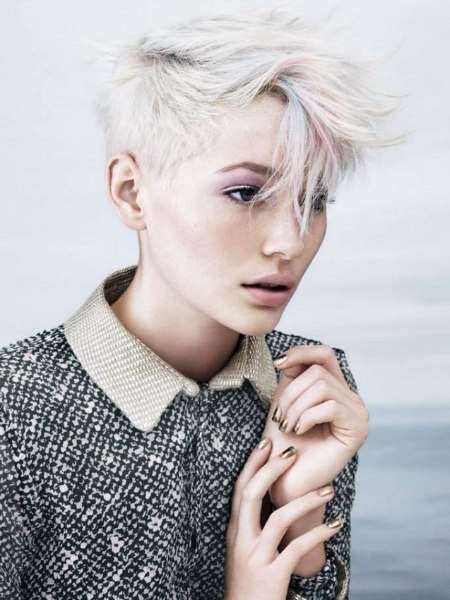 A very short haircut with a girly fringe is great medicine for the fashion blues. Clipped very short around the sides and the back, this refreshing cut stands out with its long and playfully disheveled fringe. The icing on the cake are the kisses of rose and blue pastel tones, which lift the platinum blonde hair color to this mother of pearl artistry.

The hair is styled towards the front and a part of the fringe is lifted to a wispy delight, while a few strands show a more rebellious nature.


Sleek Geometry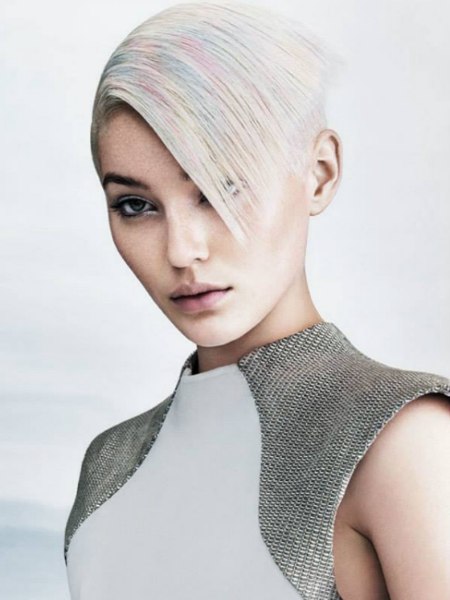 Undercuts are the hit of the season. They lend coolness and a modern edge to short cuts and allow for a variety of styling surprises. In combination with a marbled color of platinum blonde and soft pastels that float into each other like on the surface of a precious pearl from the south seas, this hairstyle is a masterpiece of balancing tough lines and a mellow, dreamy nature.

The hair is styled sleek and almost stiff with a meticulously smooth surface. It is pulled over to one side displaying its very straight cutting line. The soft blended and swirling colors are a contrast so thrilling that hair color will never be the same again.


Bob in the Wild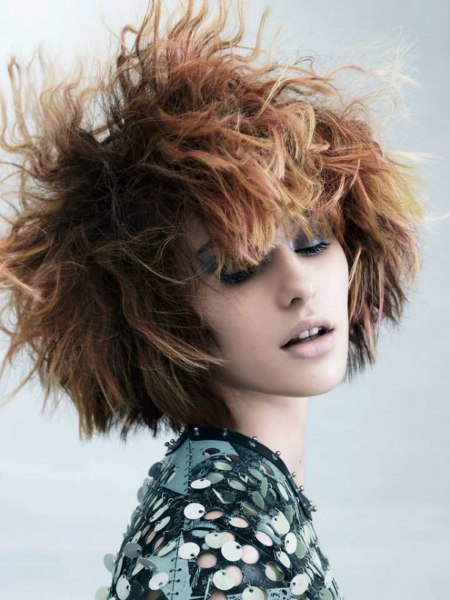 Yes, this is a bob. The grandiose and flamboyant texture take it to another world with rough waves, disheveled, teased and passionately mussed up sections. Use a good spray to make some of the hair lift of as if magically pulled by a strong magnet. The color plays a major role to create shadows and light kissed effects all for the sake of depth, dimension and magic.

Too wild for you? There is a toned down version, which still has all of the impact. Check out the next style. Same cut, different styling!


Prismatic Hair Colors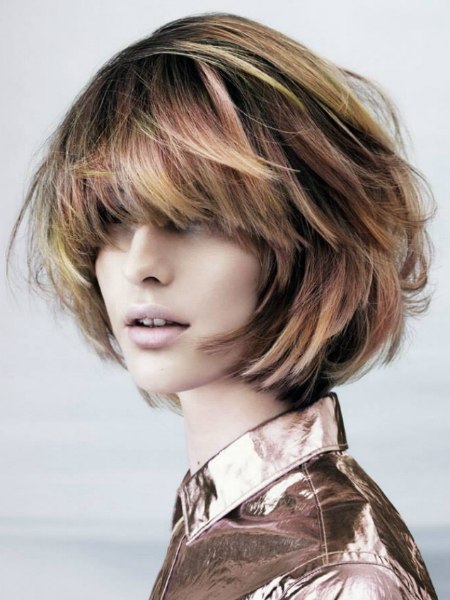 A thick bob with beautiful layers displays a serious light show with transitions of transparent hues in yellow, white, pink, back into blonde and all alternated in a spectacular, seemingly random pattern. As if the light of a prism hit the inside of a seashell.

The effect is perplexing and ever changing. The moment the wind catches her hair, a new pattern emerges. The fringe is full, thick and long. It covers both eyes and adds a very sexy element to this dramatic look with all of its movement and special effects.


Sleek Vintage with Rainbow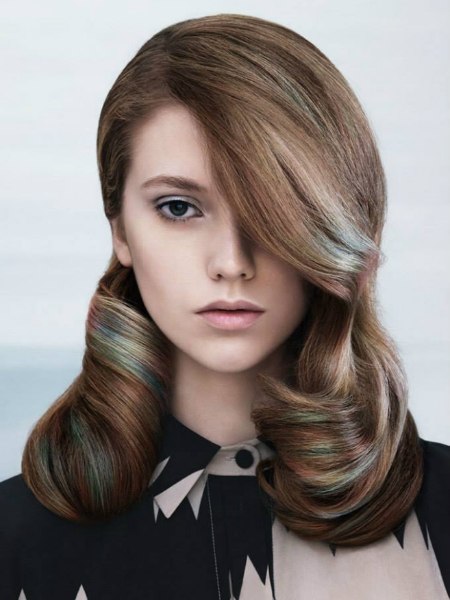 White commuting into moss green, surprisingly mixing with soft pink, turn suddenly mint green, blending with yellow, transforming into salmon, merging with white, over and over again in an endless, colorful game.



The sleek rolls along her side have a strong vintage flavor and look fantastic in their new colorful incarnation. A long side fringe is, as always, refined and stylish with a little hint of mystery by covering up one of her eyes. The smaller side is neatly tugged behind the ear. The sizzle factor in this look comes from the mix of a traditional style with a very non traditional color application.


Volume in Color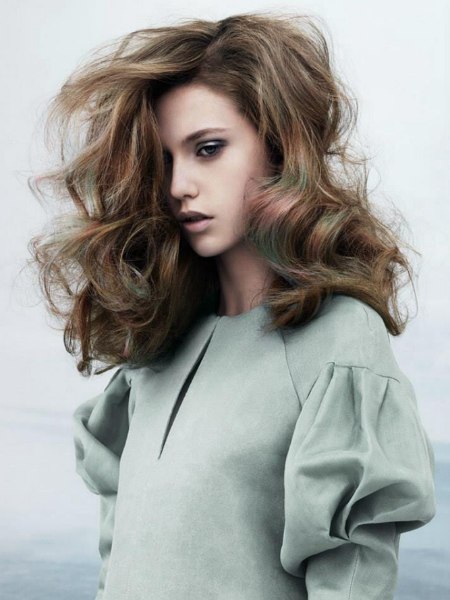 The sleek long style from before has an unexpected facet. Undo the smooth lines, shake it, ruffle and tease the hair and you get this outburst of pure joy of life with its iridescent, magical hair colors.

The tones of a forest green, a warm salmon, yellow sunshine and bright starlight interact as if they were just floating on the surface of the hair in an ever changing pattern of colored light. A muted rainbow illuminates her dark blonde base color and turns the big, layered mane into a voluminous expression of art.


Slender Lines with Colored Illusion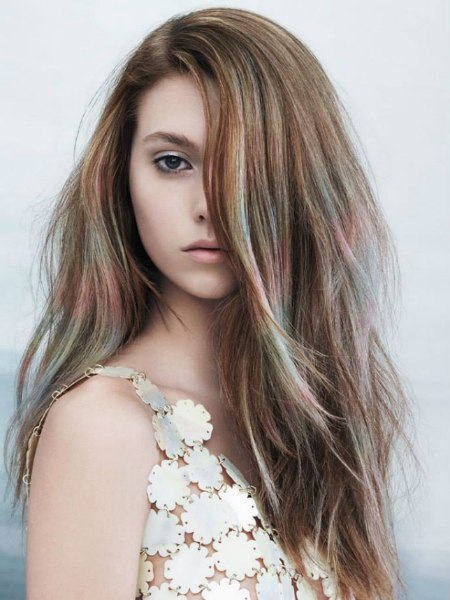 There is nothing wrong with being flamboyant. Especially not when your hair looks like out of a mystical story and has a truly cosmic shimmer as it can be seen here. Her cut features long layers with fine texture in the tips to make them even lighter and wispy. It was styled with a side part and much blown in volume.

The sheer hair color was applied in soft horizontal lines that float into each other without any harsh separation. The effect resembles that of light that shines on the hair through a stained glass window. She wears it open an casual, just letting it be free and letting the color speak for itself.


Looped Fringe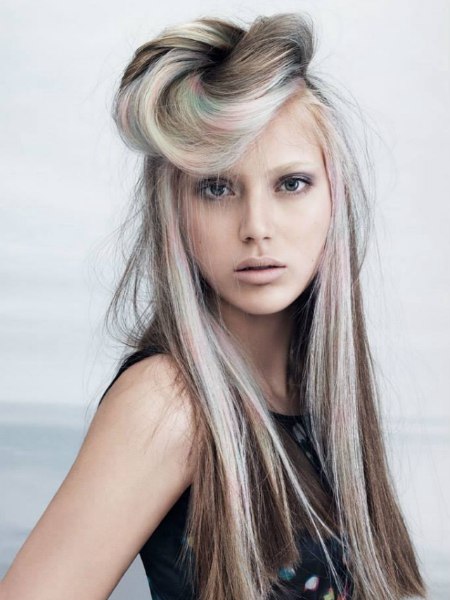 A quick and stunning transformation if you want to give your sleek long hair a major dose of excitement. A thick section was gathered right from the very top of her head and the front. This strand was then twisted around itself and softly arranged to a looped knot, partially falling into her face.

The dark ash blonde and light mother of pearl colors of her hair create a most intriguing pattern on her crown, which is balanced and soothed again on the sides, where the colored strands run straight and with a clear definition from top to bottom.


Deep Sea Lightning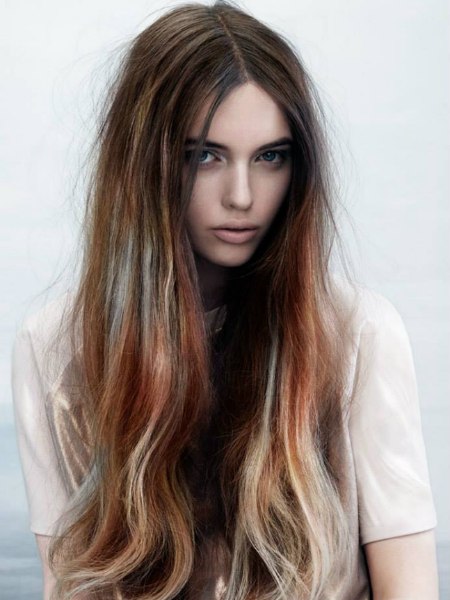 Emerging mermaids wear their hair long and in softly separated strands that are kissed by the reflection of the moonlight, which bounces off the waves and gives their hair this iridescent mother of pearl effect.

Patches and strands of this ethereal shimmer sit upon a dark brown and red base. Her hair is parted in the center and left to fall freely. A little bit of unruliness is a very welcome effect to soften it all up. The tips gently curl. Keeping the mystery alive!


Long Simplicity with Pastel Hair Colors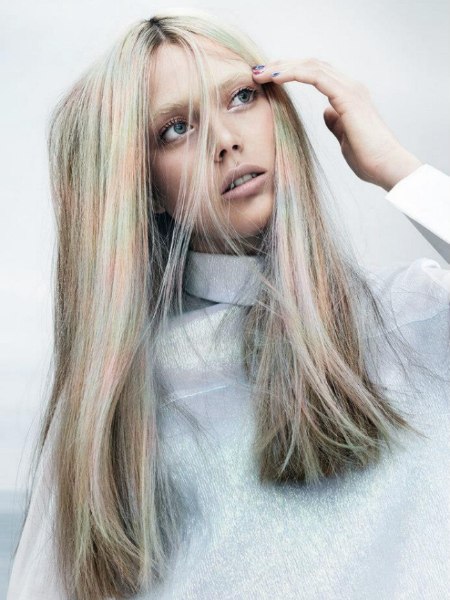 Pearls and the mother of pearl covered inside of shells are among the most beautiful things to behold. The fragmented light, the plays of the finest pastel tones in their fluid yet frozen movement, has fascinated us since ancient times.

Taking this concept and adding it to a thick long mane, is therefore more than breathtaking. A center part is all she needs, as what counts is the sublime play of colored light, that is so subtle and refined that one my even think of it as a mirage.

Artistic Director: Angelo Seminara for Davines
International Creative Color Ambassador: Edoardo Paludo
Make-up: Mel Arter @ CLM
Nails: Mike Pockock @ CLM
Stylist: Niccolò Torelli
Photographer: Andrew O'Toole