Fall Jewels by Clive and Co.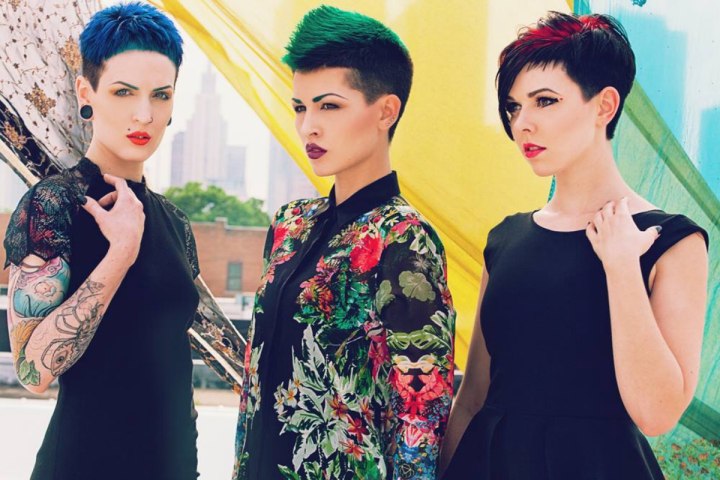 Ruby, Emerald and Sapphire add bold and bright tones to hair fashion this fall. When the days get darker it is just the right time to beautify yourself and the world around you with strong hair colors.

Get your glamorous sparkle on with the new styles by Clive and Co. Artistic Team. Short haircuts with a strong design are dipped in the most amazing, translucent and even transcendent colors with an inner glow that is just breathtaking.


Ruby Fire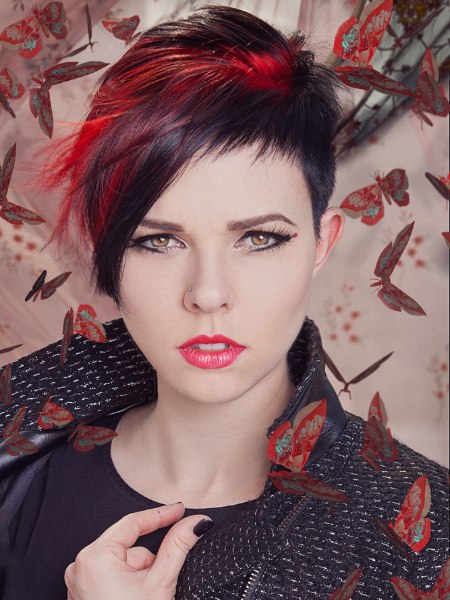 The red accents run through her short black hair like a glowing flow of fresh lava. The contrast makes the fashion color stand out strong. Not that the haircut is not dramatic enough with its varying lengths, a short partial fringe, texture galore and much length on top to create fun styles with.

Asymmetry and diagonal lines make it dynamic and cutting edge, but it is the flash of color that really catches the eye.


Emerald Expression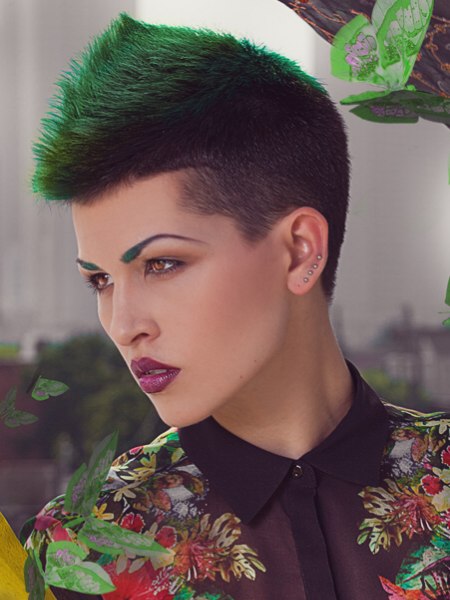 The grass may not always be greener on the other side, but this hairstyle definitely is. Undercut and a clipper cut back with a smooth graduated line from the neck to the front. It comes with a texture as fine as the feathers of an exotic bird.

The sides and back are black, which moves into a deep and rich emerald green that seems to radiate from its very core. A beautiful interplay of cut and color is executed with meticulous precision. This very short hairstyle works well for thick and dense hair.


Androgynous in Blue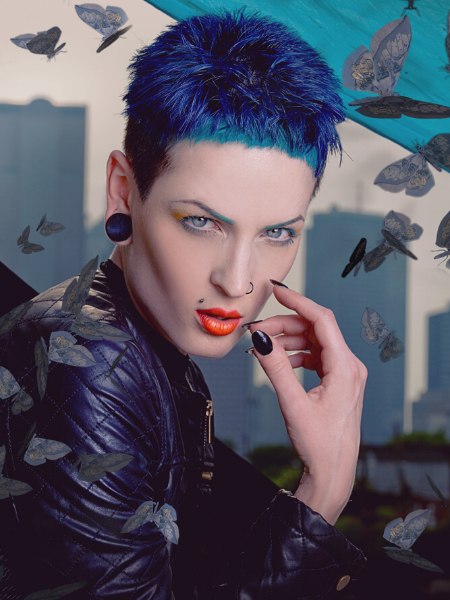 Blue is one of the most unusual hair colors and can be extremely flattering. This stunning look is dipped in a beautiful sapphire hue and even has a thin turquoise edge along the absolutely minimal fringe. The fringe is not longer than the diameter of your little finger.

The sides and the back are dark to increase the brightness of the blue color. All around the hair is clipped short so that it stands up to little spikes almost by itself. Pair it with a daring lipstick for the ultimate effect!

Hair: Clive and Co. Artistic Team
Make-up: Kaia Bellanca
Photography: Phoenix Taylor