Color Time by Gandini Club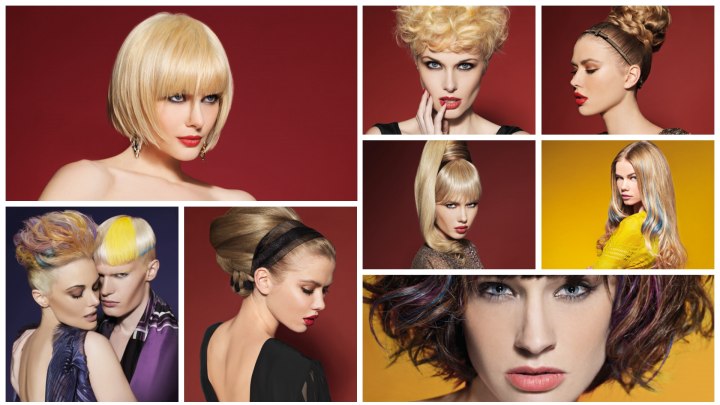 Add some color to your hair and let the spirit of this season carry you away with its happy confetti tones in hairstyles that are full of beautiful drama, high elegance and modern finesse rooted in classic style. Vintage looks are made over with stunning effects.

Color can come in many ways, either be applied onto the hair with candy tones or as accessories that are tied in and wrapped around. The outrageous hues are set against natural colors and captivate with shades from a lagoon turquoise to a bright yellow.



Long luxury or extravagant shorter looks are made to wake us up from our routines and to get those energy sparks back that come from playing with fashion and hairstyles.


Fire and Ice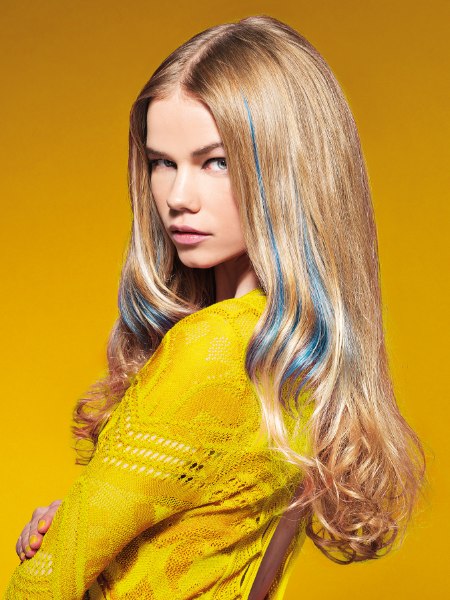 With this much length and color the styling of the hair can be simple. You don't want to distract from the fireworks of color and the exquisite mane with too many tricks, so the blonde hair is simply parted in the middle and falls evenly around the head.

Some layering rounds off the shape, gives it a nice curly volume in the ends and also creates a beautiful oval frame for her face. Blue streaks in a tropical lagoon color adorn the sides and an intense red blush brings some heat to the curls in the back.


Retro Volume Revisited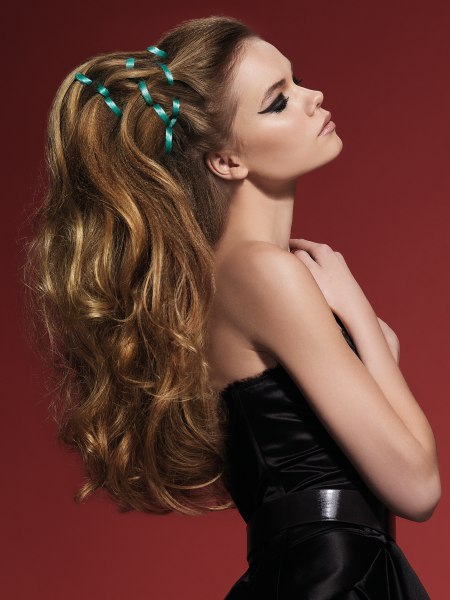 Barbarella would have loved this long hairstyle. Dive into sensual, seductive luxury with an enormous volume, waves and a great styling idea. The hair on the crown was separated in thick strands which were then tied with brightly colored hair accessories in a stacked and alternating pattern.

You can use elastics or small clips to achieve this effect. This technique lifts the hair to new heights and lets it fall down in a huge cascade of honey colored pleasure. Golden highlights deepen the effect.


Bewitching High Ponytail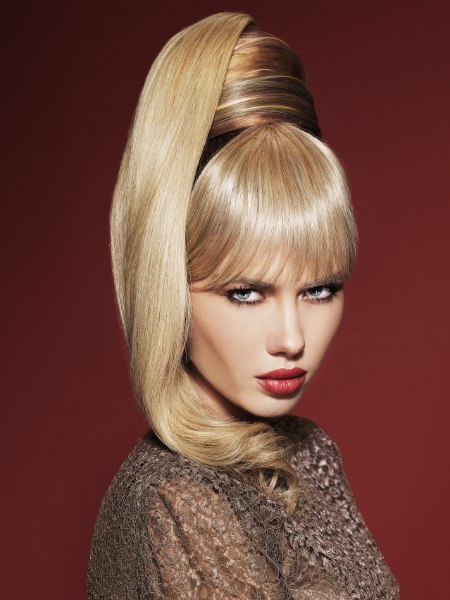 Spread some magic with a quintessential 60s look, which seems to have jumped right out of the famous show "I dream of Jeannie". It is easier done than it may look, but a helping hand is a good idea to get this amazing look for a night of opulence and festivity. The well brushed hair was gathered at the top of her head and then a wide strand, either of the own hair if you have lots of it or as a separate hairpiece / extension.

If you use a hairpiece, real or fake, it gives you more opportunity to play with the color. Here the wrap harmonizes with her vanilla blonde. This technique gives the ponytail this stand and amazing altitude. A silken and smooth surface for bangs and tail are essential. Use a smoothing serum to tame potential fly-aways.


Braid and Hairband Upstyle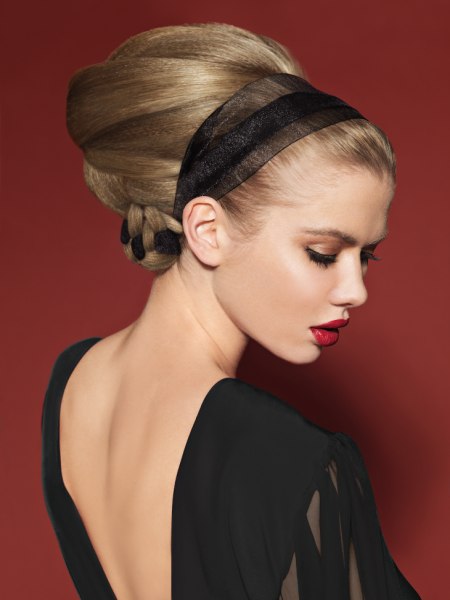 This most elegant upstyle combines a classy round, voluminous shape with an intricate braid, which also includes a part of the black headband.

The ends of the transparent and shiny chiffon band were woven right into it. This not only holds the headband in place, it is also a most delightful optical effect that will make people wonder how you did it!


Braided Bun with Belted Headband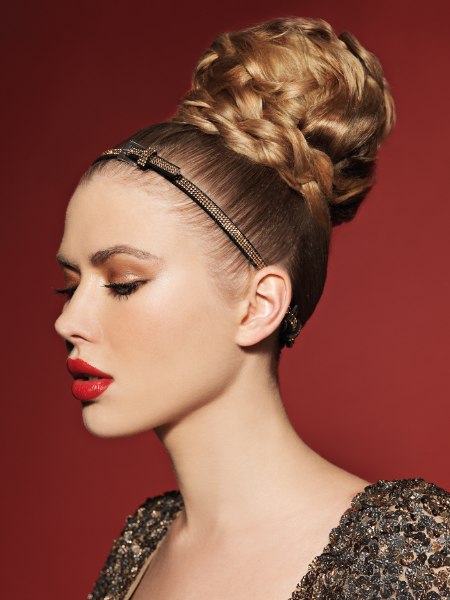 Bring a little "wow" into your upstyles by using braids and a classy headband! The giant bun was made by rolling a braid, which is tight in some place and more loose in others around itself, or if you have less hair, around a foam insert.



If you lack the length, use an extension or faux braid and do the magic that way. This headband uses the design of a belt and hundreds of rhinestones to bestow some glamour on the precious look.


Shake and Go Style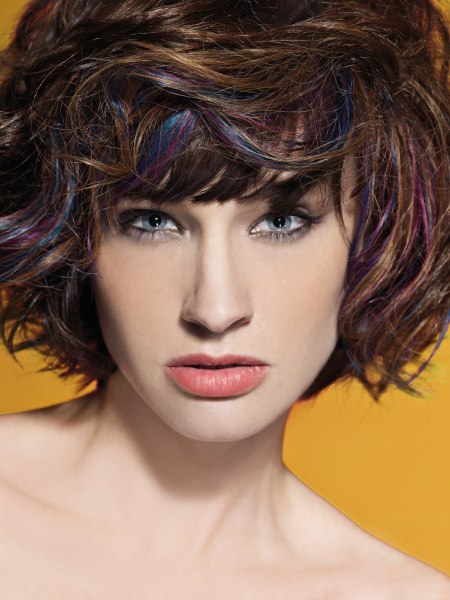 Such great layers make styling a breeze. Wash it, shake it, shape it and go on with your life. Just add a little mousse to keep that lively volume this full for the entire day. A straight fringe peeks out underneath all of the beautiful commotion and brings balance to the style.

What makes it pop is the unique color effect of electric blue and purple streaks around the face that are just flowing with the rest of the wispy texture.


Ravishing Bob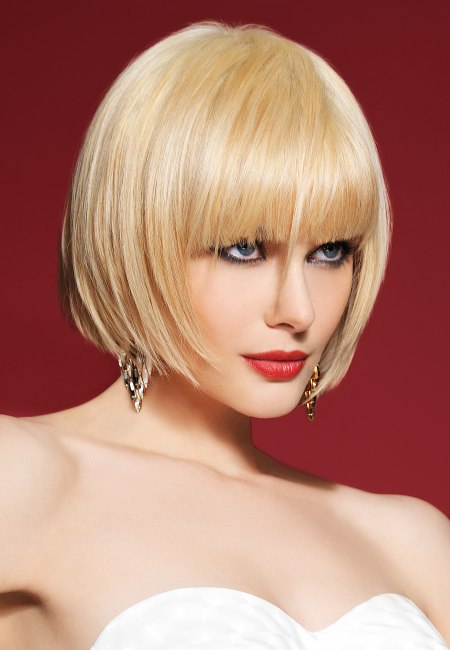 The amazement of the many faces of a bob never ends. When you think you have seen them all, someone comes up with yet another trick to make the evergreen classic all new. In this reinvention all the elegant classy essence is still there, but now with just a few strands that are longer than all the others in the bangs.

A little can make such a difference and bring a sassy edge to the beloved hairstyle. The front corners lavishly smooth themselves to the shape of her face and make it even more sexy.


Short Hair with Top Curls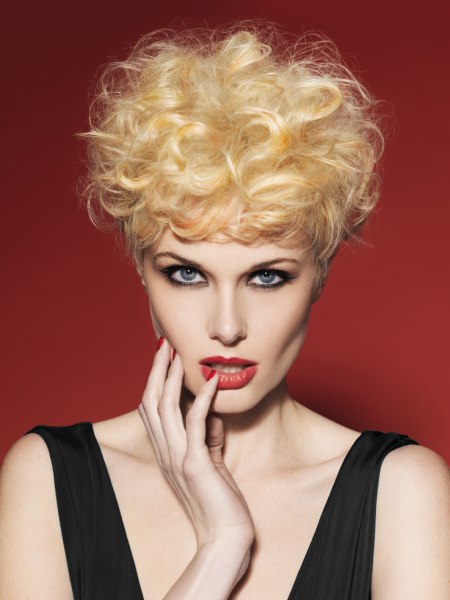 Bring the curls to the top of your head and wallow in the mystery and intrigue of iconic style. Lucy did it and you can pull it off too! Go retro with a crown of blonde curls. However, this is not your usual blonde. Look closer!

Among the masses of light golden delight there are accents of a deeper, almost sunflower colored tone. How about those sparks? Next time you watch a show or a movie from the 50s, allow yourself to get inspired and just add some color to make the look modern.


Undercut and Color Streaks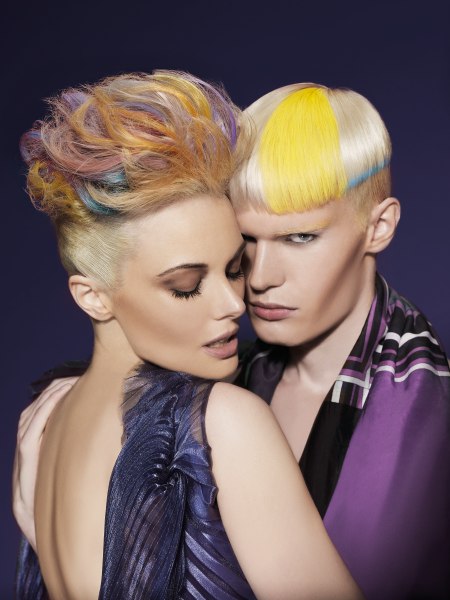 This short cut just has it all! Opulence can be created with just a few inches of hair. It is the texture and most of all the color that makes a difference. She wears a sleek, short and neat undercut in a platinum blonde that is topped with a sinful symphony of long layers in orange, lavender and lagoon blue.

Styled for volume and towards the back, displaying all of its beautiful texture and ravishing movement, this hairstyle is worth a red carpet everywhere she goes.


Yellow and Blue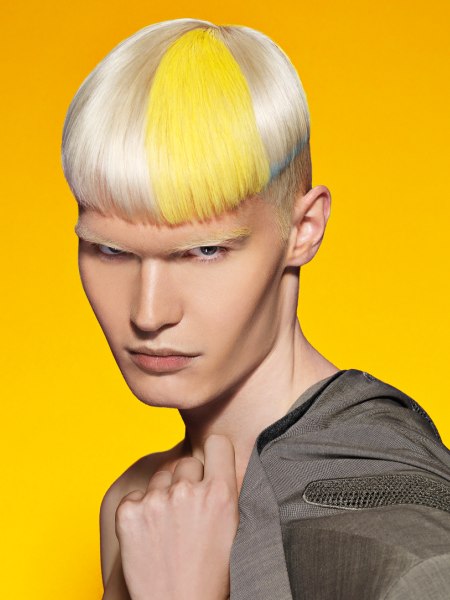 Don't be scared away by his fashionably pouty expression, colors don't bite. He might try to look tough, but the color speaks of a more playful and expressive character. A platinum blonde super sleek short bowl-cut comes with the sexy texture of clipped sides and back.

A pie sized slice of bright spring flower yellow soothes his gaze and will gain him much attention and second looks. Especially with a little corner of the eyebrow in the same color! A small rim of blue circles around the cutting line of the straight and longer top section.

Hairstyles: Gandini Team for Vitality's
Make-up: Cristina Isac
Styling: Giuseppe Dicecca
Photography: Paulo Renftle