Tchip - SS14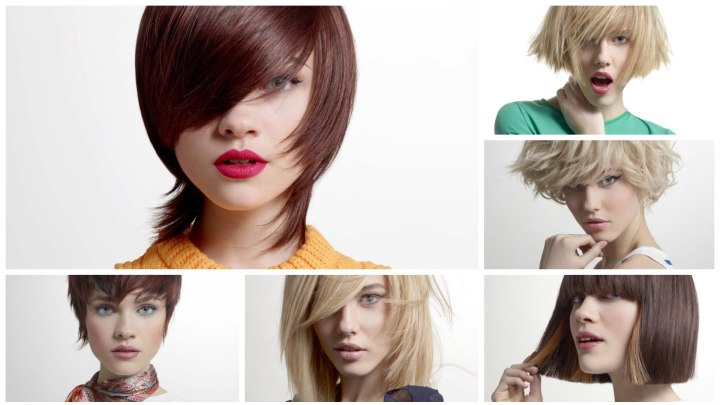 With these hairstyles the warm season might be your best ever! Get your juices flowing and get in shape with a new medium long or short cut. Powdery blondes, rich browns and sizzling red colors are on the palette of Tchip together with intriguing stylings from sleek to ruffled and wavy.

These summer styles ooze casual chic or refined elegance and are all you need to get your style on. Well, add that red lipstick to your list as well.


Straight Layers


Very straight hair has a luxurious, silky flow and it is a class all in its own. Show your polished side with a not too tidy layered cut and a long sideways fringe. A tapered line along the face and neck makes sure that there are many soft tips caressing your features in a most flattering way.

The lightness of this cut makes it move with every tiny breeze. Yet it has a charming simplicity and is as alluring as a summer dress made of the finest chiffon. Her hair color is a medium beige blonde with very light accents in a platinum tone sprinkled throughout.


Short Bob Flared Out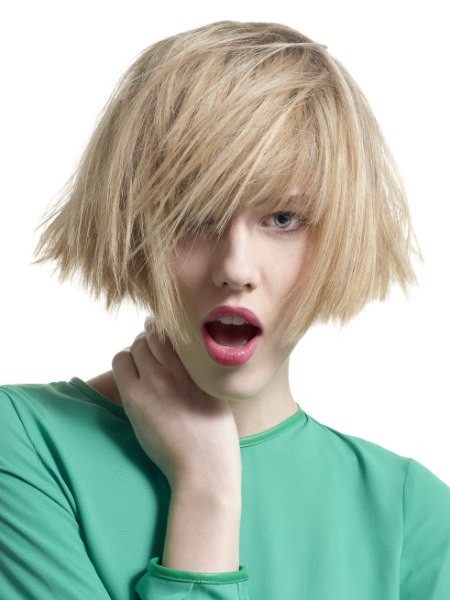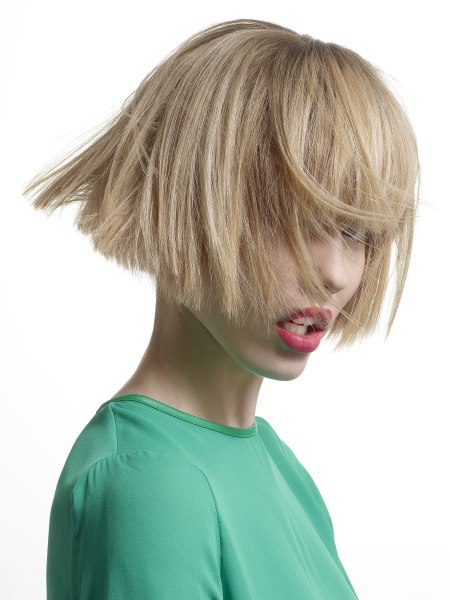 Thrill the world with a super sweet short bob. It is cut long enough to cover the ears and short enough to be this eye-candy stylish. All around the ends were textured ever so slightly to create a softly jagged line.

Shake things up with the styling. Volume is used to let the straight hair flare out in a trapeze shape. A little teasing underneath helps and spraying on some hairspray with the head upside down makes it last longer. Some strands were moved across the now almost invisible fringe.


Ride the Wave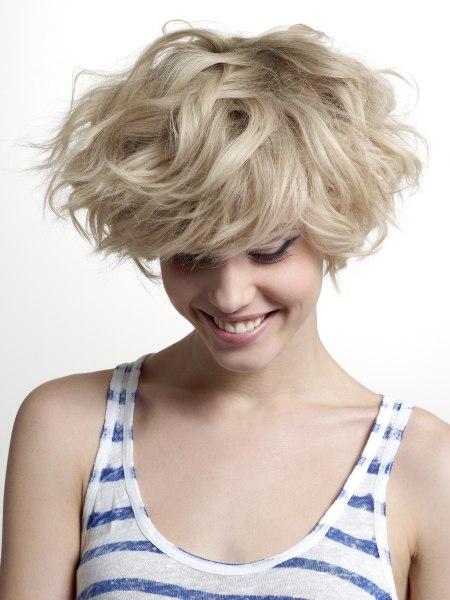 This look is as refreshing as a glass of cold champagne on a sunny afternoon. It can even have the same effect and make the world just a bit brighter and filled with happy giggles. A pure joy to wear and ever since Meg Ryan made the bed-head hair so popular, a real winner.

Short and playful, but also confident, the powder blonde do with its volumizing layers and the rugged, wavy styling lets you take the feeling of the beach with you everywhere.


Two Toned Surprise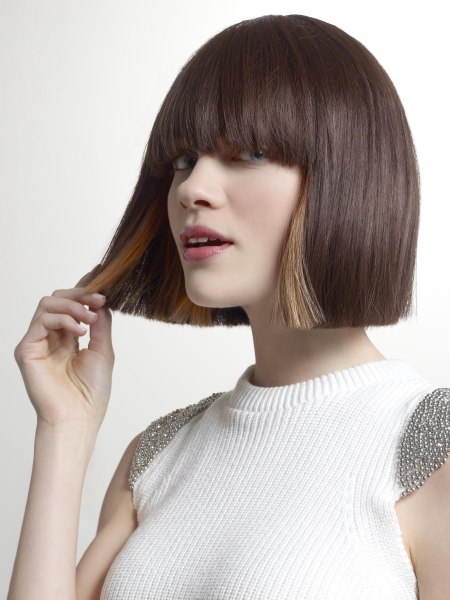 This dark chocolate and caramel longer than chin length bob is cut like an haute couture piece of clothing with extreme attention to even the smallest detail. Everything is balanced and tailored to perfection from the straight cutting line to the soft fringe.

A very unique treat is the graphical application of color underneath the hair. Two large strands are dyed in a soft medium blonde and one of each is close to the front so that it becomes visible at certain angles and can be styled to curve around the edge into the open.


Tight Fitting layers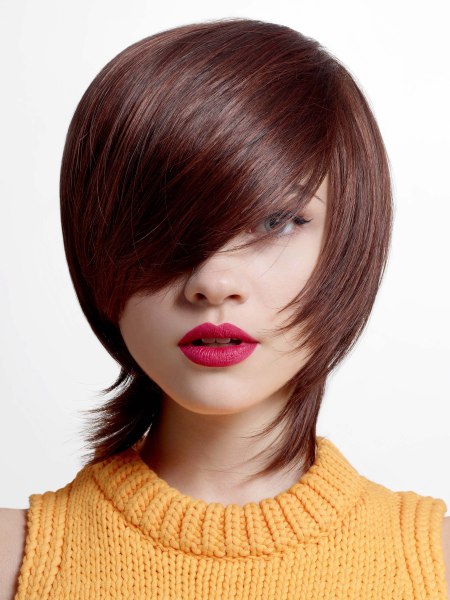 A masterpiece of hair cutting! This hairstyle fits like a glove and hugs the head and the neck. On top a round cut with a tapered, textured edge from the cheekbones to the chin is styled smoothly into the face and out again in a one direction styling for a ravishing asymmetry.

The hair in the back is long enough to cover the neck in the same pattern of movement. A transparent cherry tone on the dark brown hair colors brings a warm and deep glow to the already stunning and extravagant hairstyle.


Sassy Pixie with Points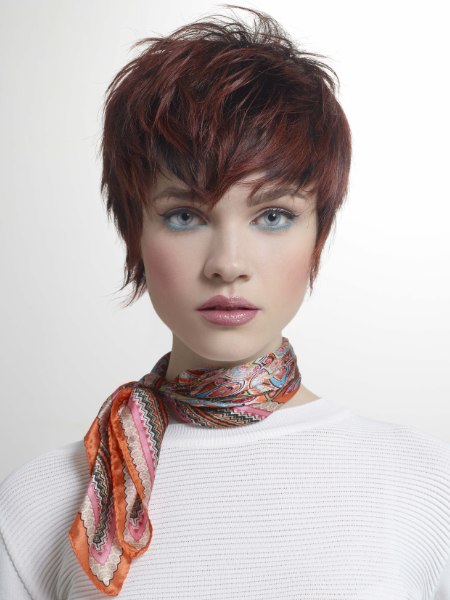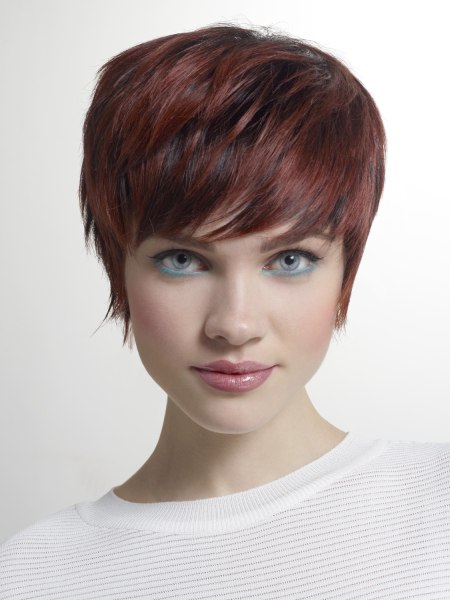 Sharpen some tips with a little modeling cream or hair wax and the effect is this beautiful. Light volume on top finds a contrast in the narrow sides and all comes out to a round shape with gorgeous texture in the ends and in the movement.

The hair was styled to the front where it forms a sassy jagged and stylish fringe. Dark red and brown create shadows and gentle light while enhancing the color of her eyes.

Hairstyles: Tchip