Black Dye Underneath Blonde Hair
Q: Hello. I was wondering if you think that having black dyed underneath my naturally blonde hair would be cute. I have never dyed my hair before, but I really want that look. One of my friends said I would have "skunk hair", so I'm really unsure. And, I cannot find any pictures up on the internet of those types of hairstyles. I need help! Thank you so much!

A: Well, I'm not personally a fan of the dramatic contrasts in hair color in the "two tone" look, although I've seen the style and performed it for clients who really wanted it.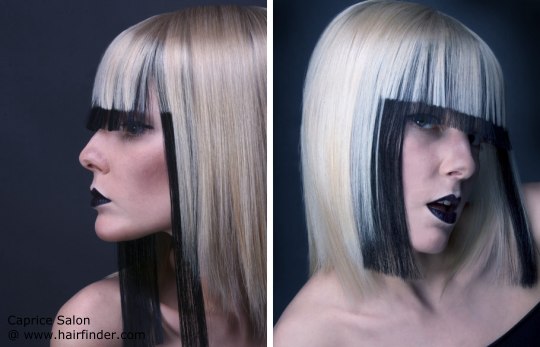 Click to enlarge

In your case, one concern I have is that "black" may not be a compatible color with the shade of blonde you have. I don't know how blonde you are, since I haven't seen a photograph and you haven't made any specification as far as color is concerned. However, most of the blondes I know have yellow or reddish base tones to their blonde hair. This becomes a problem when adding a black under-color, because most black haircolor formulas use blue or violet base colors.

The result is two colors that don't reflect well off of one another. Most women who go for the two-tone look not only add black as an under-color, but also lighten their blonde hair to a platinum blonde or other high-level blue-based blonde shade. You'll need to be aware of the base color of your particular blonde shade, before you decide on an under-color shade.

Talk to your stylist before you commit to any haircolor application. You'll need to not only consider the base color of your hair, but also your skin tone as well. If you are a "gold" color type (or an Autumn or Summer) having black as an under-color could result in leaving you looking washed out and pallid or gaunt. The black might work if you are a "silver" color type (Winter or Spring) but it will still depend on your skin tone whether black will suit you.

I would, personally, recommend that you opt for a lighter under-color shade. Perhaps a mocha or caramel color for the honeyed and reddish shades of blonde hair, or an ash brown for those blue and violet-based blonde shades. However, the final decision is yours. I simply want to encourage you to make a carefully considered and informed decision.

©Hairfinder.com


Related posts:

Hair coloring

How to achieve the two-tone hair color look

Hair coloring techniques for special effects

Goth hairstyle with white skunk stripe bangs