Andrea Beers
BHA Schwarzkopf British Colour Technician of the Year Finalist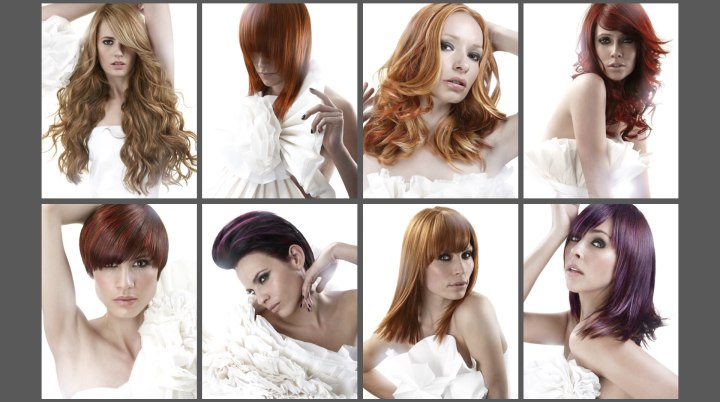 Exceptional hair fashions are molded with smooth round lines and weighty clips of textures that spring out into billows of fringy laced waves.

The hairstyles with golden reds to the more daring cherry reds are all touches of Andrea Beers' talent as if waving a magic wand. Just a peek into this rich drama is sure to satisfy your quest.


Red Berries Hair Color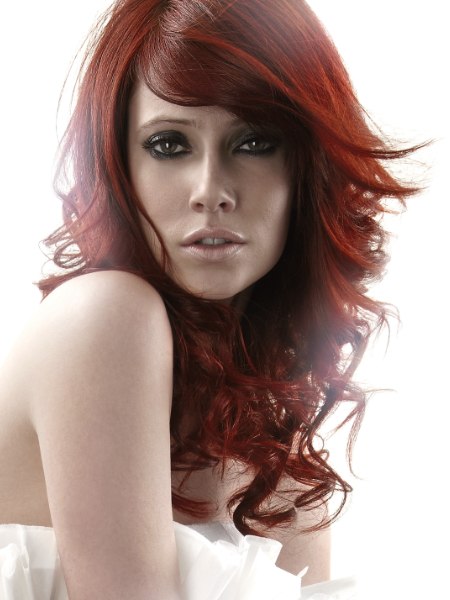 The deep hair color of hawthorn berries are generously applied along with the spellbinding allure of a lighter golden red. Layers conceived in graceful forms like that of a ballet swing over the model's temple and into the air. Frolics of gathered coils crisscrosses below the shoulders garnish the model's eyes.


Long Hairstyle with Waves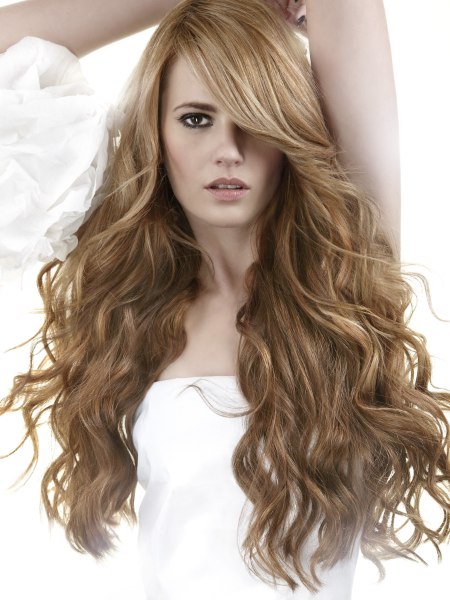 An enticing blanket of waves covers the model with tri-tones of browns, blondes and caramel colored hair. The sexy character of the haircut begins with a heavy side part and a smooth lazy dip that rolls over the model's eye with both sides flipping the way to integrate with the waves below reflecting the brilliance of the stylist.


Hair with Purple Streaks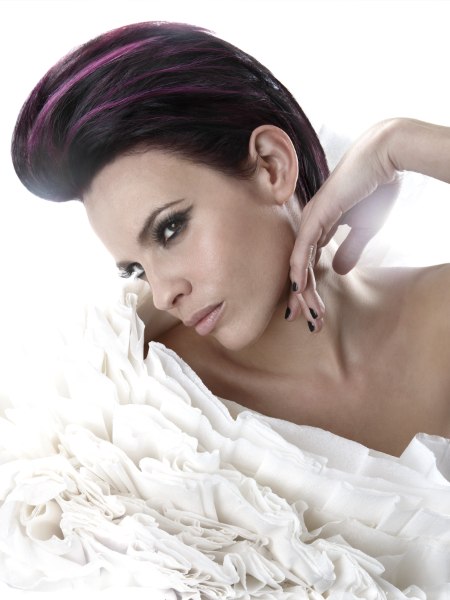 Dark smooth hair glides down to a completeness at the nape of the neckline and expresses techniques of an avant-garde dernier cri. Strokes of luminous purple streaks are played into the direction of the hair, emphasizing the detail of the short hairstyle. The elaborate poof that takes all the hair back and away from the ears conveys a statement of precision.


Long Choppy Layers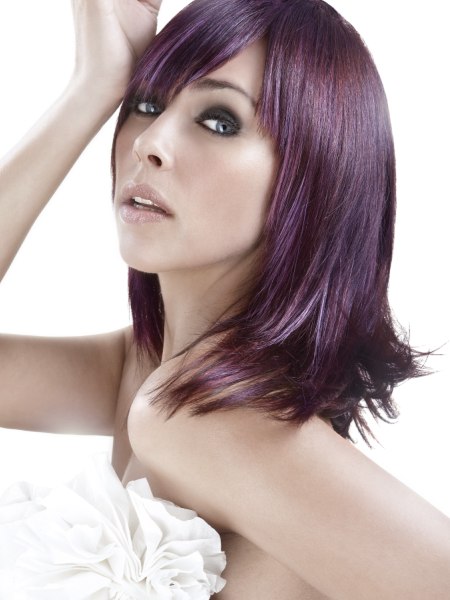 The seduction of long choppy layers are created with bangs that dominate the eyes and splays of hair that whisk around the models shoulders with a few bounces of hair that flip up in the lower back. Capture the excitement of the color that announces stripes of platinum white and darker achievements of eggplant.


Unique Beauty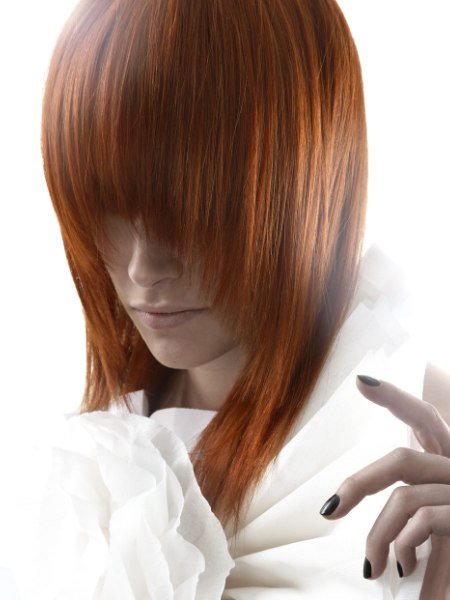 Scores of angles of burnt bronze, dark cinnamons, caramels and a touch of brown hair all make up this diverse arrangement. As the model peers downward, the professional eye can easily applaud the layers of angles that have been textured along the sides proclaiming the unique beauty of the haircut.


Short Mahogany Hair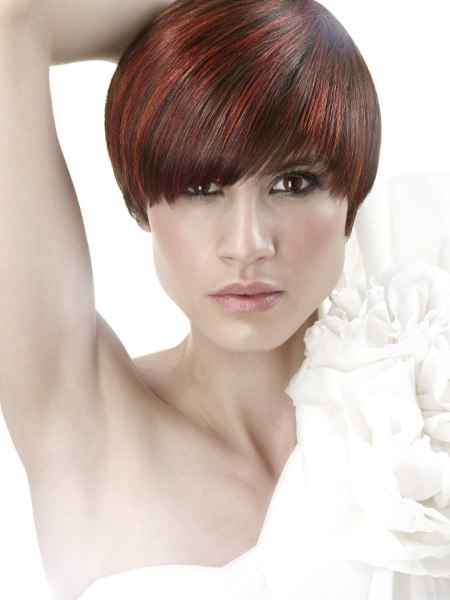 A dark cherry mahogany color is blended in with the lighter more electric shade of golden red. An obvious power cut, is caught up close along the nape of the neck and brought around in layers just over the ears.

The top comes down on a bulky angle covering most of the model's eye, while the other side's piecey fringe is more apparent.


Strawberry Blonde Hair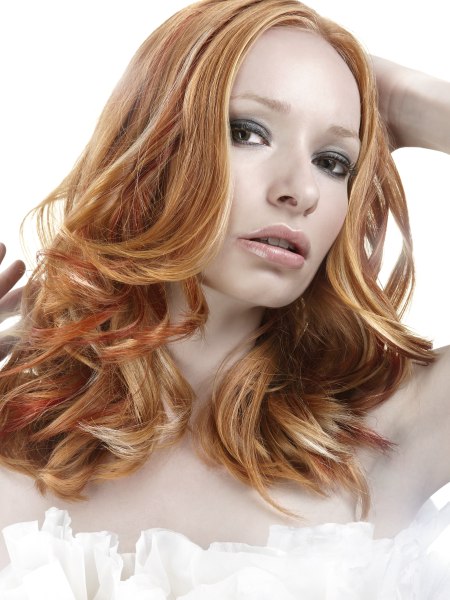 The fascination of strawberry blonde hair is fancied within many admiring hearts. Our model's hair color is a strawberry laced with blonde and a deeper red that begets an overall warm character to her appearance. An abundance of flippy layers and intriguing waves perform a most captivating photo.


Angling with Bangs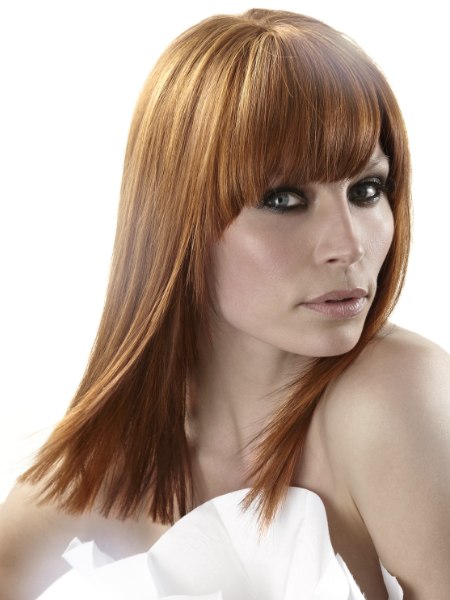 Beers' smooth glossy presentation reveals her artistic touch demanding the spirit of excellence in long hair. A full abundance of bangs are succeeded by the tweaks of angling along the sides of the model's face.

A myriad of warm blondes, reds and brown blends are worked throughout the hair, contributing with the intrigue.

Hair: Andrea Beers at Andrea Beers, Kidderminster
Make-up: Justine Collins at Pinkgloss
Styling: Justine Collins at Pinkgloss
Photography: Richard Miles