Gold Label by BUNDY BUNDY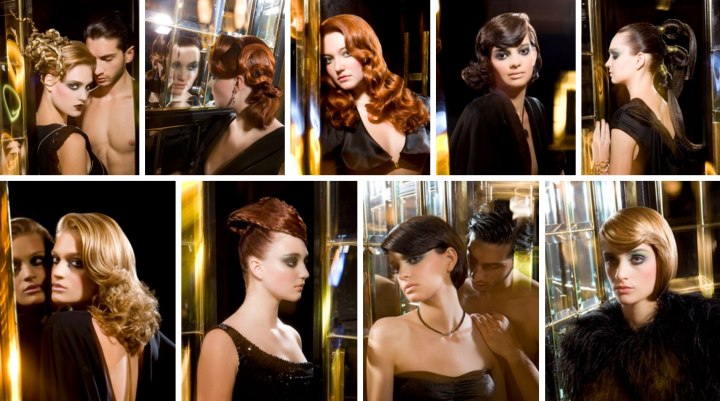 Scroll down for more photos ↓

BUNDY BUNDY's trendy looks

Gold & glamour as far as the eye can see: at Givenchy, Halston and, of course, McQueen. This season, not even die-hard minimalists like Gabriele Strehle could resist the magic of the precious metal or the embodiment of Hollywood chic and have designed cocktail dresses with a glitter look.

German Vogue magazine, for example, features "Trends: Drama de luxe" as its cover story about the upcoming autumn/winter season. Lolita style and the obsession with youthfulness that came with it are now a thing of the past. Strong, self-confident trendsetters and real, perfectly stylish women are the next big thing.



There seems to be a genuine craving for glamour and transformation in the months to come, which also extends to haircuts. Inspired by the current style code of choice - namely, "dress for the occasion" - BUNDY BUNDY's artistic team looked for the hairstyle to match these new trendy looks. They decided to focus on the craftsmanship of the art deco era, while updating it, developing innovative techniques and adding a touch of Studio 54 attitude to the newly created look. The result: BUNDY BUNDY's new Gold Label.

BUNDY BUNDY's new trendy styling

According to BUNDY BUNDY, healthy, full hair is the key to a great look. Thanks to sophisticated and personalized haircuts and pampering treatments, hair artists at BUNDY BUNDY can achieve this effect even with problem hair. Once this basic requirement for a BUNDY BUNDY couture cut has been met, the sky is the limit. Depending on their mood and styling choice, clients can then capitalize on BUNDY BUNDY's extensive experience and innovative power.

BUNDY BUNDY stylists are at your service to find your "uniquely you" look. Relying on the expertise of BUNDY BUNDY hair artists, our clients will discover their unique trendsetting self this autumn. Available techniques run the gamut from simple tricks and fixes such as twisted braids or hairpieces to gold threads artistically woven into natural hair.

BUNDY BUNDY's new trendy colors

Devotees of BUNDY BUNDY's innovative coloring technique have even described it as applied art because BUNDY BUNDY's "Luxury Shades" technique seems to far exceed even nature's beauty. To complement the selected basic shade, two additional darker and two lighter colors are swiftly applied to the hair, millimeter by millimeter.

The result is stunningly brilliant, lively and shiny color. The fascinating light reflections that are achieved with this technique are recognized as one of the many BUNDY BUNDY specialties: this year's color collection is irresistible. Its trendy colors include honey blonde, caffé latte, caramel brown and a shade of spicy chili.


Long Hair Rolled into Curls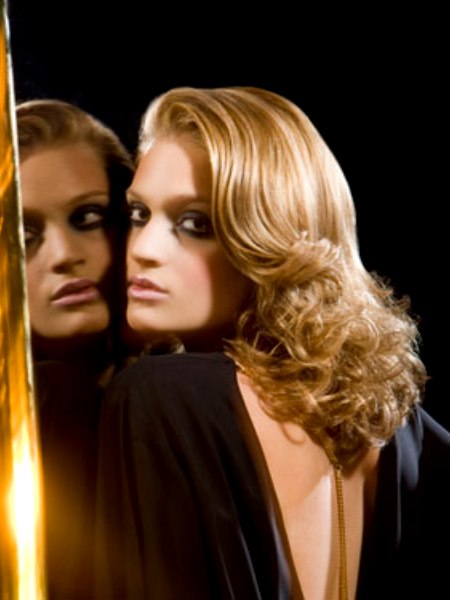 Mirror, mirror on the wall. Could she be the prettiest of them all?

No doubt the special coloring technique by Bundy Bundy adds eye-catching elements to this long curly hair style. Long hair is layered in the last quarter and rolled into luscious curls about halfway up. The fringe is swept to the side in an elegant motion.

The base color of a medium blonde is complemented by darker and lighter shades that create incredible depth and definition.


Spirit of the 50s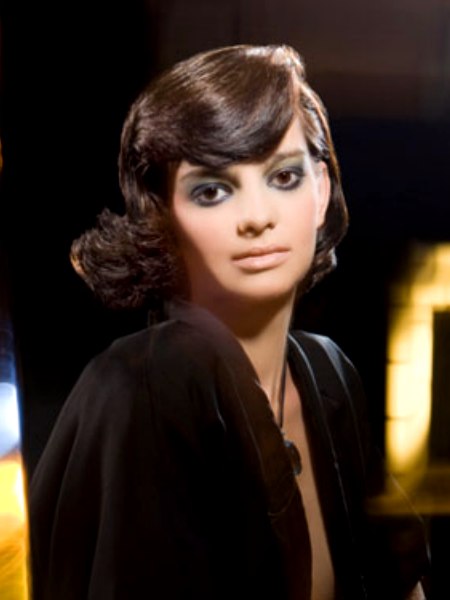 The spirit of the 50s condensed in one haircut. But without the stiffness and the petticoat.

Medium long hair comes with a high side part and thick bangs sweeping across the forehead in a chocolaty curve.

The hair is curled below the ears and on one side turned upward in a thick wave. The opposite side is directed inward, thus creating a flowing line and balanced asymmetry.


Rita Hayworth Look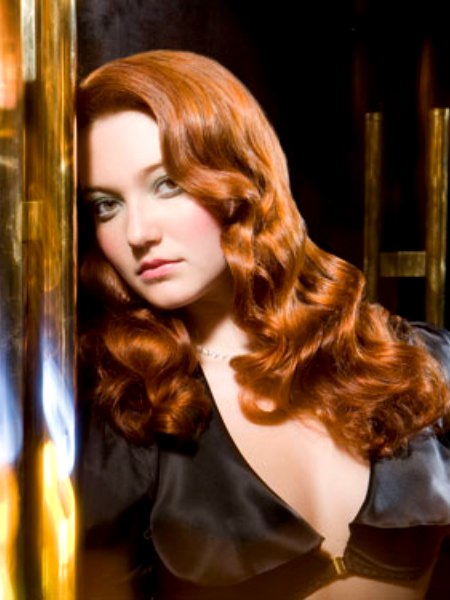 These generous, silky waves in a rich copper tone conjure up dreams of old Hollywood. Rita Hayworth made her mark with a similar opulent and utterly luxurious style of full waves in a brilliant color.

The hair is long and well nourished. The side partition brings a sophisticated swing of locks to one side where they flow over the shoulder in silken beauty bathed in extreme shine.


Gold Blonde Hair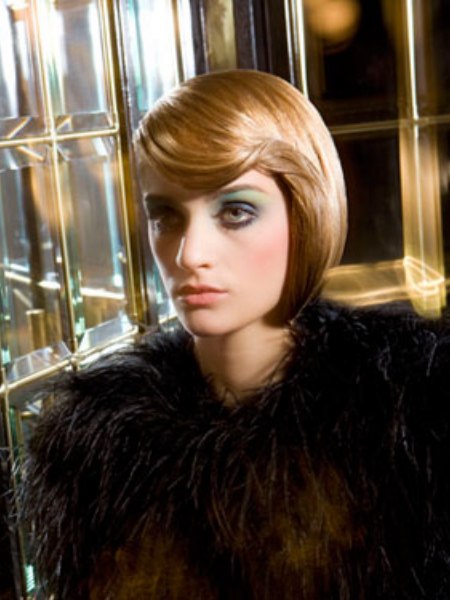 Liquid gold framing the face in a large curve. The S-shaped front part makes way for an extremely straight and sleek back, all shining in the brightest gold blonde, which is even more intensified through the darker and lighter shadings, artfully applied by the Bundy Bundy geniuses.


Sleek Short Hair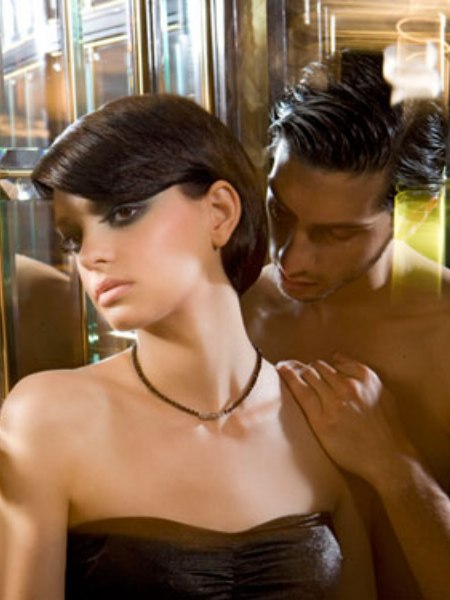 A touch of the 80s mixed with modern finesse. Glamorously shining hair is draped around the head in a smooth and sleek flow.

The long bangs sweep across the face towards the ear and the glorious round line continues all the way to the nape.

Simplicity with finesse and luxurious elegance.


Serpentine Form Updo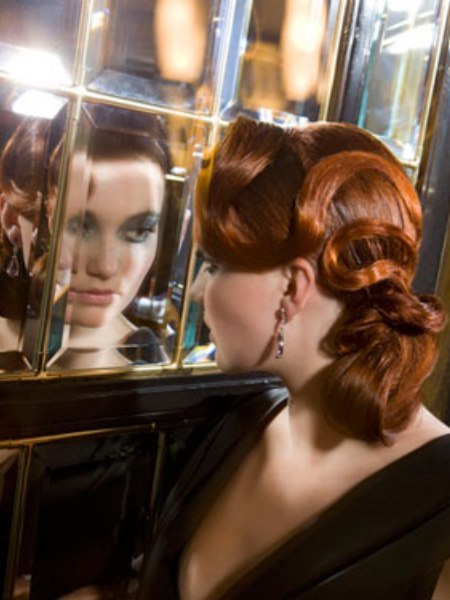 Amazing updo for long and glamorous nights. The basis is a head full of healthy, thick and long hair. The mass of the hair is tied into a firm ponytail that is twisted and tugged under in the back to create the appearance of a bow.

An about 1 inch wide section in front is positioned over one side and back of the head in a serpentine form in 3 tight curves, then snakes itself around the base of the ponytail.


Fancy Hairpiece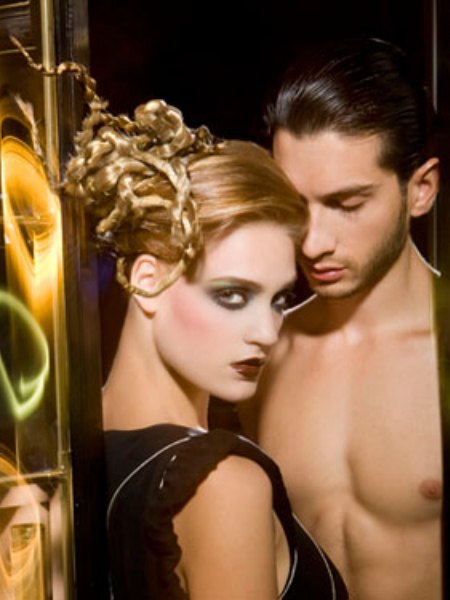 Medusa won't loose her touch with a spectacular hairstyle like this. A play with textures and different shades of glowing blonde, together with a fancy hairpiece, results in a rather extravagant and breathtaking style.

The hair is gently pulled into a ponytail, and then a blonde hairpiece out of twisted medusa strands is pinned on.


Three Ponytails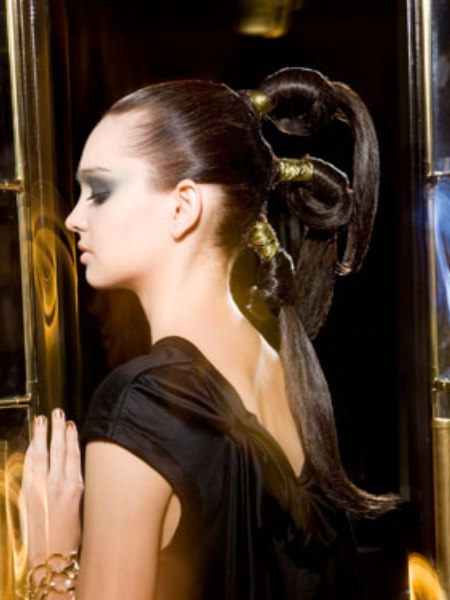 Stunning ethno style for a grand appearance. If you are searching for a show stopping do, look no further. With a little help it is even easy to make.

All you need is very long, straight hair. Three ponytails are formed along the back of the head. They are held together by precious golden bands. Each of these strands is then tied into a knot.

To keep this work of art in place, it requires the use of a good dose of styling products - gel or wax and spray.


Sophisticated Up Style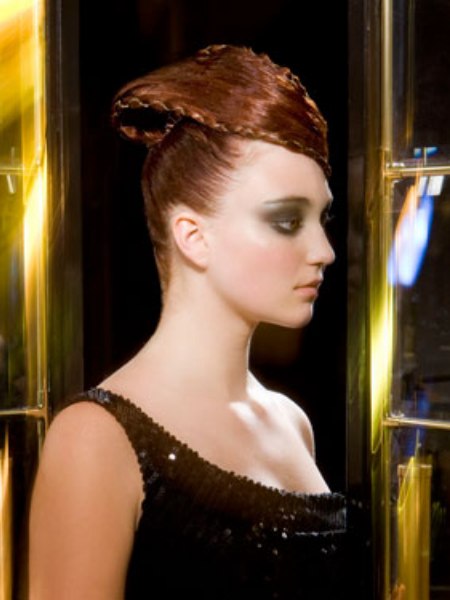 This up style is fit for royalty and turns the hair into a celebration of art and sophisticated craftsmanship.

A tight ponytail has its base on top of the head; from there the hair is shaped into a smooth tongue-like sheet, embellished on the sides with a golden thread that is woven into the hair.

To achieve this hairstyle and keep it, the hair has to be pretty much drenched in fixating products.

Hairstyles: Bundy Bundy

See also: Short hairstyles | Long hairstyles | Up styles