Synergy by seanhanna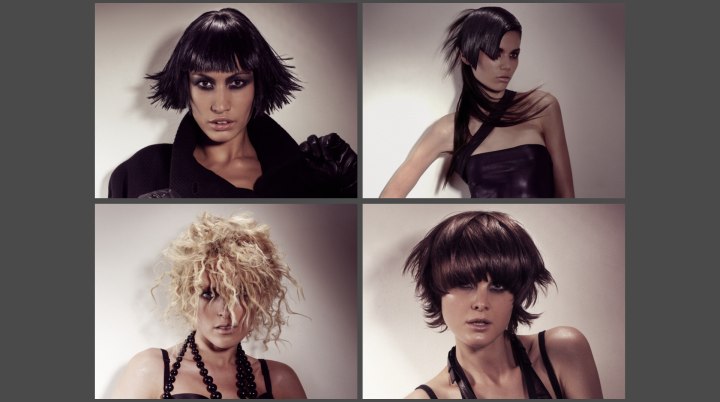 Elements come together to form a masterpiece that is grander than the sum of its parts. This was the inspiration for seanhanna's sublime collection of hairstyles aptly named "Synergy". Opposites attract and that is true especially when it comes to hair design.

Geometrical corners are backed by feathery strands, spiral curls, disheveled in their nature, are shaped to an asymmetrical shape, sleek and wispy - all go hand in hand, or lets say head to head.



Colors are basic since the focus is on the shape. Blonde, brunette and black make up the seanhanna palette in this collection. Extroverted but sophisticated. Sassy and wildly modern.


Twisted Hair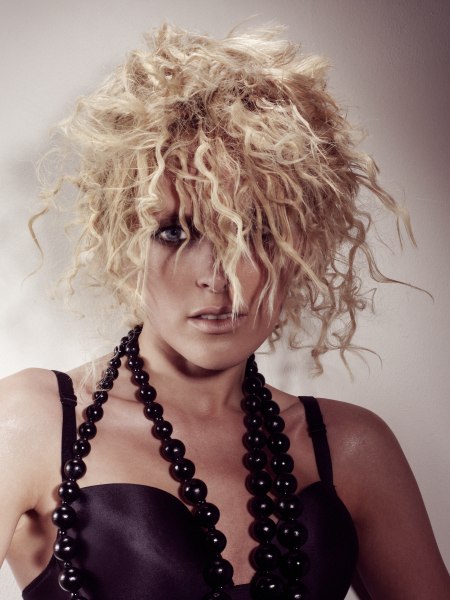 Spiral locks got over their romantic roots and are now sizzling hot falling into her face as a raging cascade. The bangs are truly the star of this look which is short in the back. The key to its success is in the styled and unstyled chemistry. To achieve the disheveled glamour the hair is run through a curling iron to create the seemingly random, but yet balanced pattern.

A narrow peek-a-boo opening in the fringe allows her to throw her smoldering glances into the world. Dangerous in its nature this hairstyle needs an equally disarming color and the medium blonde with lightning streaks of light blonde is more than appropriate to wreak havoc.


Curved Fringe


Curves are aplenty in this short round and feathered haircut. She wears it with attitude and has good reason to do so. The base is a round cut, which in this case comes with layers along the sides and in the back. The resulting freedom of motion for the hair results in the sassy curved styling of the wispy tips which gives a soft touch to the bold look.

The bangs are dense and more movement is created on the crown by overlapping wide strands of hair and adding different directions to the hair. Subtle effects but working as one they do create a synergy of the memorable kind.


Long, Short and Geometry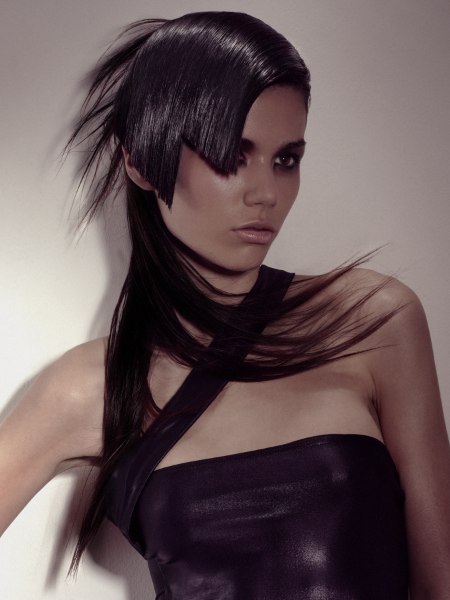 All in one with synergy galore. Long to the middle of her back, the neck hair unfolds its sultry beauty even more dramatically through the contrast with the short front. But that is not all.

The side is shaped to laser sharp corners that fall in a slight angle from behind her ear to her jaw line and the second one just below her eye. In addition there is a tapered, layered section in the back that feathers out in a mysterious juxtaposition. Sleek and black this haircut is the most powerful of the looks presented in this extravagant collection.


Glossy in Strands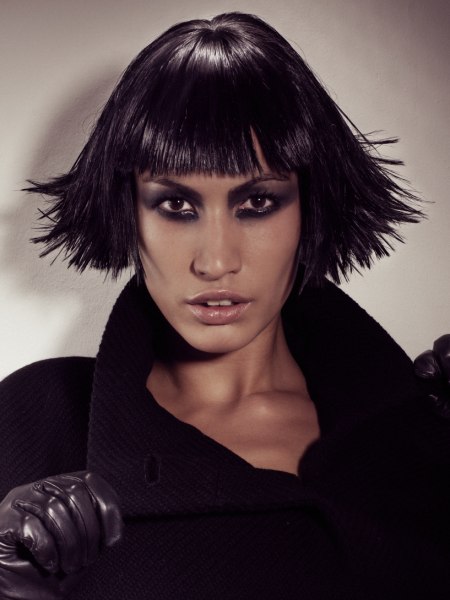 This bob is all grown up to an avantgarde masterpiece. It makes one aware once again what an amazing art medium hair can be. The right cut, here it is a bob with point-cut texture, is treated with a shine inducing styling product and lifts itself out of mediocrity with its flared up sides and the sexy sleek texture.

The fringe barely touches the eyebrows and guides our attention to her outrageous smoky eye make-up. It is short enough to display the high collar of her couture jacket.

Hair: Sean & Sky at seanhanna
Styling: Bernard Connolly
Make up: Jose Base
Photography: Antony Mascolo & Roberto Aguilrer for TIGI