The Moody Blues by seanhanna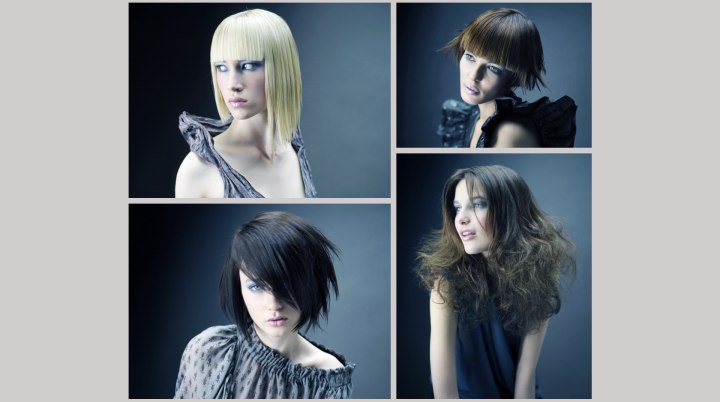 Scroll down for more photos ↓

Cool hair colors and edgy cuts are must haves and seanhanna hits the spot once again with a moody and sexy collection of desirable hairstyles. Colors are subdued and reduced to their muted essence, which is filled with romance and an irresistible air of mystery.

Texture is essential and comes in wispy tips and disheveled, large curls. The shapes are geometrical and some even asymmetrical. Made for different types of personalities the looks in the "Moody Blues" collection offer a long mane, an edgy bob and two sassy short haircuts to cover all the wishes of the fashionistas out there.


Hipster Bob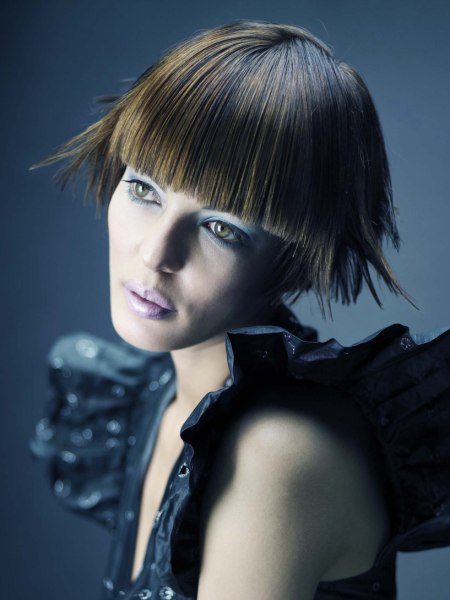 Shades of brown bring depth and an interesting color pattern to this ear length bob with its dominant fringe. The hue is muted with a touch of blue to take away any brassiness and to keep the color as cool as her expression.

The fringe is straight and sleek with just a minimal amount of point-cut texture in the very tips. It spans around her entire forehead and then ends in the wispy sides. Individual strands were treated with a sculpting product to make them stiff and to give them hold for their edgy shape. A great way to transform a classic haircut into a postmodern extravagance.


Magnificent Mane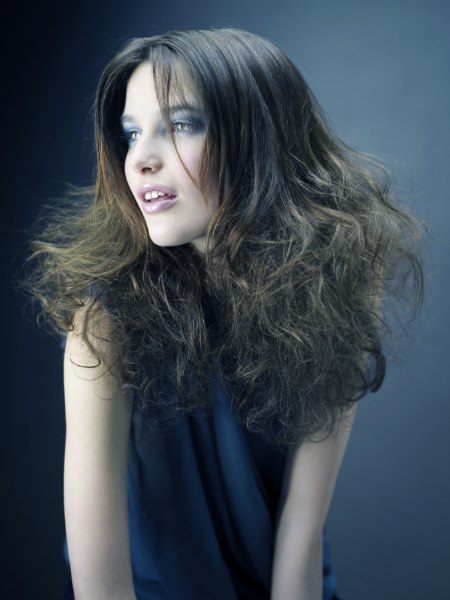 Sleek on top and tumultuous below her chin, this hairstyle is extraordinary in is powerful expression. The face is framed by long curves, which seamlessly transition into the large, separated and fluffed up curls that bring so much drama to this fascinating style.

Her hair color is a cool brown interlaced with lighter strands that are tinted in an out of this world azure blue hue. This unusual combination of hair colors give her style a sultry and mysterious air.


Asymmetrical Bob in the Moonlight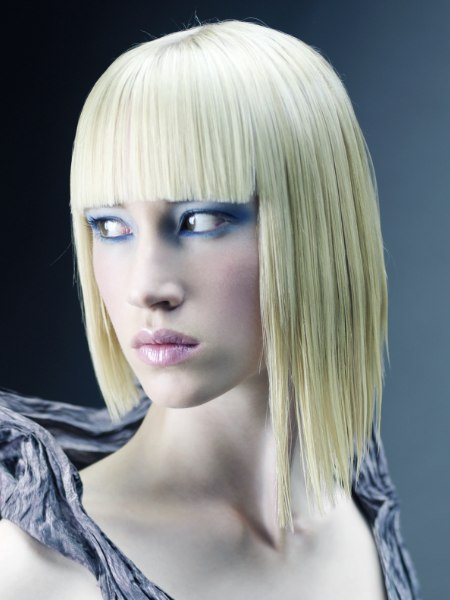 A color as if bathed in the cool light of a full moon makes this bob turn heads. The cut features sharp lines along he fringe and on the sides, which are shaped in an A-line angle and have two different lengths. Chin length on one side and shoulder length on the other, this hairstyle will delight even the most discerning among us.

While the bangs are blunt, the sides show some soft texture in the tips. A beige blonde, cool and neutral has a silky shine, but you don't want it to be glossy to keep this moody elegance. Use a smoothing product to avoid frizz and flying hairs.


Blue on Black with Layers


A black-blue tone has always been a star in the world of hair color. Perfect for a light complexion it makes skin appear like fine porcelain. A favorite of expressive women with a high fashion sense, this color is now paired with a layered bob that is styled asymmetrically with a deep side part and a diagonal fringe. Sharp and steep texturing and skilled styling makes the tips this wispy.

Hair: Yesmin O'Brien at seanhanna
Styling: Rachel B
Make up: Amelia Pruen
Photography: Ben Cooke for TIGI

See also: Short hairstyles | Medium hairstyles | Long hairstyles