Express Yourself by Keith Hall Hairdressing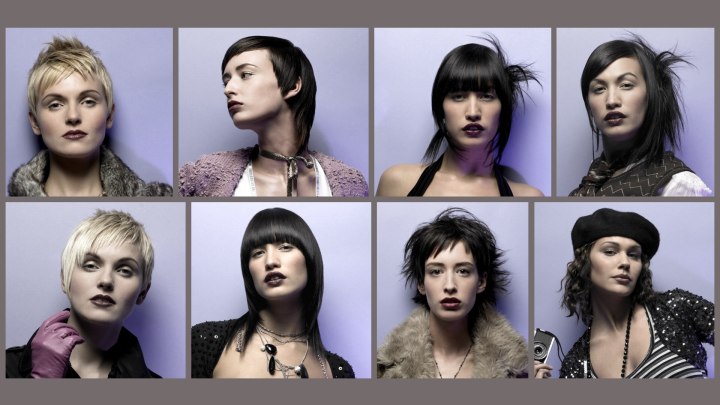 Scroll down for more photos ↓

The theme behind the collection has a very 1920s and 1930s feel to it. Lots of glamour and understated excess, with strong cuts and colors, which were kept very natural for a classic, chic feel and to maximize high shine.

Keith Hall and Team present innovative ideas with hair designs with clipped patches of short layers scattered throughout their creations and boldly jagged chops to expose the artistry in a "bird of paradise" form.



There are images as smooth as silk and another with delightful waves and crimps that are sure to bring a smile on your face.


Short Hairstyle with Spikes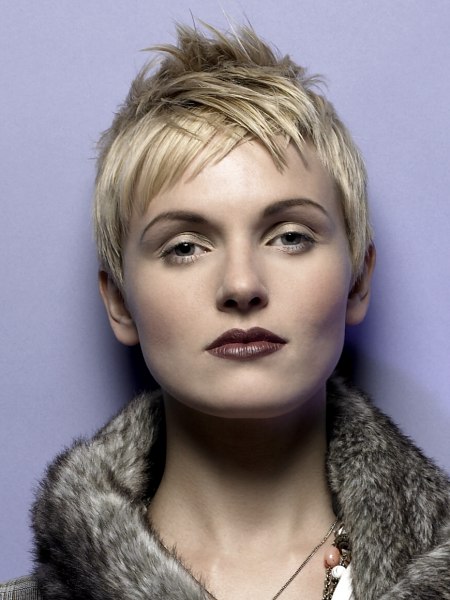 KH dauntingly introduces some pluck in the crown with jags and chops to allow for the irregular spikes. The rest of the layers have been fashioned in an X part as one section falls over the other and it lies upon the model's forehead.

The sides have been cut around the ears to flow around to the nape. Use styling lotion to blow your hair.


Foxy Hairstyle & Beret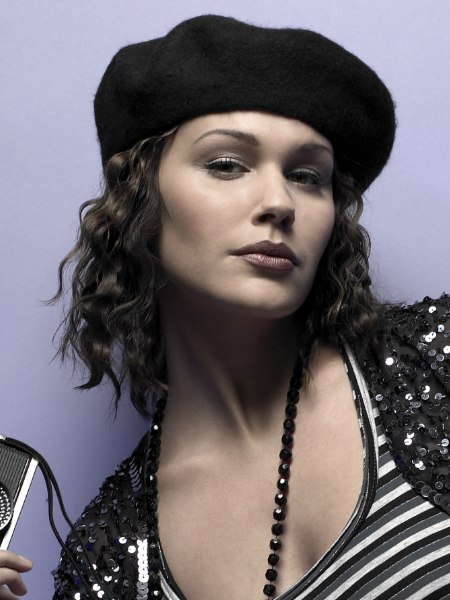 This foxy hairstyle has been crimped within the layers that give a cunning appeal underneath the beret the model is wearing. Sassy and full of spice, this hairstyle plays out the high cheek bones and jauntiness of the model's chin line. Spray fixing spray and use a crimping iron.


Hairstyle with a Cropped Crown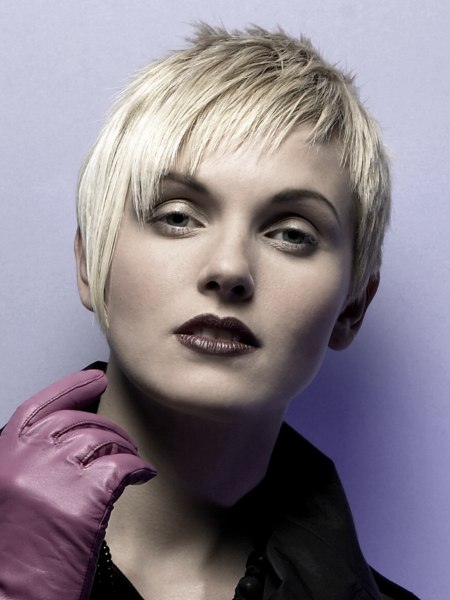 Like a cup that runs over with abundance are the asymmetrical blonde lines in this hair creation. There are longer chops that grace around one side of the model's face with shorter tweaks on the other side.

The crown is chopped and texted to lay or stand up that flows to the top that lies upon the forehead in angled jags. Use plenty of gel for this spiffy cut.


Glossy Blunt Haircut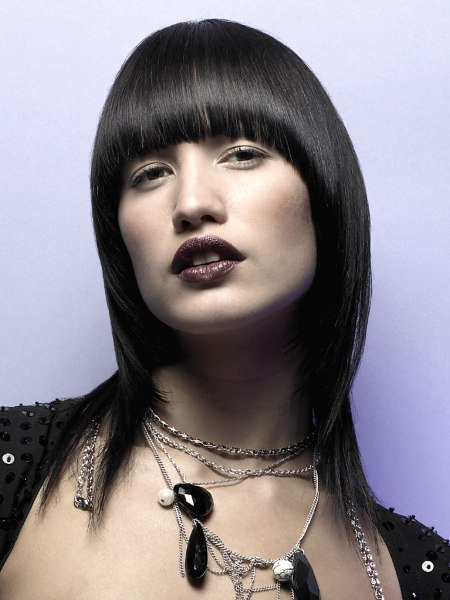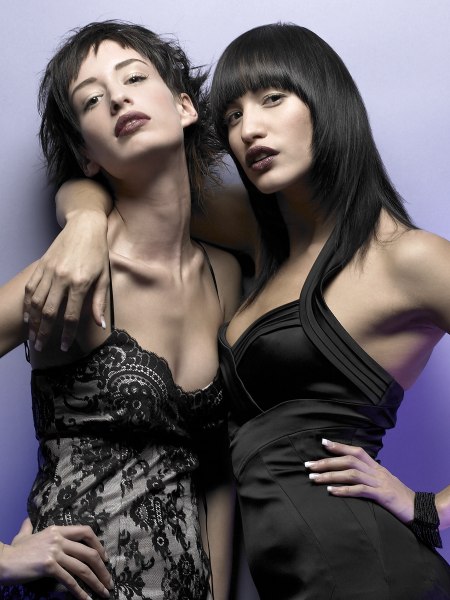 Let your imagination go with smooth dark glass, like rings of smoky quartz surrounding the head and you'll see a glossy blunt frame that is edged completely around the face and combed just below the shoulders. Use gel and gloss for shine.


Nape Covering Short Hair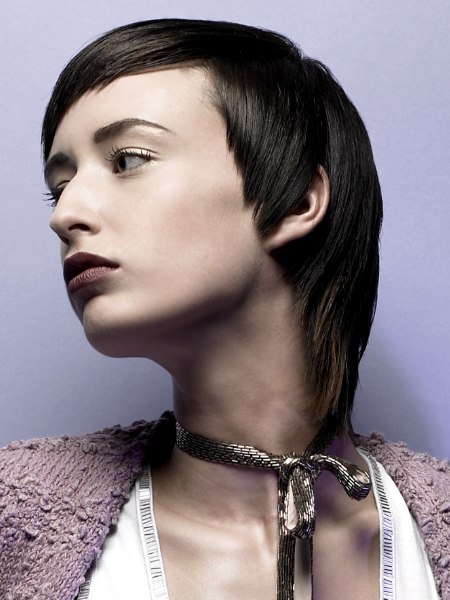 This dark haired model reveals the art involved in designing a hairstyle fashioned smoothly to the lobe of the ears and angled down to cover the nape of the neck. Spritz a light styling lotion to accommodate your style.


Hair with Layers and Chops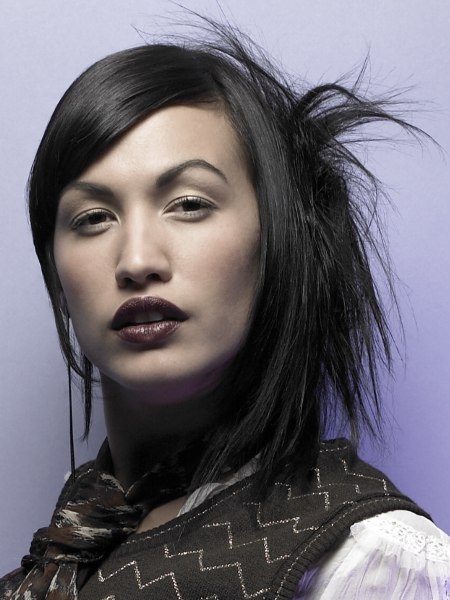 This bird of paradise design projects the work of a skilled tradesman with gathered textured layers and special chops of expertise along the side of the head, as if creating a flower. Use spray to keep this floral arrangement.


Hair Texturing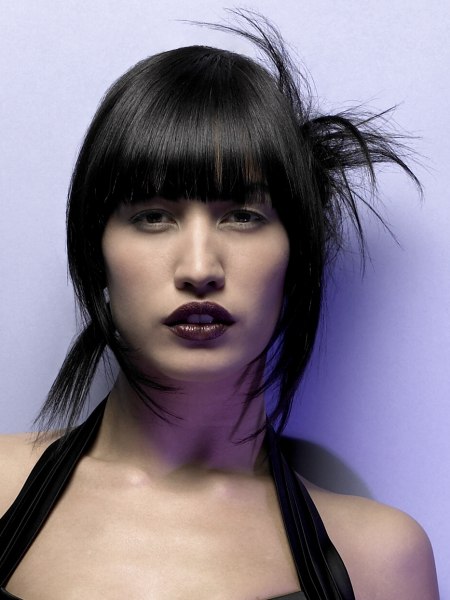 Again, the mastery of this texturing technique moves around the head with a focus on the proficiency of the cut along side of the head. The bangs are combed over the brows, emphasizing the strength of the cut on the side.


Chopped Hairstyle


Artistry in motion is beheld in blended locks of hair that were chopped and tweaked outward into the selective forms. The hair is thickest closest to the scalp lending a silhouette of abstract shadows about the canvas. The bangs are short. Use freezing gel for staying power.

Hair: Keith Hall Hairdressing Creative Team
Makeup Artist: Liz Rochford
Products: Wella & Sebastian
Clothes Stylist: Karen Russell
Photography: John Rawson

See also: Short hairstyles | Medium hairstyles | Long hairstyles