Hair Magazines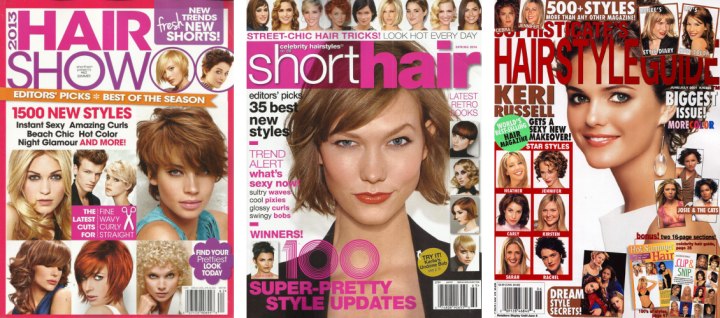 American Salon
Magazine for the American salon owner. News and informative articles on the latest developments in the hairdressing industry. Also business advice for hairstylists.

A Selection of Hair Magazines
Hair magazines available through Hairfinder.

Szépvilág Extra
Hungary's Nr. 1 professional hair and beauty magazine. Hair, beauty, nail art, spa – not only for professionals. Bimonthly, 165 pages. Magyarország elso számú szakmai lapja. Haj, kozmetika, körömápolás – nem csak szakmabelieknek. Kéthavonta, 165 oldal.

Cabelos & Cia
Brazilian hair fashion magazine with a large and informative website. Multimedia section with step by step (passo a passo) instructions for the latest hairstyles.

California Stylist
For the Californian hair stylist. View and read parts of the magazine on the interactive website.

Coiffure Beauty
Hair fashion magazine from Bulgaria.

Coiffure - Vakblad voor de Trendy Kapper
Dutch magazine for professional hairstylists. Pictures of the latest hairtrends.

Pinni
Finnish magazine for hair professionals. Photo galleries of hair shows and trendy styles on the website. Click on "jatkot" and "muoti".

Salon Business
British trade magazine written for salon owners. With the latest hair and beauty news that affects hair salon owners.