Practical Wedding Hairstyle
Q: I am getting married soon and I want a practical wedding hairstyle that allows me to have fun and dance without worries in the evening. Any tips? What do I have to keep in mind when choosing a hairstyle? My hair is long and cutting it shorter is not an option.

A: Congratulations on getting married! A bride's hairstyle is seriously important, but should always be secondary to comfort and personal taste. You're using words and phrases such as "practical", "fun" and "dance without worries", so I'm deducing that you're a relatively young bride, who focuses on having fun rather than putting on airs, but you still want to look beautiful on your wedding day, without having a hairstyle that looks like it was sprayed onto your head.

You've got two main choices here, either wearing your hair up or down. Either way, there are lots of fun, practical and low maintenance styles that you can choose from. If you choose to wear your hair up, I would suggest a style that is first curled with a large-barrel curling tong, and then pinned into place with bobby pins. When the hair is curled, it adds structure and form to the hair strands. This means that the structural base of the style is more stable, and will easily last through the night.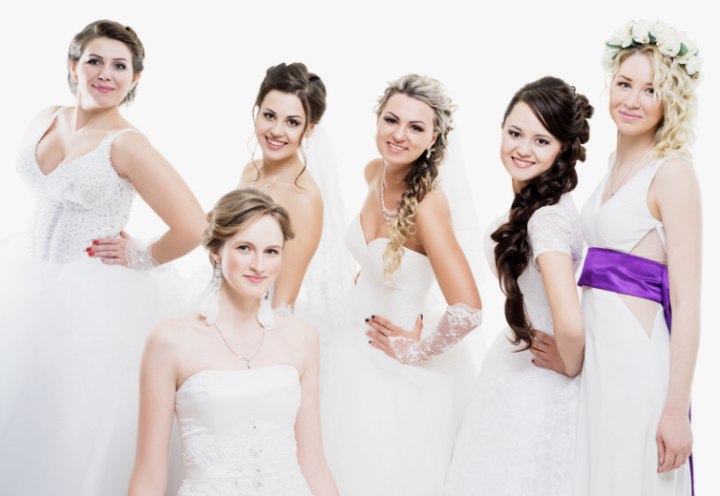 Up-styles that are constructed with straight hair tend to fall loose easily, and either have to be literally sprayed into place by a lot of hairspray, (which easily makes the hair look dull or unhealthy), or the bride has to be careful with her hair throughout the evening. Also, curled styles are much more fashionable right now. I would suggest a slight bubble at the front/top, while the curls are styled into a soft up style at the back.

Have a look at this tutorial. The hair is curled and pinned into place, so the structural stability is good, you'll be able to dance the night away without worrying over the hair coming loose. It's high enough that it won't get tangled in the straps of your dress or necklace etc, but it's not so high that it looks artificial. The curls are also soft and loose, giving it that modern, almost laid-back look. Even if a tendril or two escapes the style, it won't look out of place.

If you'd like to wear your hair down, I would still advise you to first curl it with a large-barrel curling tong, and spray the curls with a strong-hold hairspray. Then make a simple loose three-strand braid around your hairline, spanning from one ear, along the hairline to the other ear. The braid keeps the hair out of your face, while it conveys a faerie-chic appearance. You still get to show off the length of your hair and the curls make for beautiful pictures, while the style is easy and will last the night.

Another fun and modern style you can try, is first curling the hair and then braiding it in a loose braid. Elsa-style like in the animation film "Frozen".

The most important thing to remember is to always avoid steam/humidity after your hair and make-up have been done. Stay out of the steamy bathroom. If your dress is very detailed, keep your hair- and other accessories simple.

©Hairfinder.com


Related posts:

Wedding hairstyles

Updos and formal hairstyles

How to style your hair up