Fullness for Fine Thin Hair
Q: I am over 50 and have fine & thin hair. I like my hair short and recently have had a pixie cut. It seems to look a lot better than having my hair longer. Any suggestions for helping to keep some fullness and body in my hair through out the day? It looks pretty good for the 1st couple hours then it slowly goes flat. I have a rounder face, is a pixie cut good for me?

A: Fine, thin hair can definitely be a challenge to style and wear. And lots of women struggle with having gorgeously styled hair before they leave the house and see a flattened style at work hours later.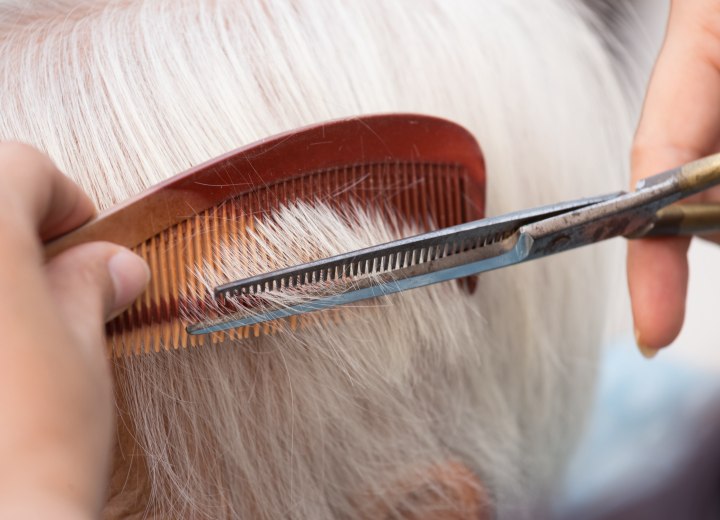 There are a few things you can do to help keep fullness and volume throughout the day. Start with the right cut. Ask your professional hair stylist to use texturizing or thinning shears on the tips of your strands to help take unnecessary bulk and weight out of your hair. You're not "thinning" your hair in reality, you are just adding texture and allowing the hair strands to lay in a more volume-enhancing way. Doing this in the right way will help your style be lighter and the overall haircut will grow out better, too.

Always use the right products for your hair type. Begin in the shower with a shampoo that really adds volume to your hair. If you have extremely fine hair, skip the conditioner and use only when your strands are feeling dry. Heavy conditioners and creams can add weight and be an enemy to fine haired women. Instead, opt for volume-enhancing styling foams, sprays, or mists that are lighter and weightless. Consider carrying around your favorite hair spray to touch up throughout the day if needed. Buy it in a travel size so the product will fit in your purse and will be easily accessible in a pinch.

After you've got the right haircut and are using the right products try styling your hair in a way to add the most volume. Blow-dry your hair upside down so the roots dry sticking up. If your pixie cut is long enough, you may be able to pop in some hot rollers, which are awesome at adding body, shape, and lift to your hair. Pixie haircuts are very on trend right now and they are amazing for fine, limp hair. A shorter haircut can make thin hair look more full so it's a great choice for sparse-haired women.

Pixies are also great for round shaped faces. Heart shaped faces are a great candidate, too. If you have a longer forehead you may want to opt for longer bangs to help add balance to your look. As long as your pixie is kept soft around the perimeter – the look will stay more feminine and flattering to most face shapes.

©Hairfinder.com


Related posts:

How to deal with fine hair

How to use thinning shears

How to analyse your own hair

The difference between fine and thin hair