Difference between Barber and Hairdresser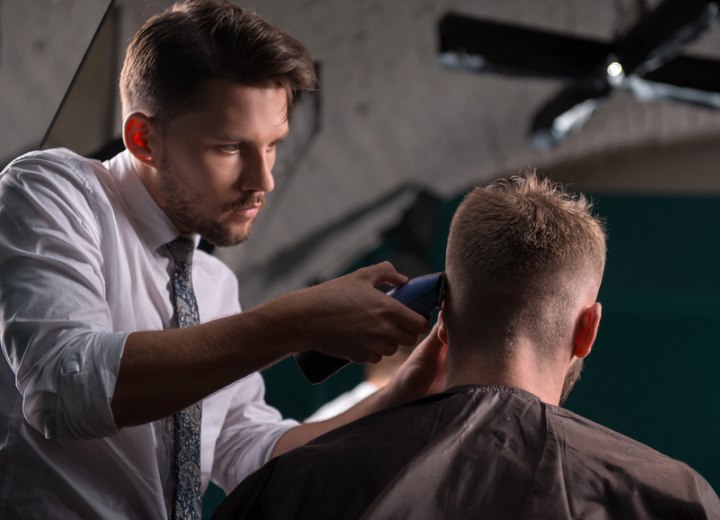 Q: What is the difference between a barber and a hairdresser?



A: There's a huge difference between the two. A barber shop offers only haircutting and styling services to men, while a hairdresser or hair salon caters for male and female clients. Until about 1960, men went to the barber while women went to the beauty salon. A beauty salon specialized in hair, beauty and nail services.

Back then, the concepts of these places were different then it is now. Grooming services have intensified immensely, thus we have beauty salons, nail bars, hairdressers and barbers who all specialize within a section of the grooming and beauty industry.

Barbers were much more popular in the 1900's. Men wouldn't set foot in a beauty- or hair salon. It just wasn't done. Men had their hair cut in very structured, short and neat styles that were meticulously and rigidly kept in place by styling gels or creams. They went to barber shops, which tended to be a strictly male space. Barbers were mostly men who specialized in male haircuts, hairstyles and beards.

Then the Beatles and Rolling stones stormed the world and changed the rules of the game. Men started to grow their hair long and shaggy. It was fashionable for men to grow their hair long and blowdry it. Have a look at images of Axl Rose, Kurt Cobain, Jim Morrison, Joe Elliot, Jon Bon Jovi, Steve Tyler and Richie Sambora. These bad boys made it fashionable for men to have long, highlighted, colored, permed or blowdried hair.

Imagine the effect of the culture shock that this change had on the barber industry. Barbers knew nothing of highlights, blowdries or perms, these were services that were limited to the female hairdressers in beauty salons. "Unisex" salons sprang up like weeds all over the world, catering to the basic needs of men and women, but losing their "specialized" touch, especially in the case of men's grooming.

Unisex salons became the epitome of the proverb; "Jack of all trades, master of none." Students were trained to be able to perform a large array of services concerning hair, but were never taught the art of specializing in the area that they excelled at. Sadly, a lot of barbers went bankrupt because of this, and a piece of male grooming culture died in this era.

These days, barber shops are actually becoming hip again. Men are once again moving away from the "metro-sexual" phenomena. Males who are macho, masculine and virile are in demand once again. Good examples are Bradley Cooper, Gerard Butler and Chris Hemsworth and Jamie Dornan. Gone are the glamorous pin-up bad boys, and we're rewarded with a new age of men that are strong, well-presented and groomed without being "prettified". Beards are also making a huge comeback.

A resurrection of the barber is thus in process. Hairdressing colleges are once again incorporating barber and men's grooming modules into their syllabuses, which means that students are trained to cater to men's specified needs. The fact that there's an increase in the need for barbers means that more students are once again trained in the art of barbering.

©Hairfinder.com

See also:

Hairdressing schools

How to choose a new hair salon

Talents and skills to become a good hairdresser

Where does the word barber come from?