Snow White Hair
Q: I have typical Irish coloring: Pale pink and white skin with blue-black eyes. I dyed my hair back black for a number of years but a year ago I decided to "Go grey." But, my hair is not the great salt and pepper that I expected, it is icy snow white. I have been in a quandary about how best to style it. I have threatened to go back to hair dye telling my husband that I will end up looking like a ghost. He responded: "No. You are looking like an Angel."

Now, that was nice, but I detest those little old lady white haircuts. I don't mind wearing hair pieces if they are needed. I like wearing it up but don't want to go to an old-lady bun. Do you have any suggestions? I'd like some glamour, please.

Thanks so much. I am too young for this, but it is apparently here for me as it was for my Mother. Thanks.

A: Well, I happen to be a person who loves the "snow white" look in a woman's haircolor, because it can be a very striking look. However, since you don't care for the look, perhaps you could try a semi-permanent color, or temporary rinse in a softer shade. Even among those women and men who don't go gray, the haircolor tends to lighten as we grow older. In order to retain a "natural" look, we should keep that in mind as we choose a hair color to cover our gray hair.

Being honest, I can't really make a specific recommendation for color for you since I cannot make a visual inspection and assessment. I would recommend you visit a local salon and consult a stylist/colorist to see what is most suited for you.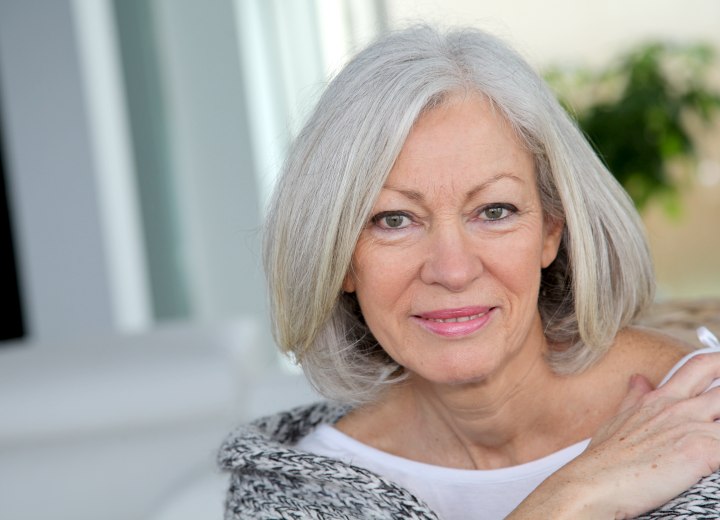 As for hairstyles, you might try a shoulder-length blunt cut. It's a generally versatile style, and works with many hair types and textures. It would allow you to wear your hair up when you desire to do so. And since you don't like the "little old lady bun", look for styles and hair tools to help you bypass that look. A nice French twist is always a classic look, or you could try tools like the "Topsy Tail" to flip a ponytail over or under to create a confined, but atypical style.

You could even get hairpieces that you can add to upstyles to create dramatically longer looks at a whim. The plus side is that if you find a hairpiece you like (and with a flattering color) you can have the rest of your hair colored to match it.

I guess the key is to think outside the box. If you want to stay young and young looking, keep abreast of the current styles and trends. Look through celebrity magazines and fashion periodicals and look for the styles and colors worn by women who have similar coloring to you.

©Hairfinder.com

Related posts:

Temporary hair rinse

How to style your hair up

Hair extensions and hairpieces

Hairstyles for older women

Choosing a hairstyle for elderly women