Keira Knightley's Short Hairstyle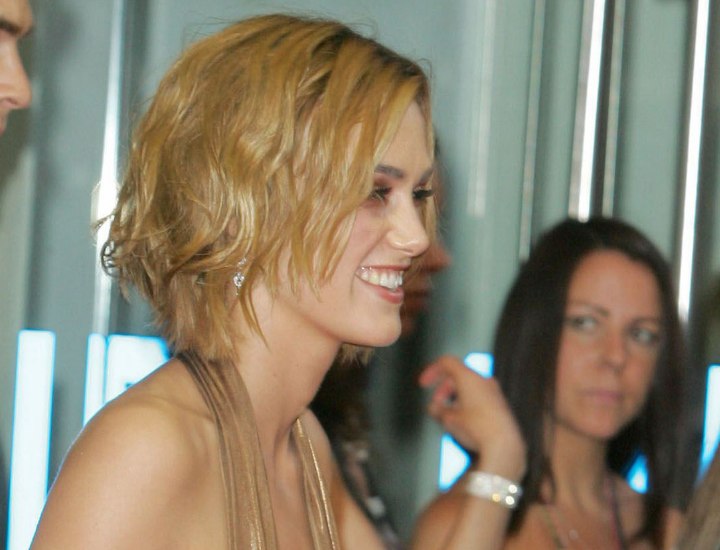 Q: I love Keira Knightley's slightly longer than chin-length hairstyle. What should I ask my hairstylist if I want this short style? Will it suit any face shape? Is it a difficult to maintain style? Any tips?



A: The hairstyle Keira Knightley sported at the premiere of Pirates of the Carribbean: Dead Man's Chest is a classic bob that takes advantage of her hair's natural wave to create a style with plenty of visual interest and natural softness.

The bob style is excellent for most face shapes with the exception of those that are heavier in the jaw line or which have over-large features in the lower face. In such individuals the blunt cut line will only serve to exaggerate the width of the jaw or the unbalanced aspect of the disproportionate features.




The hairstyle is extremely versatile and easy to maintain. It can be worn "wash and go" using the hair's natural wave, can be blown out with a round brush for a soft look, or can be smoothed with a flat iron for a sleek and sophisticated finish.

The hair is best cared for by using shampoo designed for smooth and silky hair to minimize any frizz and keep the hair clean and healthy. A small amount of styling product applied to the hair while damp will give the style ample control regardless of the techniques used to finish the style.

©Hairfinder.com
Photos by PR Photos

See also:

Keira Knightley hairstyles

How to successfully wear a bob haircut

How to style hair with a flat iron