Wildflower by Essensuals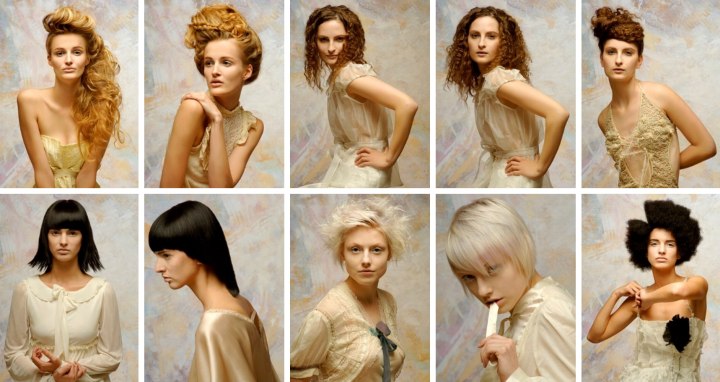 The race is on as Esseansuals blazes to new heights with long and short beautiful curls and the polar opposites of smooth slick lines. Lush rolling attractive waves to the flawless professionalism of shorter hairstyles.


Crimped Hairstyle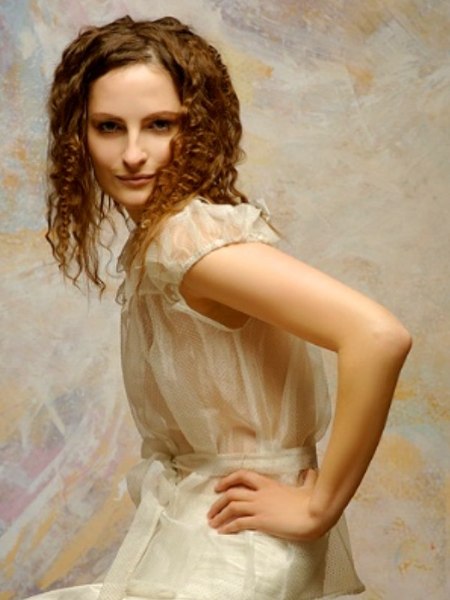 An irregular part blends this tightly crimped golden brown hairstyle into apparent sections and twists. We can see the dawn of a new age of middle kinks and idle ends. The use of a firm thermo lotion as you blow dry and a crimping iron will bring your best results.


Childlike Hairstyle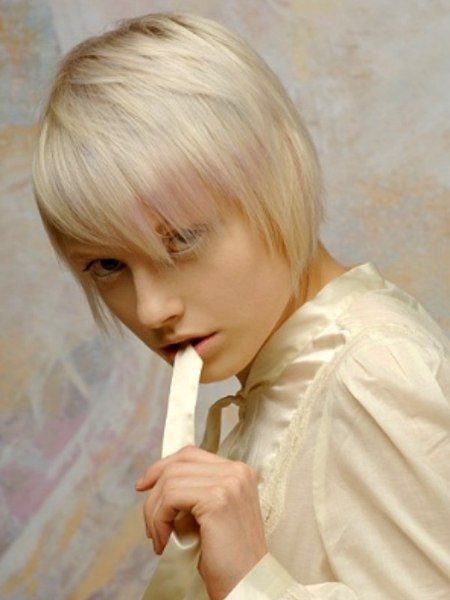 Platinum short layers lie in smooth lines. Wisps fall transparently over the eyes and around the face. This simple childlike hairstyle is an easy draw, as you apply your styling lotion and blow dry your hair. Spray a light amount of gloss and hairspray for a steady influence.


High Fashion Hairstyle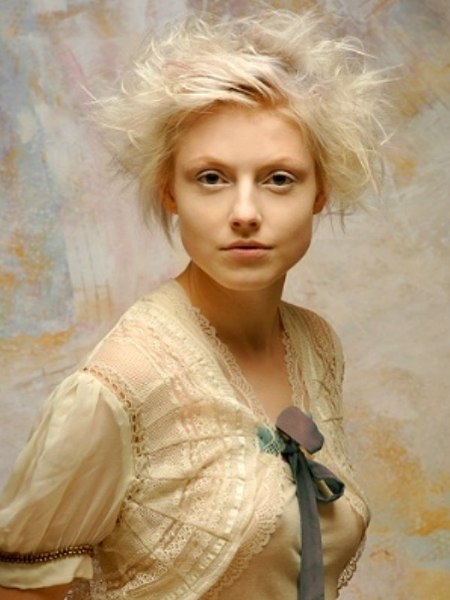 A colossal image is formed resembling a flower ready to seed, on this platinum pouf. Structured layers that have been carefully cut and blown with gel and the use of spray bring about this high fashion hairdo. Lift your hair up with your hands while blow drying under while using your desired fixative to keep this robust style intact.


Hairstyle with Tight Crimps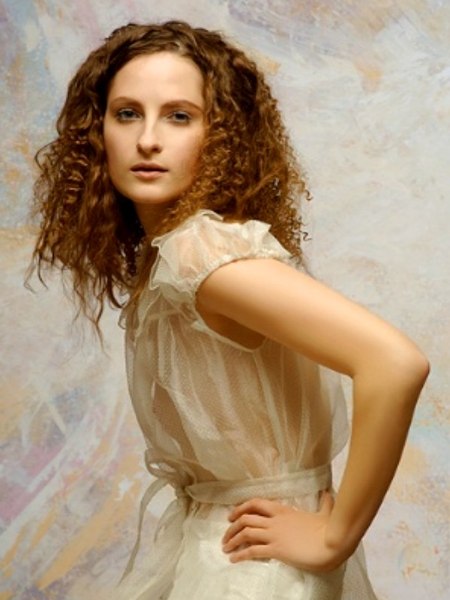 A delightful amount of tight crimps flatter this irregular part and brings the necessary volume to compliment the artist's handiwork. Long layers have been fashioned on this warm brown hair. The use of a crimping iron is a must to achieve this coveted hairstyle with just a spurt of gloss.


Stylish Piled Hair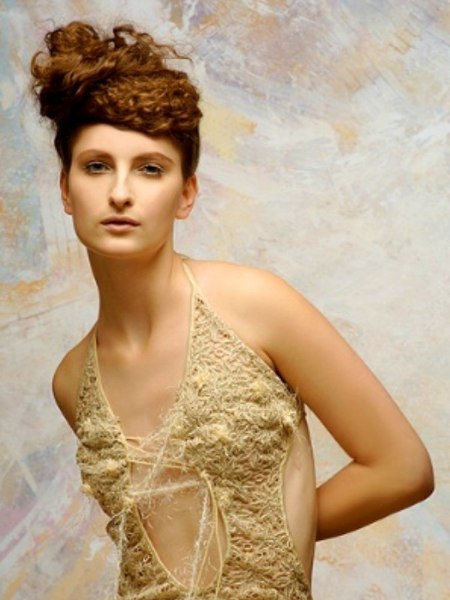 Here we have a delightful picture of light brown hair that has been elegantly piled on top of the head with thick small waves and a nest of lighter waves wrapped around in an off side resembling that of a stylish hat. The use of a firm styling lotion, curling irons and crimping tools would assist this design for your creativity.


Hairstyle with Perfection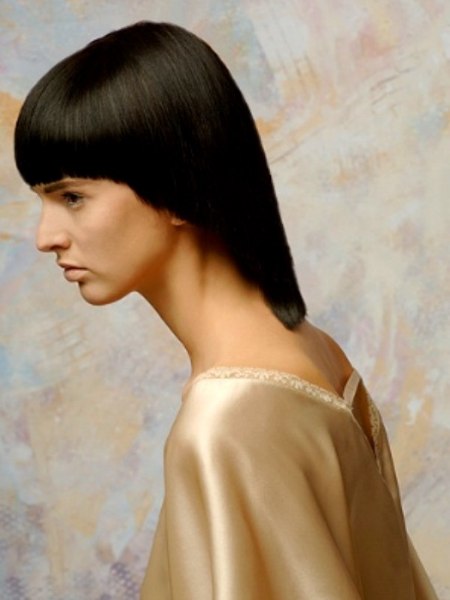 The hypnotic aura of black hair is edged from the top all the way down the back and brought to an arrow. Slick even smoothness and glossy lines are brought to our attention with dramatic design.

Thermo gel is used when blown dry and the flat iron to give the utmost precision to perfection. Smoothing serum and gloss is applied for the ending touch.


Bob with Razor Jaunts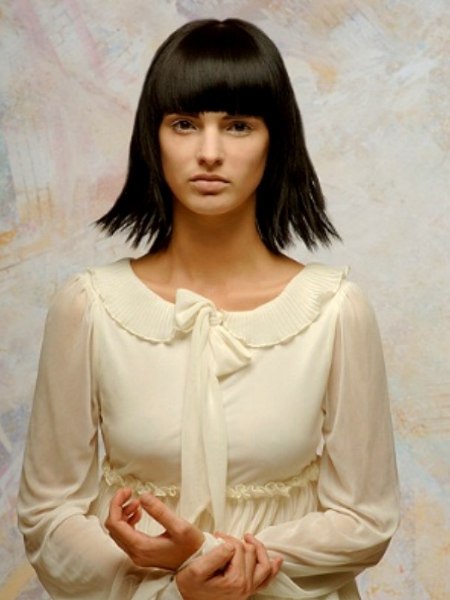 A slick black cut differentiates from the norm of the bob with razor jaunts on the ends that would turn anyone's head. While the hair is made to fan out upon the sides it brings thoughts of childhoods fantasies in a storybook land.

Heavy bangs top this hairstyle and we are assured of the use of generous portions of styling gel when blown and freezing spray underneath the hair.


High Fashioned Hairstyle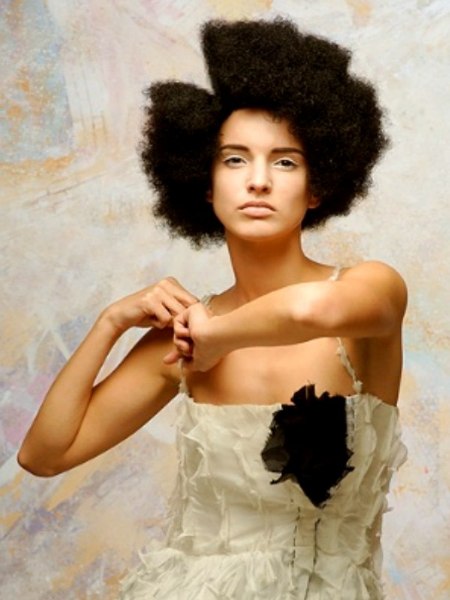 The Queen of Clubs never looked better in this high fashioned kinky hairstyle designed for such royalty. Completely avant-garde, awards the most select prestigious minds. Scissors and clippers sculpture this stacked look and the use of firming lotions and gloss should be generously applied.


Hairstyle with Curls & Swirls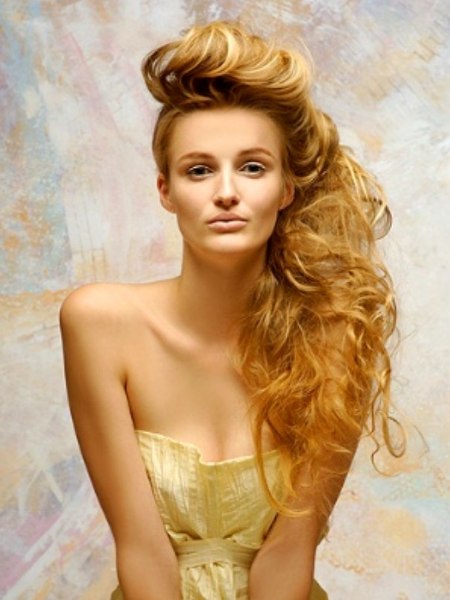 Rolling pulls of strawberry taffy colored long hair that has been styled high up in a couple of deep waves on the top with gathered masses of swirls and curls off to one side. Styled over one shoulder of the model.

The use of gel and medium sized rollers would give a good beginning on this most desirable portrait.


Piled Hair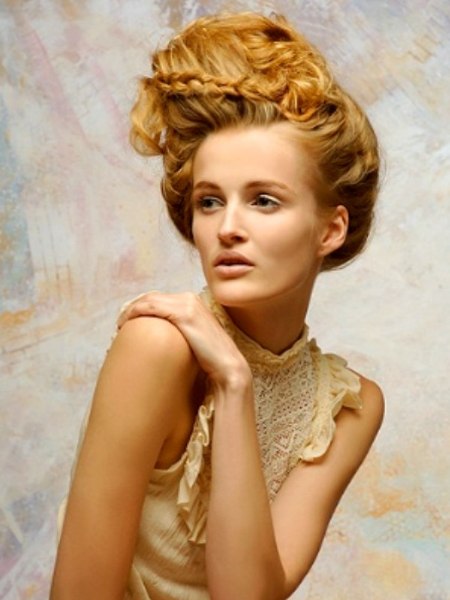 With hair piled up for the Kings ball, all eyes are captivated upon the bold braid that has been placed across the top of the hair, next to the floret. Another distinguished braid is found along one side and commanding notice are the different sections of hair on the other side that have been taken together with the rest of the hair. Use gentle back brushing and crèmes to smooth out this hairstyle with a zest of gloss.

Hair: Jennifer Wilson and Jaz Jagdeo - Essensuals Hairdressing
Photographer: Thomas Beran
Stylist: Margita Skrenkova
Make Up: Anna Slezakova