Lori Loughlin & Tyra Banks
Tyra Banks - 08/30/2009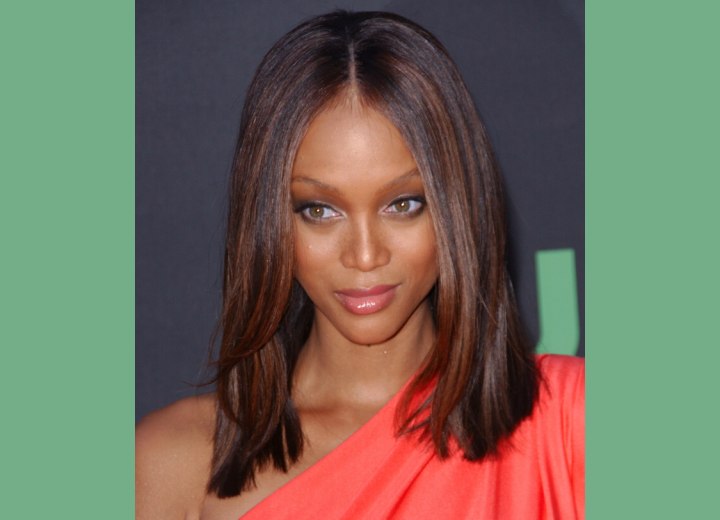 Click to enlarge

Tyra Banks has an elongated oval face with pretty cat eyes that enhance her exotic good looks. She is wearing her hair in a blunt cut around her head with slight angles coming from the bangs along the sides. Her naturally dark hair has been lightened in thin sheets of cinnamon and clove. The thickness of her straight hair has a certain magnetic appeal next to her coral dress and few women can get away with wearing their straight hair like Tyra does with an evening gown and look so dramatic.

There is a lot of bronzing in Tyra's coloring with light feathered penciled strokes in her eyebrows, warm eye shadow, eyeliner and transparent lip color.

Lori Loughlin - 08/30/2009


Lori Loughlin has medium brown hair that has been lightened in a colorful series of blondes and browns to achieve the multiple tones that we see in the photo. Her long windswept hair has been divided into an off centered part and designed into light lines that dip and then sweep back as if a gentle breeze has run through her hair. The rest of her hair nestles closely around her shoulders.

Her milky toned skin is flawlessly cared for with a good foundation protecting her face accommodating her arched eyebrows, concealor, warm shadow, eyeliner, lashes, mascara and just a touch of pink on her cheeks. A pastel tawny pink lip tone goes quite well with her light pastel dress. Her long drop earrings are a good touch with the large beaded shoulder strap.