Blake Lively & Chloe Moretz
Blake Lively - 06/25/2009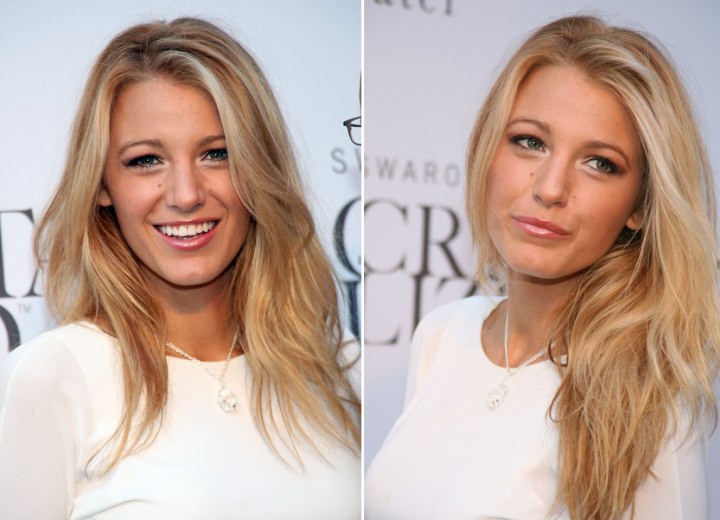 Remember that song, "I believe in Miracles, you Sexy thing!" I wonder if he was singing about Blake Lively? She looks like the advertisement of a long ago Breck shampoo page. For those of you who are a trifle too young to remember, the Breck girls were all quite softly beautiful with lush waves about their hair. They just had it all! Blake's hair has caramel, platinum and darker blonde sidings paneled throughout her hair. With an off centered part, there is the subtle dip that rests over her eye and joins in with the rest of the hairstyle. The fluffiness in her hair is controlled by a light spritz of hairspray and smoothed with remnants of oil.

Her makeup is delightfully light with the eyelashes, mascara, eyeliner, eye shadows, light brushed brows and neutral lip color. The warm tones of her makeup blend well with her taffy caramel hair color and although a white top would not be my first color choice for her to wear, Blake can wear white successfully. I can visualize her in tawny's or pinks.

Chloé Moretz - 06/24/2009


Chloé Moretz brings an elevation of sweetness to any photograph and part of it is because of the natural look. Her long natural medium blonde hair has strips of darker slices of blonde and lighter blonde. The alluring center part is where it all begins, with her spiral curls that rest below her shoulders. Her youthful bewitching eyes become spellbinding and are dabbed with very little makeup. Her youthful brushed brows are harmonized with light cream/light brown shadow, mascara, eyeliner and the barest of bare blush and a neutral lip tint. Her larger than life pink frock gives us a heads up for all eyes to see with the gathered crinoline top!