Claire Danes & Coco Rocha
Coco Rocha - 05/18/2009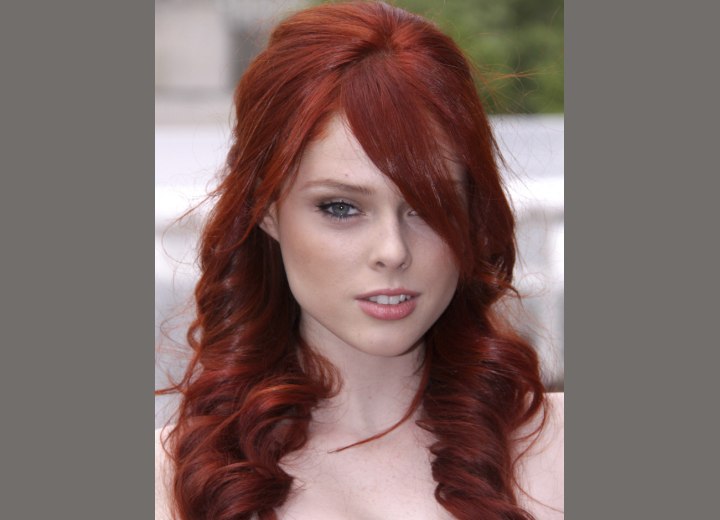 Coco Rocha was born in Toronto Canada on September 10, 1988. A true rising star in the modeling industry, Vogue magazine has been known to say "this is the Coco movement."

Coco is wearing her hair in a magnificent sparkling sherry/coppery color that brings a tribute to redheads. Her long flaming red hair is styled into various cylinder curls around her head, while the top is smoothly directed around her crown and along her face.

Her flawless makeup reveals the milky white skin and is emphasized with smoky taupe eye shadow, a few penciled in strokes in her brows, eyeliner, light lashes and mascara, blush and a neutral flesh pink lip color.

Her gorgeous ruffled blue gown is the perfect color to call attention to her coppery hair. More attention could be drawn to her hair and eyes, if there were some of the blue wrapped around her neckline, like a scarf.

Claire Danes - 05/18/2009


Claire Danes keeps her long hair blonder on the shaft with mixed thin strips of brown woven in between her blonde hair. With a standard straight side part, her top goes with the flow and meets over to the rest of her hair to be developed into one lush roll back. The other side comes down and lies along with the other hair. Her makeup has a light dewy appeal with natural brows, light blended shadow, lashes, mascara, eyeliner, touches of blush and a light frosty lip color.

Applause goes up for Claire's blue silk dress that goes from shoulder to shoulder and sets off the blue in her eyes. For a dressier effect, I would swing her blonde hair up into a smooth up do and this would put a little bit more sophistication in her photograph.