Demi Moore & Nicolette Sheridan
Demi Moore - 04/30/2009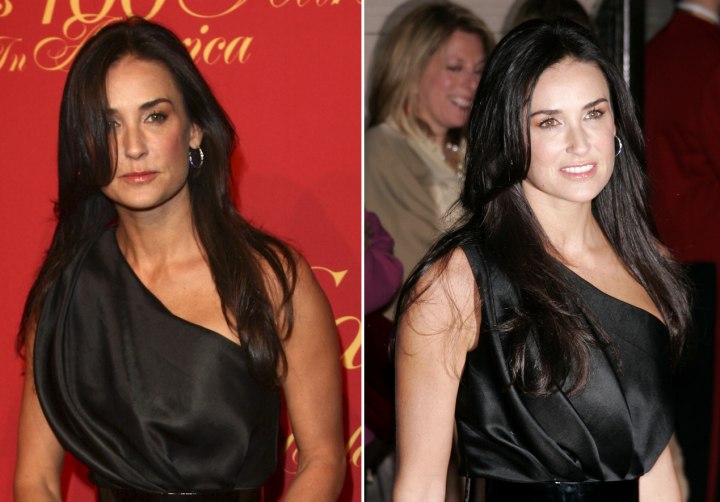 Demi Moore is intriguing in her seductive black dress that looks like it is thrown over her shoulder and has then, decidedly used a wide belt to show off her petite waistline. Oh, the agony of the battle of the bulge; for those of us who tend to be a little bit voluptuous at times. We just cannot help it, if we tend to be a bit self-indulgent at times. From what I understand, Ms. Moore works out hard to stay as beautiful as her photograph.

Her long dark brown hair has been a trademark of hers for quite a while now. No doubt her hubby Ashton Kutcher likes it that way. Her long layered locks are smoothed finely down below her shoulders. The top reveals a cowlick that offers up some volume on each side of her part and apparently Demi has learned to go with the flow, while bringing out the best instead of fighting against this reckoning force. One long swooping bang covers Demi's pensive eye and in the next photo we can see how she has brushed it away with her hand.

Demi has a square shaped face. Few people notice that about her because her eyes are so beautiful. Actually, she has one green eye and one hazel. Talk about diversity. Her eye makeup is kept dark, with light shadow on the lid and blends of a darker color on the crevice of the eyes, dark brows, lashes, mascara, eyeliner, blush and a neutral lip color.

Nicolette Sheridan - 04/30/2009


Our Hollywood girls will go to many extremes to look natural, yet not being natural. For example: Nicolette Sheridan's hair has been lightened into the sand platinum yet, I cannot imagine her in any other color. Her natural color ranges from a medium/dark blonde; therefore bringing her color up to this color would be a snap for her colorist. She appears quite natural. Her hairstyle is worn with most of the hair clasped in the back to allow the escapees from a ponytail. Only a small short part in the front divides her smooth structures of hair that hang along her face.

Let's look at her eyebrows. Very few if any penciled in strokes, they have been combed to go upward that gives a more natural appearance and probably sprayed to stay that way. Yes, we spray our brows. She is wearing lashes, dark brown mascara, and a very small light smudge for eyeliner under the lower lashes, light blush and a medium tawny lip tint.