Mena Suvari & Kim Richards
Kim Richards - 03/11/2009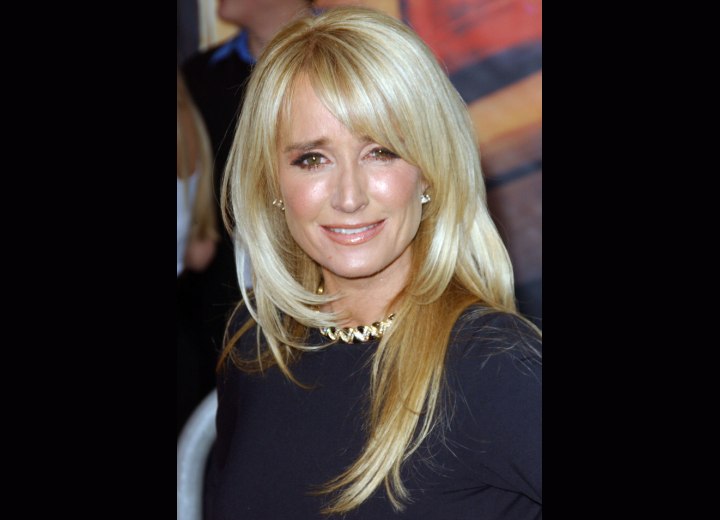 Click to enlarge

Kim Richards wears her satiny hair in long layers that are delicately smoothed toward her face in large round curls. There are heavy bangs that take over one of her brows, while the rest of the hair plunges down her back in a platinum rest area. She is wearing an unusual dark ashen grey type of color with white rick rack along the neckline. The grey color looks good on Kim and seems to balance out some of the gold in her hair. Her make-up is very light and fine, with heavy eyeliner, lashes, mascara, barely blush on her cheeks and very light lip tint.

I imagine Kim uses mega amounts of moisturizers to keep her blonde hair looking as good as it does and to prevent drying.

Mena Suvari - 03/12/2009


Mena's short hair has a lot of bulk with the round bangs that flip up on the ends, the round crown and piecy coils on the sides. Her colors are a series of dark brown, light golden brown and thin reeds of blonde; the light golden brown being the dominant theme. Her hairstyle can be styled with conventional rollers to obtain the bulk. When you are ready to roll your wet hair, roll the rollers toward the face, only at a slant edging to one side as pictured. Use medium to large size rollers. The sides can be rolled with a vertical position or you can also purchase coiled rollers in different lengths and sizes for your hair.

Mena Suvari wins the medal for wearing the most natural appearing make-up. Light warm shadow, possible lashes, mascara, penciled light brows, eyeliner, and touch of blush and coral lip tint.