Dania Ramirez & Christina Hendricks
Christina Hendricks - 2008/10/31


If anyone can wear strawberry brown/blonde hair it is Christina Hendricks; it competitively brings out the blue in her eyes and her milky skin is pink! Her layered curls are sort of a lackadaisical flimflam that goes wherever yonder! Simplicity can be advantageous and even contagious when you get the hang of it!

After you wash, condition and dry your hair use your medium curling iron to take irregular sections, in triangle forms of your hair and wrap vertically with some pieces away from your face, while others are toward your face. Bring the top over and curl under slightly while the other part is curled back a bit. Allow to lie where they fall. Take your hands and muss it just a small bit, being careful not to look too careful; as you spritz for glossiness.

Dania Ramirez - 2008/11/01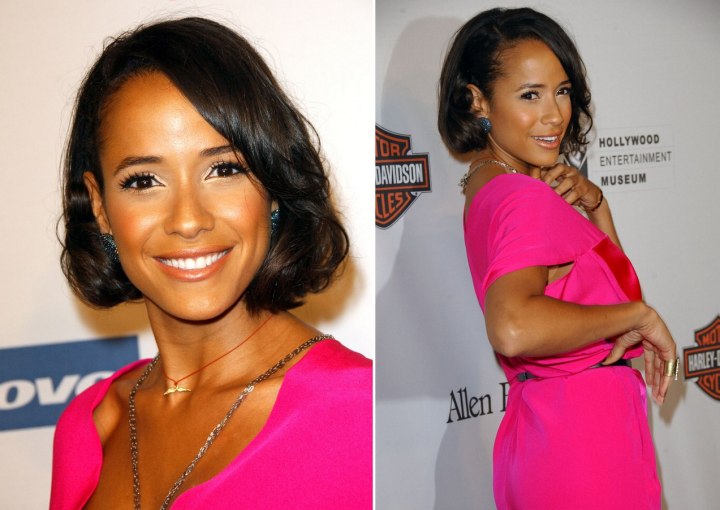 Dania Ramirez shines with her beautiful golden skin tones and smiling eyes that glitter and light up her whole face. Her hair is cut to bounce up, just above her collar in a rounded curvy bob. The bangs are smoothed over to rest on one side of her temple and along her frame. Her hairstyle is an easy fix when you get the medium length haircut. The healthiest plan is to roll your hair with conventional rollers and allow to dry.

When you have done this successfully you will see that the ideal formation would be to bring your hair up at least 2.5 - 4.0 cm or 1 - 1.5 inch after you have brushed out your hair. Smooth the top over while placing it across your temple like shown in the picture. Spray a little bit of gloss and you have it made in the shade!

Tip: Take note how alive Dania's eyes and skin are; this is partly due to the hot pink outfit she is wearing and the bronzing on her face! The closer the color is to your face the brighter your eyes will be!