Angela Kinsey & Leslie Mann
Evan Almighty World Premiere - 06/10/2007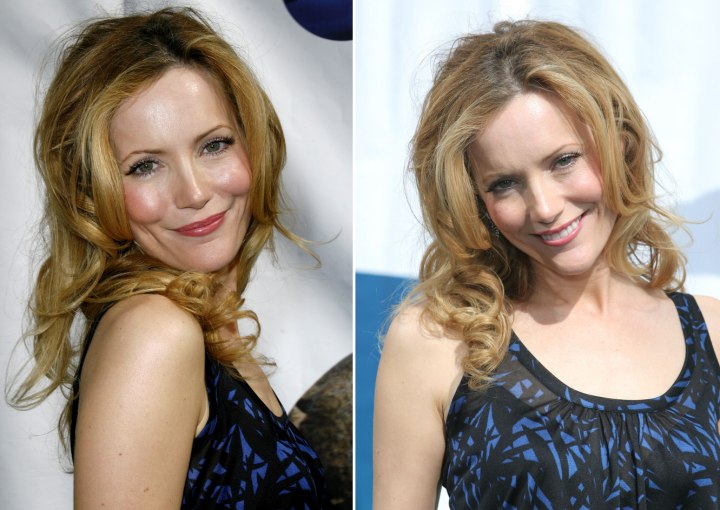 "Oh, she's my blue jean baby with the sweet expression!" Do you remember that country and western song? Neither do I, but I thought it was suitable for Leslie Mann. She has been known for playing roles with an attitude, but you'd never know it, when you look at her face.

Her hair is shaped in the perpetual long layers that so many celebrities are sporting around today and she has the "I just got out of my bed look" with lackadaisical twists and curls that descend pass her shoulders. The color is close to a rich wheat and formulated to give a natural impression. Leslie's hair is evidence of the moisturizers she applies when she washes her hair. Those are some apples(cheeks) she has and very coveted in the world of Hollywood. In fact, there are those who even get apple implants, not saying that our girl has them. You can see how they increase the sweetness in her smile. Hmm, I wonder if I need apples.


You've no doubt seen our celebrity in NBC's sitcom The Office. She is known as Angela Martin. Isn't it funny how sometimes, you can just look at a person and tell, just how much fun that they would be to hang out with? So it is, with Angela; she seems like a lady with super great wit.

Angela Kinsey has naturally straight hair that is styled with an off centered part with bangs tweaked just below her eyebrows and has low angles along the sides. Her hair color is a light beige with thin slices of golden blonde for depth. The simplistic approach to this style is wash, condition, apply products and blow dry. If you would like a smoother look, use your flat iron or large round curling iron and apply piecing serum to the ends. Not to say, you will look like Angela though.