Selena Gomez & Sara Paxton
The Premier of SURF'S UP - 06/02/2007


Selena Gomez wears her hair in the popular long layers and keeps her cuticles smooth and straight. There are angles on her sides to frame around her face. Her top has a off centered irregular part. If this hairstyle appeals to you, you can achieve Selena's straightness with either a large round curling iron or a flat iron. Whatever tool suits your taste. Some prefer using a hot roller brush. Afterwards use plenty of crème to keep frizz under control. Ms. Gomez's naturally, healthy, youthful appearance gives hope, to those who are using too much make-up and too many hair products. The look of a natural face will goes miles farther, than the look of a heavily made up face; as we are always judged by how we look. Especially if you are job hunting.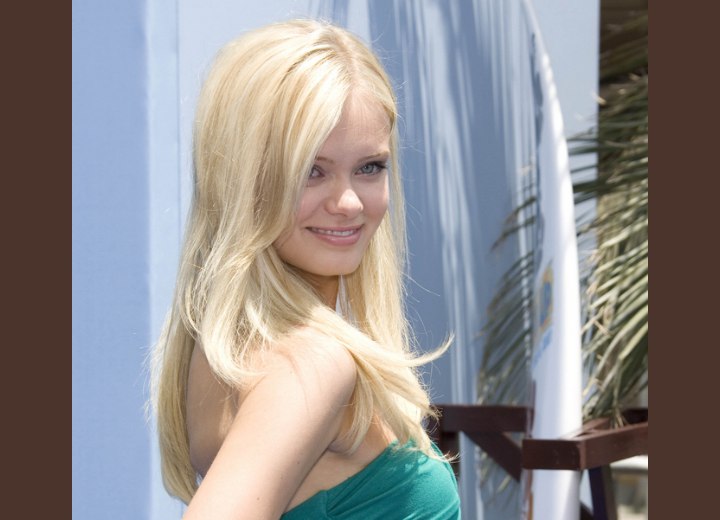 Sara Paxton started her career when she was quite young and has now become a singer, her very first dvd is entitled The Ups and Downs.

Sara's hair color is a platinum blonde with a few slight streaks, of a darker tint of blonde for a variety of smart dimensions that only gold can bring. Her hair is sectioned off, into a modest off center part and is cut is long layers. The straightening process was an application of gel or moisturizing setting lotion and the use of a blow dryer and a large round brush and just a small amount of smoothing serum afterwards. If I could have my way with her hair, I'd snip a little bit and apply a blunt cut about half way up her neck. Now, look at this picture and visualize this on Sara. Place your finger halfway on her neckline. Just adorable!