Elijah Wood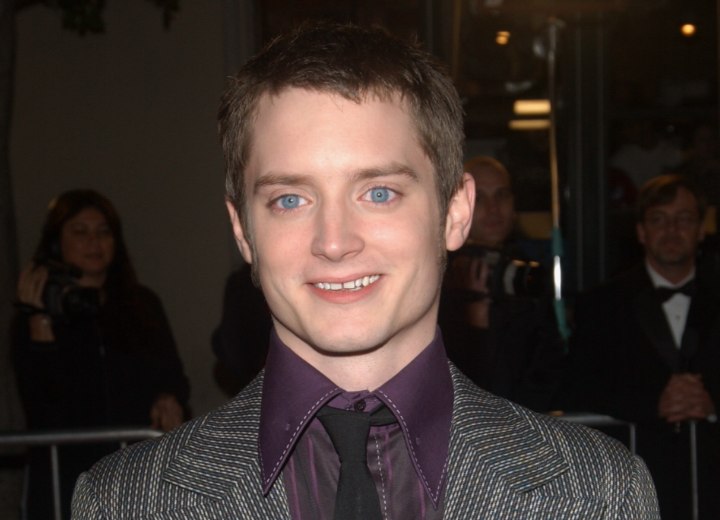 After finding giant-sized success playing a pint-sized hobbit, Elijah Wood has simply kept the momentum on a career that has been snowballing from the beginning. Seen with a variety of styles from a mop-top bowl cut in his younger days, to a mass of curls and near-shaved head, Elijah's look is always changing.



Here we see him sporting a super short, Caesar cut with extra long sideburns. The cut is perfect for those with a variety of hair textures and up to curly hair wave patterns, particularly when the person needs to elongate a wide face.

The Cut: The cut is simple, the hair is buzzed to approximately 3/8th or 1/2 inches in length on the sides and back, expanding to approximately one inch at the top area with an added length at the fringe (of say approximately 1-1/2 inches).

The fringe can be notched to add some texture and the perimeter should follow the traditional man's cut line with the exception of the super-long sideburns.




The Style: The styling of this cut is even easier than the cut. After shampooing and conditioning in the shower, the hair is simply towel-dried and a small amount of product is applied to the damp hair and massaged through to distribute. You can choose your product based on the finished look you desire.

Try a styling gel or mousse for fullness and long lasting hold that can be broken up into a soft look when dry, or use a liquid-wax/foam to create a defined look that will keep it's definition all day long.

Stacy - Hair Stylist ©Hairfinder.com
Photos by PR Photos

See also:

Male celebrity hairstyles

The latest hairstyles for men

How to buzz hair with clippers