Antonio Banderas Curls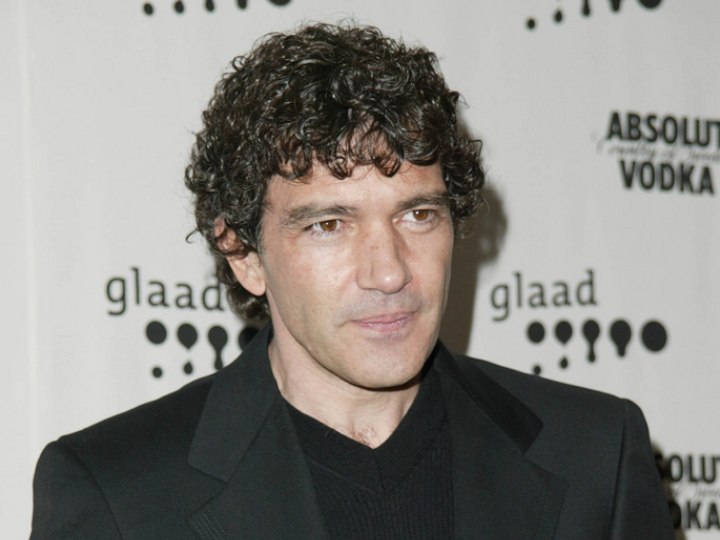 Antonio Banderas is one of the most recognizable faces in Hollywood today. His dark, Latin features and swarthy good looks are crowned by a mass of silky, black curls. To achieve Antonio's look you need his type of hair: thick and curly. Once you have this taken care of, the cut and styling become simple:



The Cut: This is a simple variation of the man's cut. The fringe area is blunt cut across the forehead, with an angled cut at the ears so that the ears are half-covered. The sides and back are cut to layered lengths at approximately 1-inch at the bottom (perimeter edge) and gradually increasing to approximately 2-inches at the parietal ridge. The top and crown areas are approximately 2-1/2 to 3 inches long in uniform layers.

The Style: With our cut complete, we apply leave-in conditioner and styling gel to the damp hair and massage it to distribute (or use a wide-tooth comb). Use a blow-dryer with a diffuser attachment and your fingers to gently lift and dry the hair to a mostly dry state (or until you have the amount of volume you desire) then allow the hair to finish drying on its own.




If you accidentally dry the hair too much, or end up with too much volume, lightly mist the hair with water and scrunch it to deflate and define the curls, then let the hair finish drying naturally.

Stacy - Hair Stylist ©Hairfinder.com
Photos by PR Photos

See also:

Hairstyles of male celebrities

The newest hairstyles for men