Elise Neal's Updo

Here's a photo of Elise Neal at Vivica A. Fox's Fabulous 50th Birthday Party in Beverly Hills on the 2nd of August, 2014. Elise's dark brown hair is highlighted with chunky medium-and light-brown pieces to create dimension and movement in her hairstyle.

To create this look at home, use relatively straight-styled hair that has only been washed a day or two before. This is because up-styles like this hold better when the hair shaft is coated in a thin layer of natural oil produced by the hair-follicle, which also helps in giving the hair that glossy, healthy shine.

Note that Elise's long bangs are brushed slightly to the side, to the direction of her hair bun styled also to the side of her head. Make a low, side-ponytail just beneath the occipita -bone. Remember to leave a piece out just behind the opposite ear.

Style the ponytail into a fairly neat bun with volume, securing the hair tresses into place with black bobby pins, using the fold of the hair bun to disguise the pins. Curl the small loose section of hair at opposite ear with a large barrel curling iron, and let it settle before spraying it with hair-spray.

Complete this look with a high shine spray, before spraying the hair with a strong hold hairspray to keep the style in place and block out any humidity.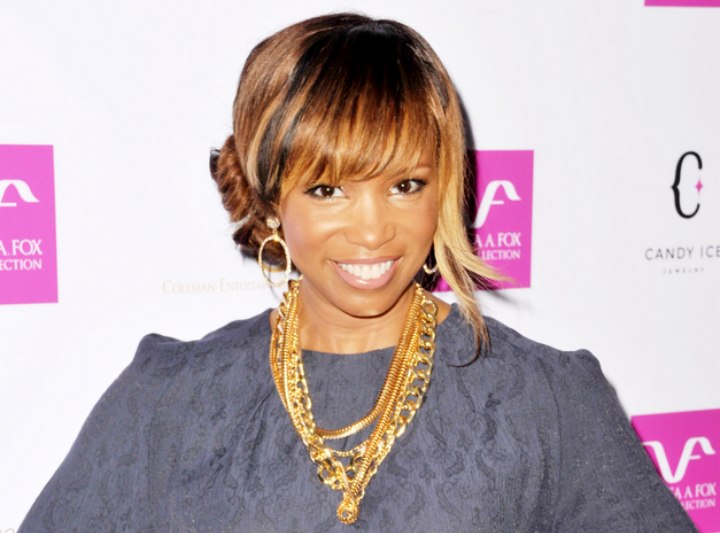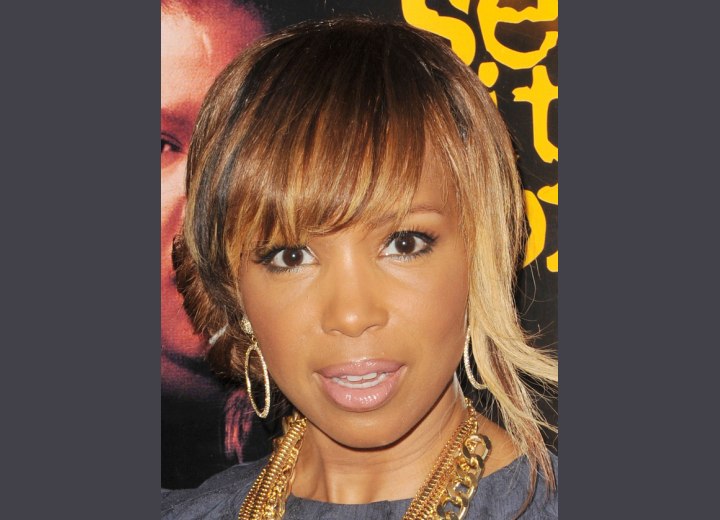 More Elise Neal hairstyles