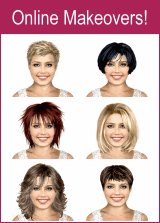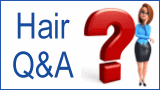 Long Hair Roller Set
Achieve Sexy Fullness With Your Long Locks
A lot of sexy fullness can be achieved with your long locks. Long hair offers many styling possibilities, from ponytails, pigtails and braids to upswept styles, sleek curtains of hair, and my favorite, big, soft, romantic curls.

The big, soft-curled style is becoming popular again now that longer hair is coming back into fashion. The head full of tousled curls that was so popular in the late seventies and early eighties is once more in vogue, and updated by the use of hair product formulated to produce curl without frizz.

For our demonstration, I opted to use the two larger-sized rollers and alternate them on the head. The rollers were loaded with the hair, meaning that I combed extra thick segments to roll on each roller. At the top of the head, the rollers were wrapped with off-off-base placement, making a nearly flat plane at the top of the head once the rollers were positioned. This first row of rollers was wrapped downward, winding the hair under the roller.


The lower rows of rollers were all wrapped upward, winding the hair over the roller and again positioned in an off-off-base placement. All the rollers were secured in place using curler clips, and many of the rollers required multiple clips because of the overloading.

It should be noted that this roller set was performed using a light misting of setting lotion on dry hair. The hair was misted until it was just damp and not wet, to minimize the necessary drying time.

Once the hair was wrapped, another misting of setting lotion was applied to the outer surfaces of the rollers. The manikin was then placed under a bonnet dryer for thirty minutes at medium heat. It was then removed and allowed to air dry completely overnight.

With a real client, this would not have been possible, due to the inability to sleep with the hard plastic rollers in place. So, in attempting this style yourself, increase the drying time to fifty minutes at medium heat, and instead of applying the final misting of setting lotion, use a leave-in conditioner to protect against heat damage. After the initial fifty-minute drying time, set the dryer to cool for ten minutes and check the hair for dryness. You may have to take down a test curl partially to make sure the inner layers of hair on the roller are dry. If not, continue drying the hair in fifteen minute cycles with a five minute cooling cycle in between, checking for dryness every twenty minutes or so.

Once dried, I finished the manikin style, removing the rollers and combing out the curls with my fingers first. I then used a half-barrel brush with wide-set bristle teeth to smooth out the curls and remove any roller marks and seams. Finally, a light misting of hairspray and a passing of the fingers through the hair added a little more definition to the style, separating some of the curl.

The finished style, as you can see, is casual and natural-looking curls in a cascade. The style can be worn as shown, or if there is a need to control the hair more for work or a more active evening outing, you can use hair clips or barrettes to pull the sides back loosely without changing the overall look of the style.

The look is romantic, and glamorous, and would be suitable for an evening spent at dinner and dancing, or for looking ravishing at the poolside or the beach. The style is also an excellent starting point for many up-styles where the goal is soft and romantic. You can even perform a "quick-change" using this roller set style by adding a banana clip, or expandable comb to pull the curls up in a fall at the crown of the head.

©hairfinder.com

Q&A about the size and sort of rollers
More Hair Styling Instructions