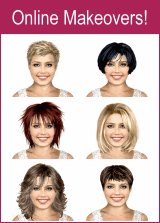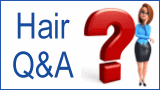 Rockabilly Hairstyles
Q: I really need to know how to do some Rockabilly styles to my hair and I also need a new cut to go with it.

A: Well, as a bit of general information for those readers who may not know what a "Rockabilly" style is, the term "Rockabilly" refers to the styles made popular in the late 1930s, the 1940s and early 1950s, the era in which Rock'n'Roll was formed. Rockabilly has become something of a sub-culture movement as individuals who favor the styles and music of the era (as well as the classic cars of the period) identify with one another and host social events centered around the things they love: Old style rock'n'roll, classic car shows, etc.

For men, Rockabilly hairstyles commonly involve a cut with short sides and slightly longer back with sufficient length on top and in front to create the upswept "pompadour". Another men's rockabilly hairstyle is the flattop, although this is the original, with the top of the head cut to approximately one inch and styled with pomad or wax to give an even plane or spiking ends.

Women's rockabilly styles are more varied, but still follow two general looks: the first is a moderate-length, layered style. The hair is kept longer at the top of the head (generally 5-6 inches), shorter at the sides (generally 3-4 inches), mid-length at the crown area (4-5 inches), with the longest section being found usually at the nape area. This style is always curly, making use of the hair's natural curl or being permed and roller set to give straighter hair curls and body. It is a classic look from the 1940s and early 1950s. The hair is styled with volume at the top of the head, styled close to the sides and cascading in waves and curls along the crown and down the neck.



(Click to enlarge)


The other look that is most common among the Rockabilly devotees is the one made popular by Bettie Page, the 1940s and 1950s pin-up model. This look is a longer style, generally created with blunt cut fringe across the forehead (usually being cut to mid-forehead length). The hair is center-parted and left long in a blunt cut style (or with a few layers at the ends of the hair). The hair is generally styled to have soft waves along the length, while the bangs are straight and smooth.

These two basic hairstyles form the bases from which all of the other variant Rockabilly styles emerge. The lengths can be widely varied according to your taste and what suits you best, and can be easily updated, in case you want to be able to create separate looks for different occasions and circumstances. Obviously, I can't offer you specific suggestions because I have no information about facial shape, build, facial structure, etc. However, I hope the above information will give you a place to start.

©Hairfinder.com

Related posts:

Vintage hairstyles

How to style hair