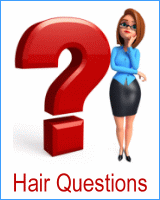 Laeticia Halliday & Eva Longoria
Laeticia Halliday - 02/20/2009


Laeticia Halliday's hair is cuffed along the back presenting a youthful bob that comes around the front and touches her neck with a slippery smooth line. The high side wind takes the heavier hair over to frame the side of the face, while the other side sits back just a little bit; revealing her earring. Your large round brush will come in handy when you blow dry this hairstyle with styling lotion. Gloss when you are finished. Tip: many are using transparent glossy demi (semi) tints today to achieve a high sheen to their hair, in this way they are not bothered by continual spritzing of gloss.

Laeticia's beautiful green/hazel eyes are the first thing we notice because they are so captivating. One of the reasons is because she has decided to keep the thickness of her brows and this keeps her eyes looking rich and soft. There is a hint of light whitish blue shadow, lashes, mascara, eyeliner, bronzing and a pastel light coral lip tint. Tip: when you really want your eyes to stand out, the right make up will always be an asset with the proper blending like Laeticia's. However, as gorgeous as her eyes are, they could be created to be much more attractive with the proper hair coloring. Laeticia's beauty can allow her to get away with wearing the platinum hair color. However, if her hair was a darker brown or a medium coppery red, the colors would bring out the coloring of green in her eyes to such a high degree, few would be unable to stop staring at such splendor.

Eva Longoria - 02/20/2009


Eva Longoria is wearing much shorter hair these days. Could it be a fashion trend beginning in Hollywood? Her layers of hair are ablaze, with multiple colors of caramel, cinnamon, browns and gold and have been rounded with a curling iron to move away from her face. Her color is the type of shade of someone who has naturally dark hair and has been spending a lot of time on the beach, only in Eva's case; we know she hasn't the time to frolic on the beach when we think of the busyness of her career.

Ever the smiling flashing eyes, Eva promotes them by a well blended foundation, blends of dark and light shadow, eyeliner, lashes, mascara (after all, no self respecting girl would even think of going out without her mascara), darkened brows, blush and a fleshy toned lip tint.


---

Celebrity Hairstyles News Archive:
Earlier News News Home Celebrity Hairstyles Pictures
200 201 202 203 204 205 206 207 208 209 210 211 212 213 214 215 216 217 218 219 220 221 222 223 224 225 226 227 228 229 230 231 232 233 234 235 236 237 238 239 240 241 242 243 244 245 246 247 248 249 250 251 252 253 254 255 256 257 258 259 260 261 262 263 264 265 266 267 268 269 270 271 272 273 274 275 276 277 278 279 280 281 282 283 284 285 286 287 288 289 290 291 292 293 294 295 296 297 298 299 300 301 302 303 304 305 306 307 308 309 310 311 312 313 314 315 316 317 318 319 320 321 322 323 324 325 326 327 328 329 330 331 332 333 334 335 336 337 338 339 340 341 342 343 344 345 346 347 348 349 350 351 352 353 354

©Hairfinder.com