Kidz Walk by J.7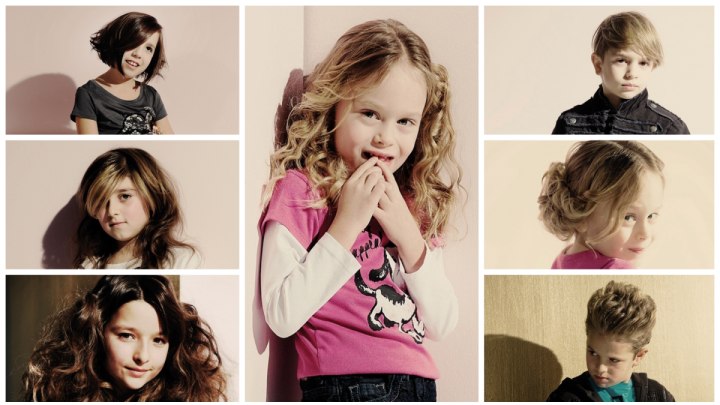 Scroll down for more photos ↓

Finding the right hairstyle for your little loved ones can be challenging. Kids, even little ones often have a very concrete idea not just what they want to wear, but also how they like their hair to look. Some may want to copy the styles of mom and dad, others are free spirited designers all on their own.

You want to make them happy, but since you are the one dealing with the tangles and the maintenance of their cute hairstyles, the look also has to be manageable and be practical enough to keep up with the high-energy lifestyle of active boys and girls.



The J.7 artistic team came up with some great ideas to let your youngsters enjoy a spring and summer season in a style that is easy and chic. Some of these adorable looks have grown up role models and look great not only in kindergarten, but they can also make it through high school later. Timeless, fun, practical and super chic. They will love it and so will you!


Candy Curls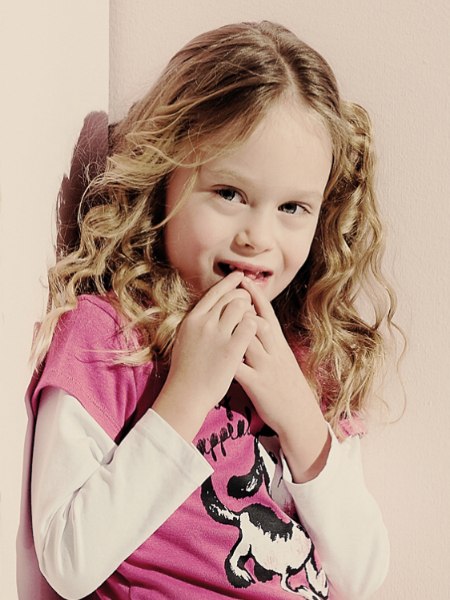 A good detangling spray will help to keep those adorable long locks looking this playful and sweet without the styling pain. This is the perfect long hairstyle for a little girl who wants to be a princess and has a natural curl in her hair.

The length reaches a couple of inches below her shoulders, and the part is right in the center. A bonus here is that the length allows a lot of styles like braids, pigtails and ponytails. And there is plenty of room for colorful accessories.


Little Rebel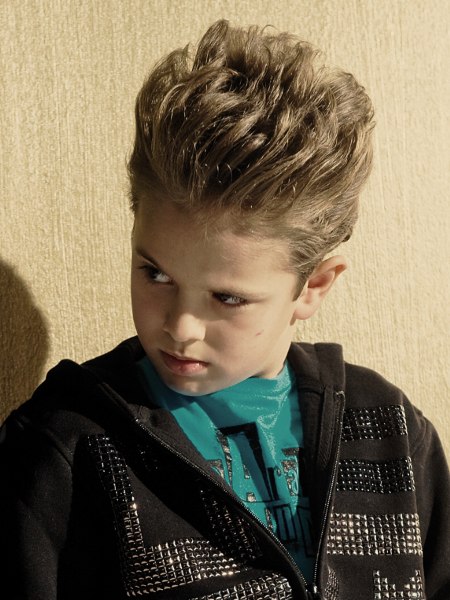 Heartbreakers start early. Barely out of the diapers, this young boy channels James Dean with his hairstyle. The difference to his iconic role model is not only his tender age, but his look is of course modernized, has more volume and less pomade.

The top hair, which is slightly longer than the sides, is lifted up. This can be done with a round brush and a blow dryer, or requiring less bribing and patience, a touch of light gel or mousse and kneading the damp hair with fingers while teasing it into place. He can be ready in no time and get on his toy motorbike to wrap the world around his little finger.


Twirls and Highlights


For the real fashion conscious young girls a touch of color can really brighten their day. It is not necessary, and perhaps not a good idea anyway, to dye the entire head, but a few highlights around the face are easy to do and can grow out easily. Another very stylish aspect of her long, textured hairstyle is the deep side part, allowing the long fringe to fashionably drape over her right eye.



Her deep walnut brown base color is perfectly matched by the butterscotch colored streaks that accentuate the shape of her haircut and frame her face. The hair is layered in its last quarter and has a lot of texture to thin out the bottom and give the look a soft and flowy outline.


Heartthrob Fringe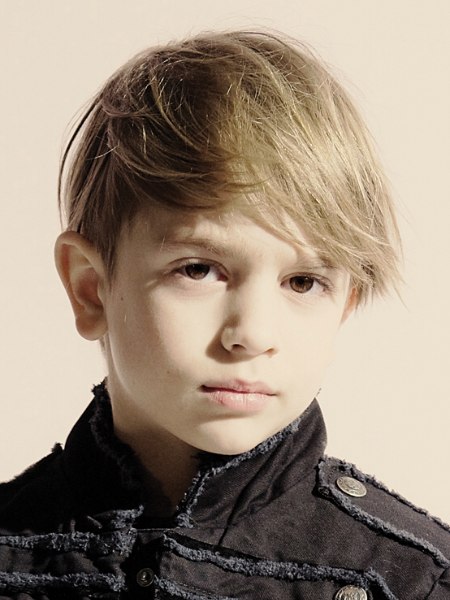 Justin Bieber, move over. A new generation of heartthrobs is already in training. This little boy's long fringe brings attention to the big brown eyes, and the little curve in the tips makes it so very trendy.

The sides of the haircut are short and do not cover his ears, and the neck has some graduation. In comes the top hair with its length that touches the eyebrows in front and the tip of the ears on the sides.


Soft Upstyle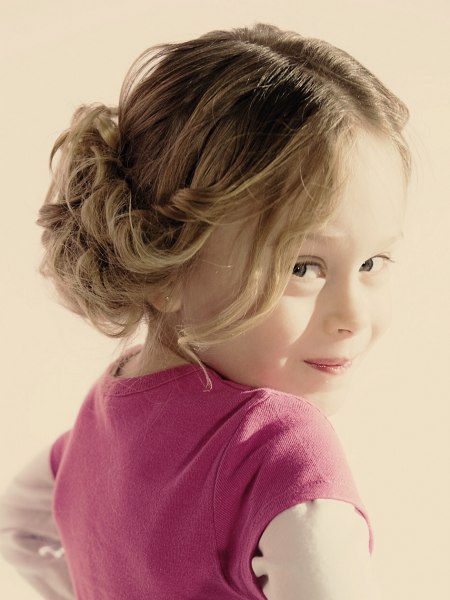 When styling the hair of your sweet offspring up, you don't want to torture them with pointy, sharp or heavy accessories that could poke them or pull on the hair too much. This soft and very stylish hairstyle is easy to make and requires only minimal pinning.

It is all about twirling and rolling the little girl's long curls along the side and then everything is gently fastened in the back. A couple of loose strands in front add to the pageant or princess effect. A curling iron will add to the drama and all that she needs now is a magic wand and a tiara!


Mini Bob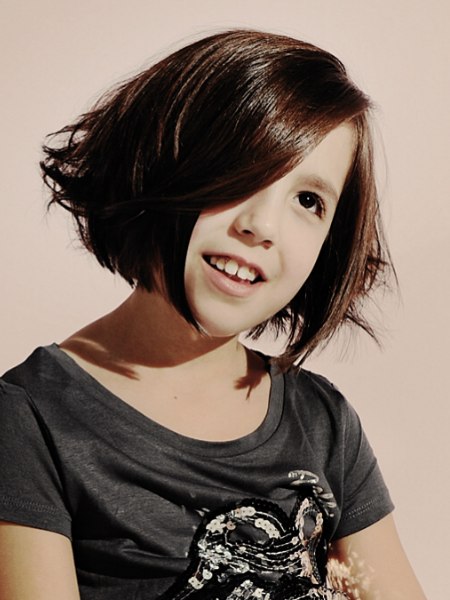 For the real fashionistas of a tender age, there is no other choice than a classic bob. To make it perfect for kids this version was textured and ruffled just enough to be playful and have a happy vibe.

The cutting lines follow the classic ideal and run bluntly along her jaw line and end in a charming curve at the girl's chin. It may appear that all hair has the same length, but some gentle texture creates a layered effect in the lower part.


Not So Tame Mane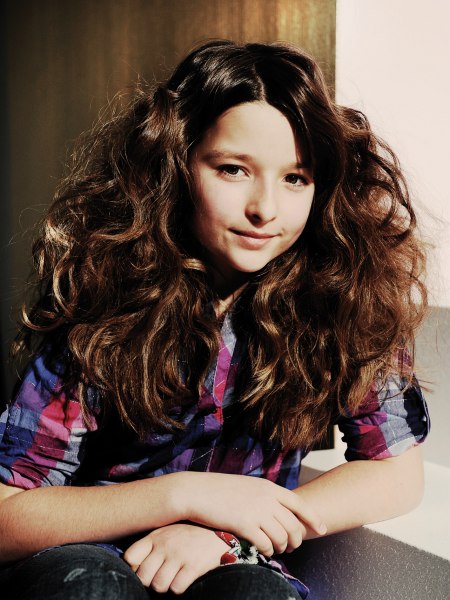 Natural curls can be a challenge, but a very beautiful one when allowed to grow long to show off their full potential. This long cut was rounded at the bottom cutting line and has a few layers, which lighten the load and distribute the luxurious mass of hair better.

The haircut is simple and the effect dramatic, just because of all of the motion and the incredible volume of the young girl's thick hair. A ponytail, pigtails or bun are great alternatives for times when the opulence needs more control.

Hair: J.7 artistic team - Michael Knöpfle & Patrick Brack
Photography: Vlado Golub

See also: Hairstyles for children