Juniors Collection by Top Model Coiffure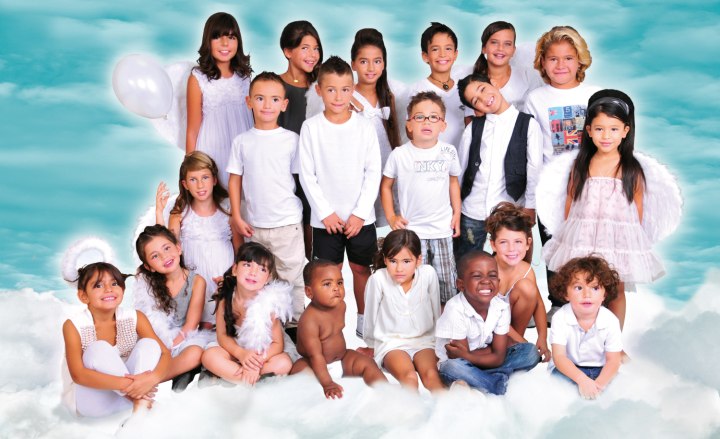 Scroll down for more photos ↓

Children are becoming more aware of fashion, even at a very young age. And of course the fashionista moms want their offspring to look as trendy as they are. Kids hairstyles are more fun than ever and come in a huge variety of easy, adorable stylings, cute cuts with a wash & go attitude and also festive looks with easy to do braids and updos for the princess in your life.

Here are some great children's hairstyles that are inspired by grown up looks. Find a great look for your toddler or teenager, from feisty Mohawks to playful curls or elaborate looking long hair styles with braids, loops, twists and lots and lots of ribbons.


Small Braids, Big Effect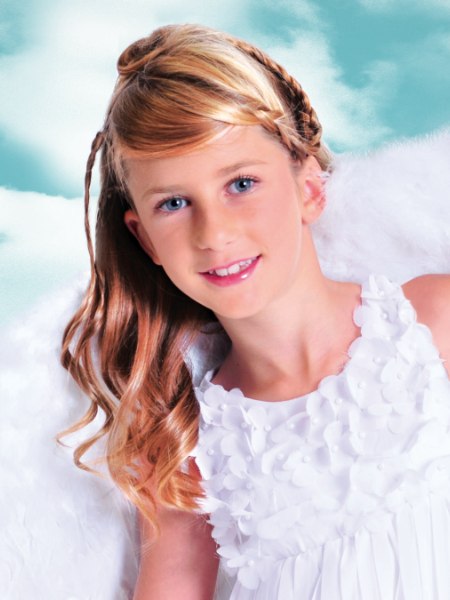 This lovely blonde hairdo might look more complicated than it is. A great way to keep the long hair out of the young girl's face is to collect it in a number of small braids. Here one is created from the long fringe hair, allowing a few inches of sleek hair to curve above the forehead before the rest of it is securely caught in a long braid, which is then slung backward and fastened. Another one is on the side and a third one farther back.



An easy to do idea which gives you a lot of creative space. You can also include some color with bright elastics or fun barrettes to pin the braids down.


Long Braid on the Side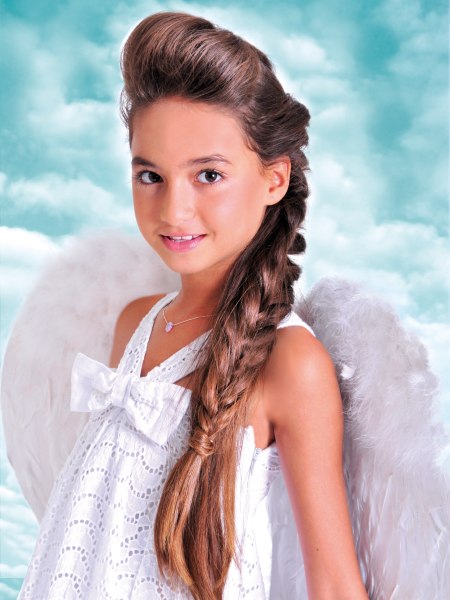 Every little girl likes to dress up, special occasion or not, and they all want to walk in their mom's shoes. While those are still too big, you can help them out with this fabulous hairstyle that also looks super chic and elaborate, but it is easy to do.

The eyecatcher is the bump above her forehead, easy to achieve with some teasing underneath and a touch of hairspray. The front hair is fastened on the crown and runs into a long regular braid in the back, which itself sits on a thick strand of open hair. Classic but with a twist and a lot of playfulness.


Low Ponytail for Young Girls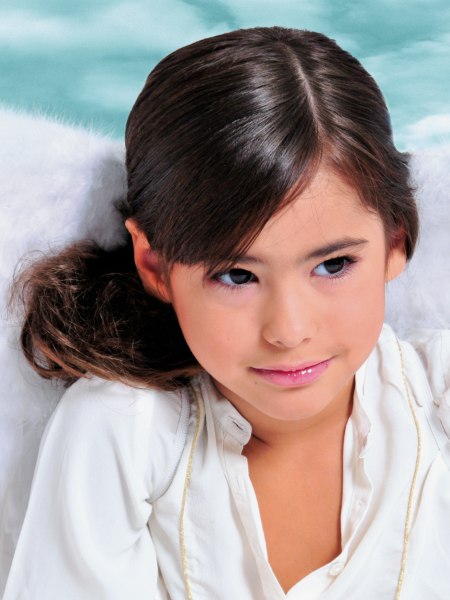 Simple ponytails are wonderfully low-maintenance, easy and quick, while they always look stylish and can make it through a day in school or an afternoon on the playground. With a neat part, just a bit off center, the girl's hair falls fashionably sleek to both sides and is pulled into a low ponytail that shows a lot of texture in its length.

A little contrast of surfaces makes this look modern and keeps it practical at the same time. To get it this way just scrunch the hair with your fingers after adding just a touch of styling product.


Quick Twirls for Girls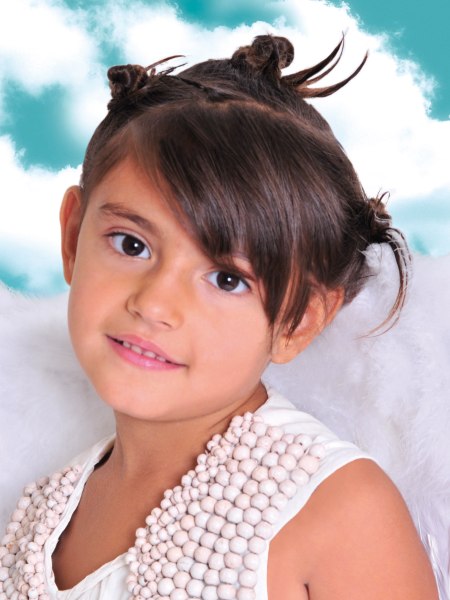 This little girl loves her fun and supercute updo. Most of the hair is out of her face except for a slightly texture sideward fringe. Her main body of hair was divided in several smaller areas from where the hair was twirled into a small rope that is then wound around itself and fastened with a little pin.

To make things even easier, the ends are left sticking out and are enhanced with a tiny dab of gel or wax. This is a great example of how a very simple and quick styling can have a fabulous effect.


Long Hair with Soft Control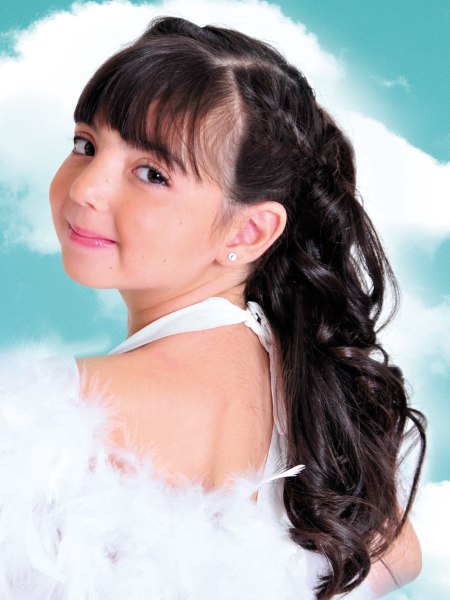 She wants to wear her hair open, but it keeps getting in her face and looks unruly just after a short time? Try this ingenious style, made for little angel girls but also for mothers who want a quick and easy look for their young ones.

The perfect, blunt cut fringe always gives the long kid's hairstyle a neat appearance and a couple of tight French braids along the sides, starting at the temples, keep the hair controlled and out of the face. For special occasions add some barreled curls with the curling iron.


Loops and Curls for Long Hair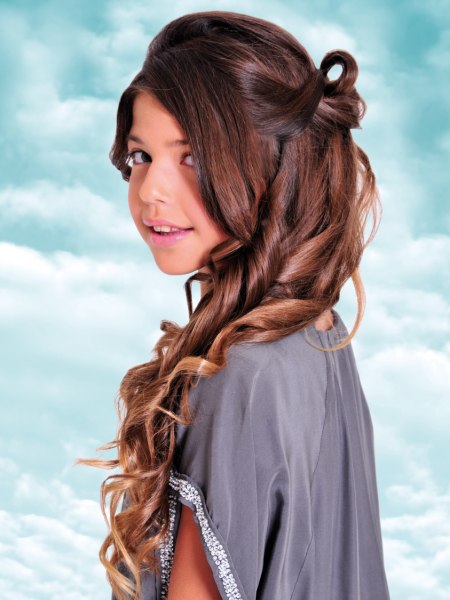 Your preteen or teen girl with a developed fashion-sense will love you for helping her with this fancy look. The key ingredient is, of course, long, healthy hair that can be cut into long layers, but all one length will work just as well. The sleek lengths are curled with a thick iron and after separating a wide strand as a side fringe, a couple of smaller strands are twisted, looped and knotted along the side and fastened with fun pins or invisibly in the back.

This hairstyle is great for family festivities, for flower girls at weddings or for any day that is of big importance to your daughter.


Retro Hairstyle for Young Girls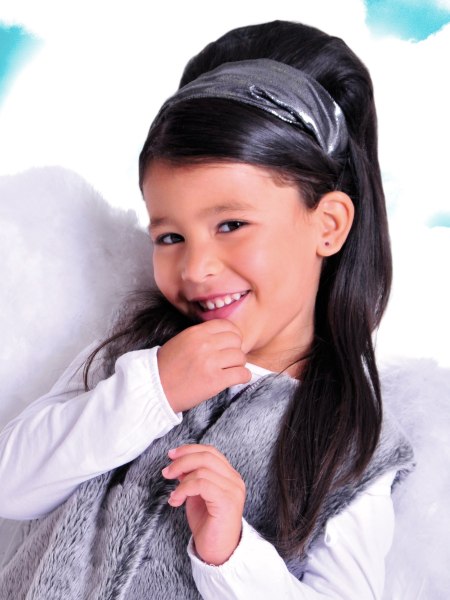 She might not know what the 1950s, Rock and Roll and beehives were, but she might enjoy this fun, retro look a lot. Bump up her hair with a foam insert to get that cool lift in the back. Sleek the hair up with some smoothing serum. This makes it playable, gives it shine, good hold and avoids individual "flying" hairs. In case she does not have the length, there is no reason to not use a hairpiece in her original hair color.

As a final touch, a shimmering headband not only covers the transitions, it raises the fun and the approval rate of the trendy children's club. Another style that is easy to do and really kid proof.


Girls Hairstyle with Twists and Tousles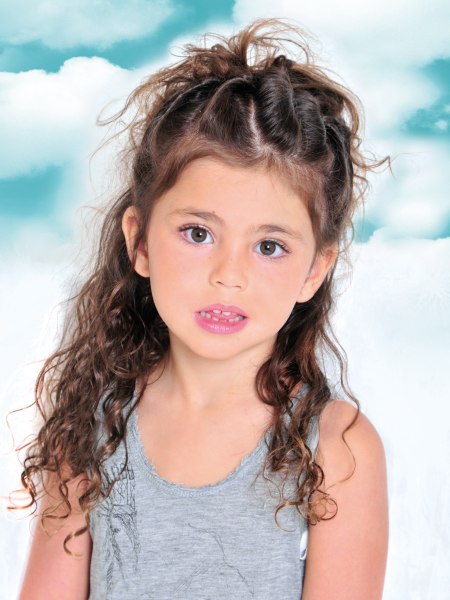 With this hairstyle, busy moms don't have to worry about her hair getting messed up within the first 20 minutes of playtime. It is created for fun! The hair is already curled and tousled and if it is ruffled even more, then the better. The main thing is to keep it out of her face, so that she does not get distracted by flying strands in her eyes.



For this thick, individual strands on the front part of the crown are twisted backwards by adding more and more hair into them as you go back. Just past the center of her crown, small claps were used to keep the rolls of hair in place. The ends are then tousled and arranged in a crazy little cascade.


Glamour Look for a Young Girl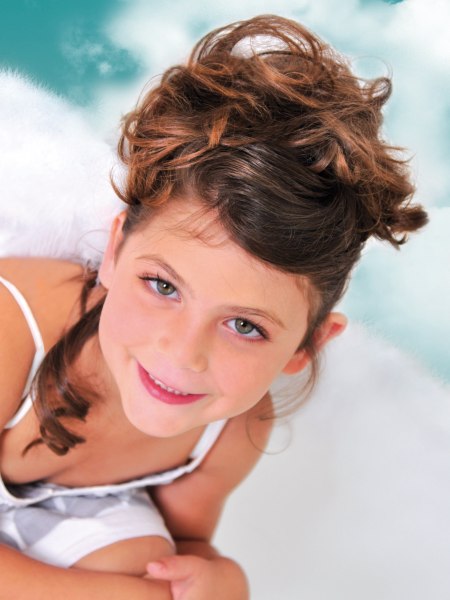 Even little girls have their moments to look glamorous. Help her along by giving her a hairstyle that would fit on any red carpet. Elegance and playfulness come together in this updo, that is styled with a lot of tousles on top to look young and fresh. A long strand falls down the back and is curled to perfection with a curling iron.

A long and wide strand replaces a fringe and makes her adorable face shine. The ends of the pinned up hair are left to fall into whichever direction they want, creating volume and lots of movement on top. This look may appear complicated, but it is easy to do and depending on skill in less than 15 minutes.


French Braided Edge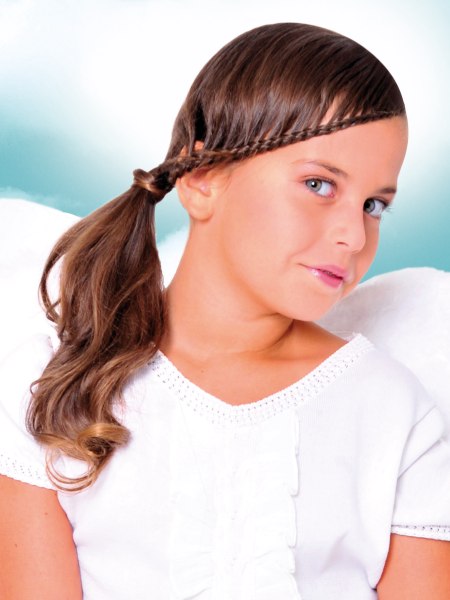 Make your little girl feel and look cool all with the help of one braid. It is a tat on the crafty side, but with a little skill it is fairly easy to do. Let your stylist show you the trick to form this edgy braid along the side of her face.

It does not only keep her face open, but also keeps most of her hair under control, resulting in more fun and less knots to brush out later. The braid ends at her ear where it is tied together with the rest of her hair to a little side ponytail.


Flipped out Layers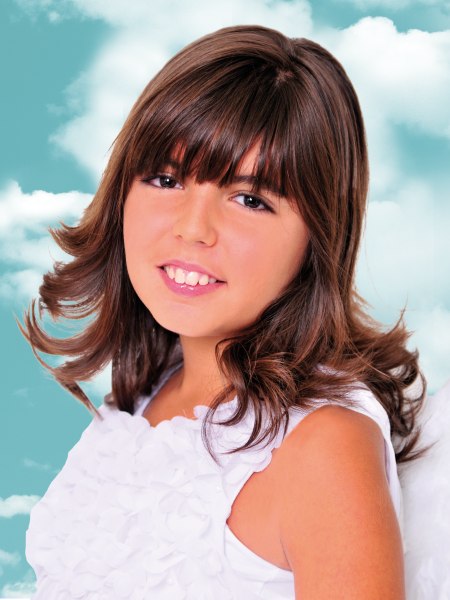 A long hairstyle that works well on mom but also on young girls or teenagers. Ageless layers are accompanied by a long, textured fringe and to kick everything up a notch, the ends are styled into large curls and flipped outward. A chic side part gives it a fun asymmetrical effect and the texture in the tips adds to the youthful wispiness.

The base cut is easy to maintain and one of those practical haircuts, that never go out of style and offer many styling options.


Gel for Junior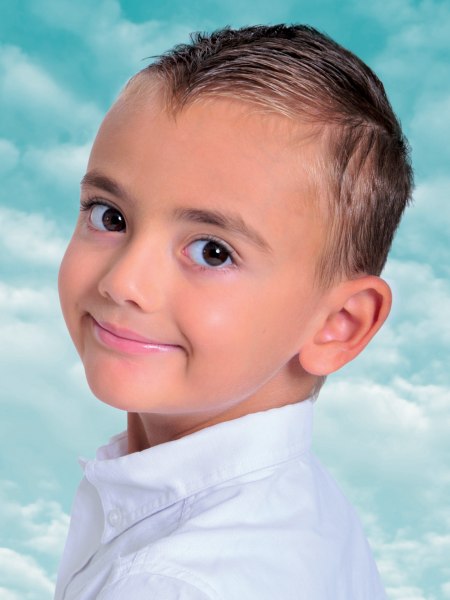 Give your little sunshine a big boy makeover and make him smile. Confidence starts early and this dapper do will help building it. All you need to do is rub a small amount of styling product into his fine hair, draw a part on each side from where part of the goes straight up and forward, the other one neatly down.

The basic haircut is short all over with a clean line around his tender ears and along the back. All of the wow comes in with the simple and easy styling. All you need is a comb, gel, wax or pomade.


Mohawk for Little Boys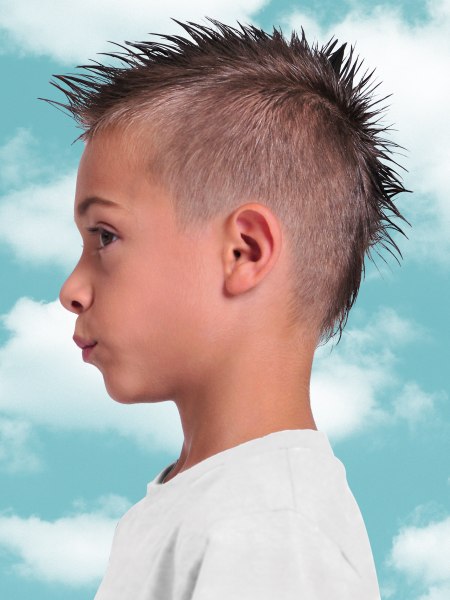 He wants to be a little warrior? Then let him look like one with this super cool mohawk style. What could be easier to take care of than a supershort buzz cut? Only the hair along the center of his head is about one inch long and textured so that it only takes a tiny bit of product to make it stand up so fashionably.

This haircut is short enough to grow out fast so that your little boy can try out other fun kids hairstyles.


Little Surfer Look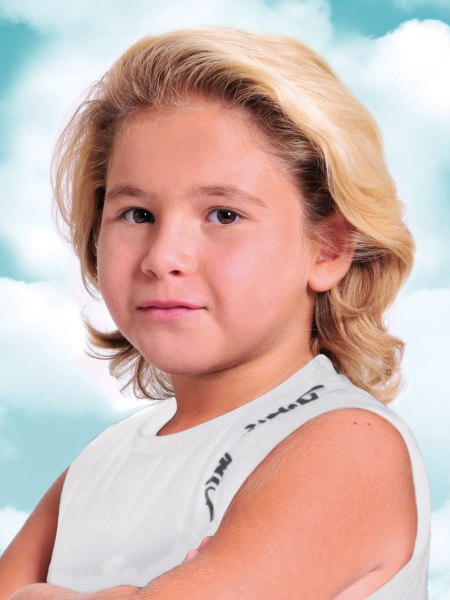 If your little boy prefers his hair to be on the longer side, then he might be just a happy camper with this surfer inspired look. The hair reaches almost to the shoulders, but it is layered so it distributes well and stays light and manageable.

To keep his face free of flowing strands, the hair is brushed backward with determination and just a little bit of serum to aid with the hold.


Eyebrow Art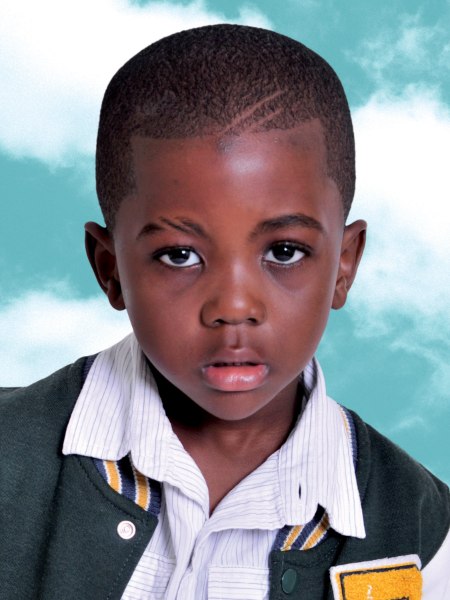 For a very hip hop minded youngster try this funky, artsy haircut that is brought to urban perfection with the help of a razor.

The millimeter-short buzz is as simple and low-maintenance as can be, but it is the two thin, parallel lines that are shaved into the hair above the forehead and in the opposing direction also into one of his eyebrows. It will grow back quick, but then you can just change the pattern and keep things cool and interesting for your young black boy.


Sporty Look for Kids with Glasses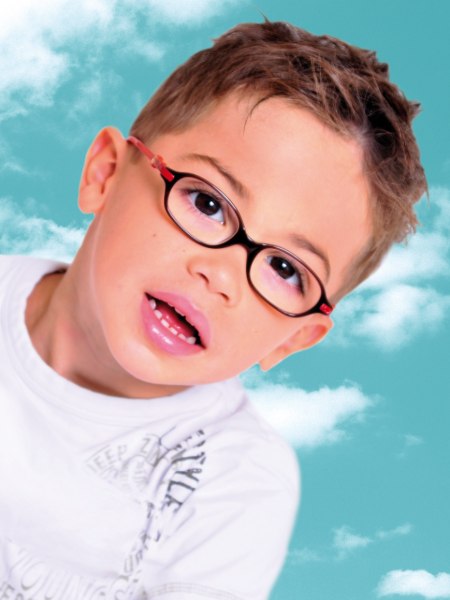 This short, textured haircut works great when your little boy has to wear glasses since all of the hair is out of his face. The sides of the classic boys haircut are especially short, but the top hair is longer so that it can be styled in many different ways. Here is it tousled and just falling playfully in all directions.



A little bit of product makes it manageable, and the rest is a piece of pie. This look will get him ready for an exciting new day faster than he can brush his teeth in the morning.


Haircut for Unruly Curly Hair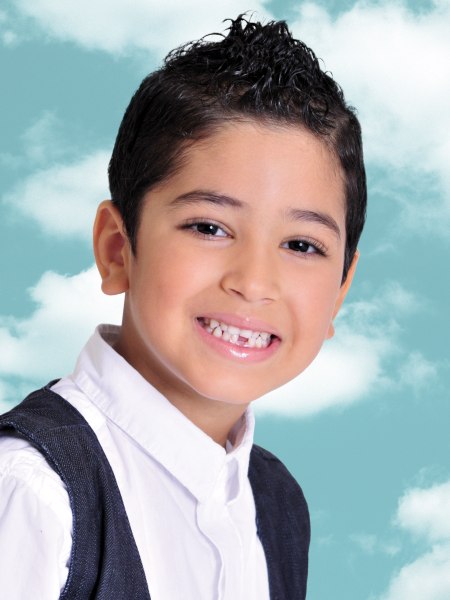 If your young son has a head full of unruly curls, do not despair. There is help and that comes in the shape of a good haircut. The hair was cropped about an inch long around the head with a neat edge around the ears, sides and back.

You can just let the curls do their thing or tame them with some gel and comb them to a fun shape like this with sleeker sides and a more unruly peak on top. He's got good reason to smile, being one of the most handsome boys in school.


Curly Hair Style for Toddlers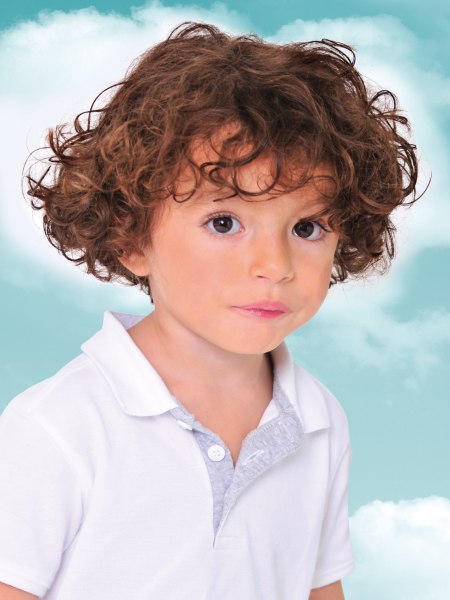 What could be more adorable for your toddler or preschool kid than a head full with angelic curls! If they come naturally only, of course. Nature has blessed him with all of the bouncy and adorable goodness, so don't stress yourself out trying to tame it. All he needs is a good cut, that will make it easier for you to care for his cupid's locks.

Here the hair was layered in the lower third and has more length on top than on the side. Result is the rounded silhouette and less weight. The fringe is short enough to not fall into the boy's eyes.


Trendy Hairstyle for Boys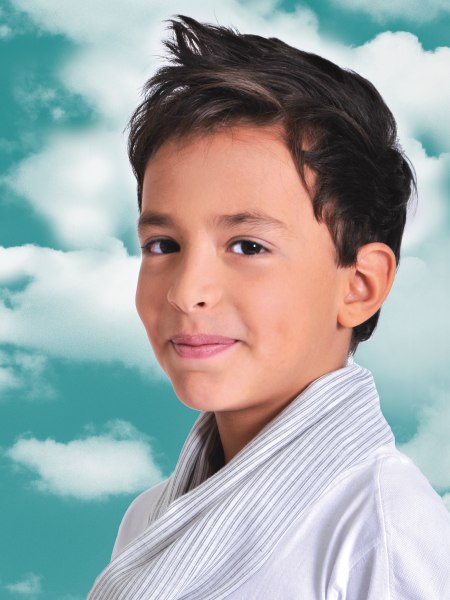 The best haircuts for kids are the ones that do not require much prep work to look great and the ones that can be styled in many different ways. This handsome look offers both. Cut with short sides and longer hair on top, the sky is the limit when it comes to cool looks. Here the hair was styled into the face and that all around.

A very trendy look that has been made famous by boy bands and other celebrities, but it looks just as great on young children.

Hairstyles: Top Model Coiffure
Photos: © Alain Rico

See also: Hairstyles for children