Wild Hairstyles (4)
Previous Page Page 1 Page 2

Designs: Perhaps the funkiest of the techniques I've personally witnessed, the design method is most often done on super-short hair. The color is applied in a specific design, usually one that is favored or has meaning for the wearer. In the person I saw with this style, her short spiky hair was colored in a harlequin pattern with diamonds of color outlined by black borders.

I was also told once by a client who favored super-short (almost shaved) clipper cuts that she had once had her hair done by a woman who used a paper doily to sprinkle glitter onto her gelled hair, creating a very intricate design on her hair. She was an African-American woman with a beautifully shaped head and rich chocolate brown skin tone. She explained that the glitter used was copper-colored which looked spectacular.

Men:

A special note for men who want to spice up their look: You have an extra area for creativity that most women (unless they are unfortunately afflicted with a hormonal imbalance) don't have. I am, of course, talking about facial hair.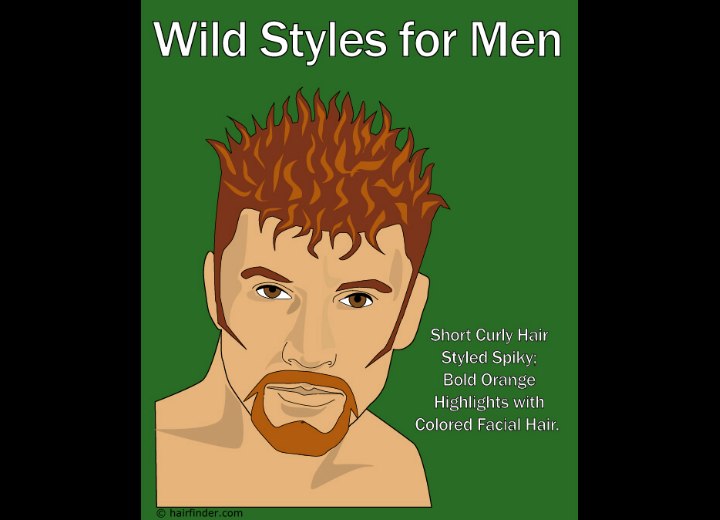 Click to enlarge


There are dozens of classic beard and mustache designs that men have worn throughout history, including styles for wearing sideburns. The current trend is for closely trimmed facial hair (if any) which lends itself perfectly to creative grooming. With facial hair, you are limited by the growth area of your facial hair, but that is often a very minor consideration when compared to the variety possible.

Because it is hair, you can color your facial hair, but you should be sure to be careful applying color to the sensitive skin of the face (perform a patch test 48 hours before coloring your facial hair) and should have a color remover for skin available to clean up any stray color. This product is available in the color aisle of your local beauty supply store.

As mentioned above, it should be obvious that your only limit is imagination. There are dozens of ways to make your normally mundane look more spectacular. And the definition of "too bold" is only defined by your personal taste and your willingness to attract attention to yourself. So go ahead, be brave - be bold.

Stacy - Hair Stylist ©Hairfinder.com

Related posts:

Scene hair

Emo hairstyles

Hair color blocking

Peek-a-boo panels and targeted hair coloring