French Roll with Clip-in Extensions (2)



Previous page

9. Unclip the previously separated section of hair at the front. Gently backcomb and comb this section with your teasing comb, taking care not to disturb the surrounding hair. Comb this section over the parting where you attached the extension, in order to disguise this line. The model's hair must appear uniform with the extensions, creating a seamless and seemingly natural line.



10. Comb and spray this section from its origin to the back of the roll, taking care not to disturb the rest of the hair. Spray and comb gently to flatten any stray hairs and neaten the surface of the style.





11. When you're satisfied with the neatness of the surface, discreetly secure the ends of this section at the back of the roll. Again make sure that one cannot see the bobby pins and that the surface of the hair is uniform and seamless.

12. Use the back end of your tail comb and very gently lift the height between the parietal ridge and occipital bone, in order to create an aesthetically pleasing and flattering silhouette from the side. By creating a bit of height in this area, you improve the proportion of the side view, which is very important in photos, especially bridal or prom shoots.

13. Insert a hair accessory of your choice at an angle on the side of the roll, and secure it with discreetly placed bobby pins. The hair accessory should be on the side of the hair extension, as this is the side that will be focused on the most.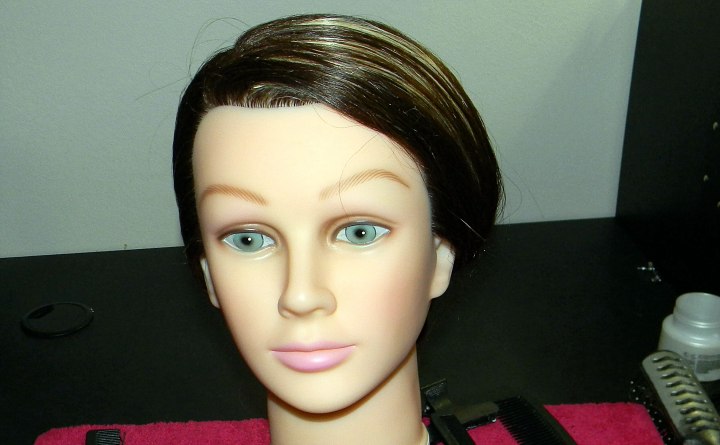 14. Note that the line where the extension is attached is undetectable. The hair is seamless and uniform, disguising the extension's point of origin.


See also: More about hair extensions