Wavy Marlene Dietrich Look

Marlene Dietrich was famous for her legs, often in then rather revolutionary pants, but she also made her short, wavy hairstyle so popular that we are still wearing it with pleasure today. A feminine look with much personality is based on a short bob with equal length of hair.

Waves run from root to tip; the hair is styled with a side part and in its modern version with a gently ruffled surface and flared out sections. A splash of golden red color catches attention and adds a new spice into the already exciting mix of elegance and vivacious energy.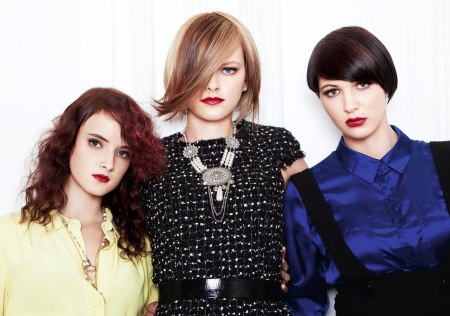 Click to enlarge

Collection: La Féminin

Salon: Frizerstvo Lassana
Haircuts: Metod Tasič & Ana Oblak
Coloring: Nada Lučič, Mateja Križmančič, Jasna Mustedanagic, Sara Mikluž
Make-up: Maja Šušnjara
Styling: Danaja Vegelj
Photography: Mimi Antolovic

Related posts:
Hairstyles for short hair
Bob hairstyle with vintage water waves