Modern Short Hairstyle

Fluid lines give the short black hair this much character. This adorable do reminds of haircuts of the 1920s and 30s but comes with its own and very modern flair. The shape of the very short neckline is mirrored in a low plunging tip in front, which evolves out of the diagonal fringe and ends at the corner of her jaw.

Sleek and silky in its surface and with sculpted chic from cut to finish, this short hairstyle is a class of its own. Volume is created on the side by using a round brush with the blow dryer. Only the tips are turned inward to give the hair this beautiful roundness.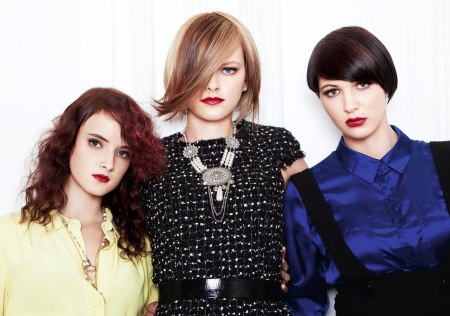 Click to enlarge

Collection: La Féminin

Salon: Frizerstvo Lassana
Haircuts: Metod Tasič & Ana Oblak
Coloring: Nada Lučič, Mateja Križmančič, Jasna Mustedanagic, Sara Mikluž
Make-up: Maja Šušnjara
Styling: Danaja Vegelj
Photography: Mimi Antolovic

Related posts:
Hairstyles for short hair
Spectacular short haircut