Young Stars by J.7 artistic team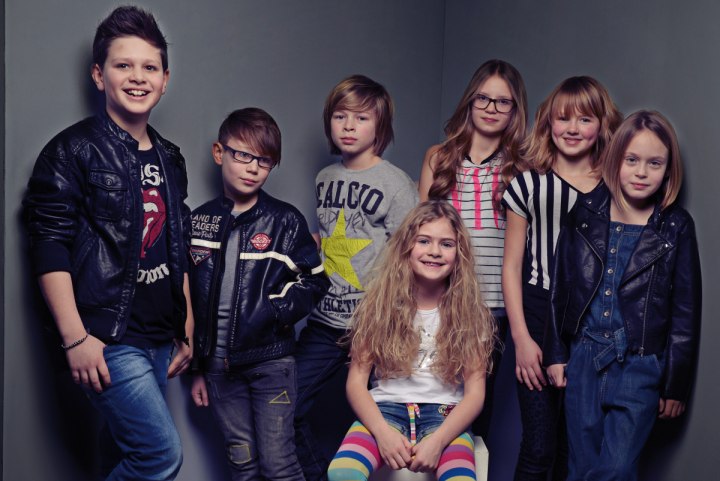 Who is more free spirited than the kids in our world? J.7 artistic team introduces a new collection of hairstyles for the young ones, that will make them and their parents happy. Long or short, let them decide and help them find their own style.

Here are some great suggestions to set them on a path of self expression with chic looks. All are based on excellent cuts that make the styling happen almost by itself. Low maintenance comes with custom design that fits their needs and lifestyles.


Long Hairstyle with Glasses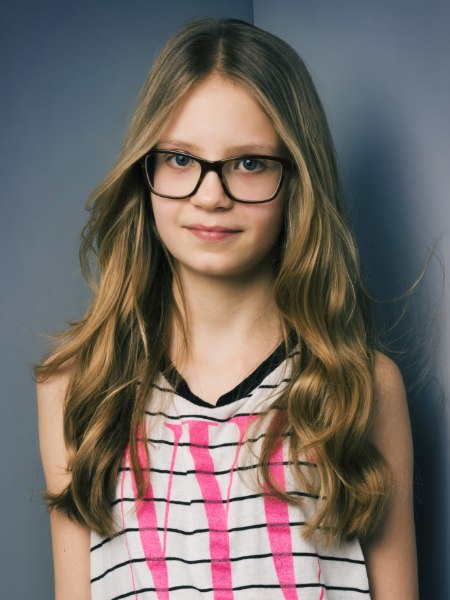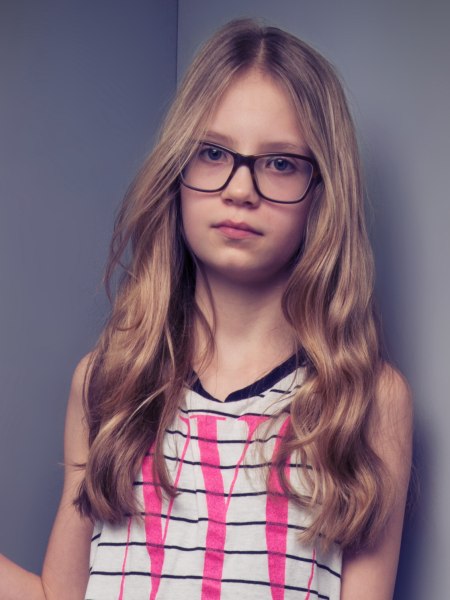 A center part in her long hair keeps the face clear and does not interfere with her cool glasses. Hairstyles for girls with glasses are not that hard to find. Just avoid extremely long bangs that fall over the rims. All of that length is brushed smooth and falls in an adorable natural curl.

Add a little smoothing serum while brushing, it will make it extra supple and avoid too many tangles during the day. Her hair color is a sweet and natural dark blonde with a few lighter spots created by the summer sun.


Wild Long Hair for Girls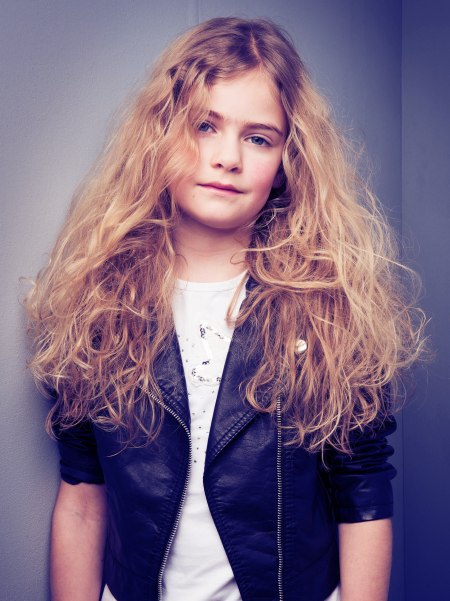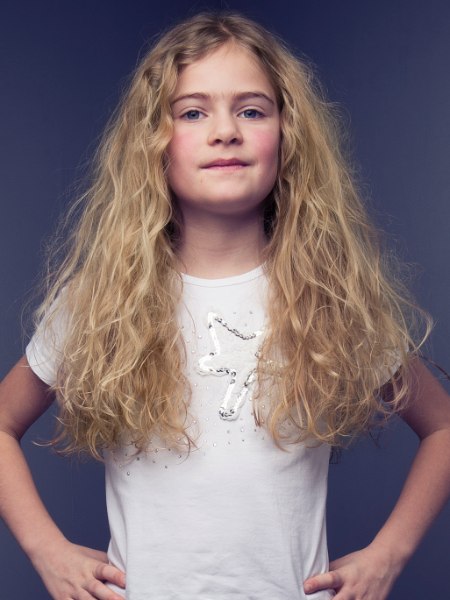 Let her be the princess of the day and show off her beautiful mane! The mid back long hair has a great natural curl built in, which can easily be enhanced. Blow dry over the head to fluff up the hair and knead in a curl enhancing styling product that will make her tresses pop.

A spray on conditioner keeps the hair healthy and can be applied in between washes to keep the hair looking this fresh and alive. With all that texture her natural highlights come into play to accentuate the movement and bounce.


Shoulder Length with Bangs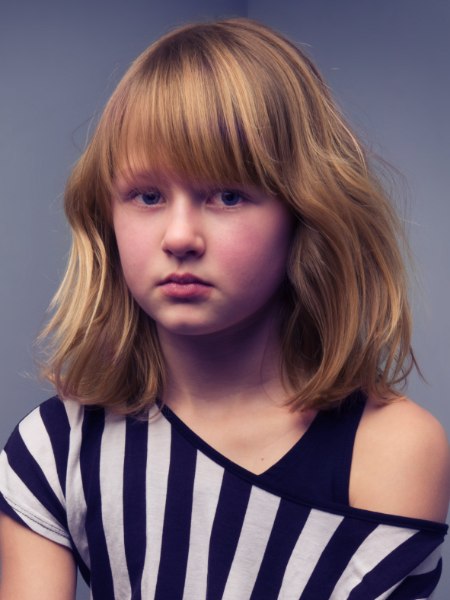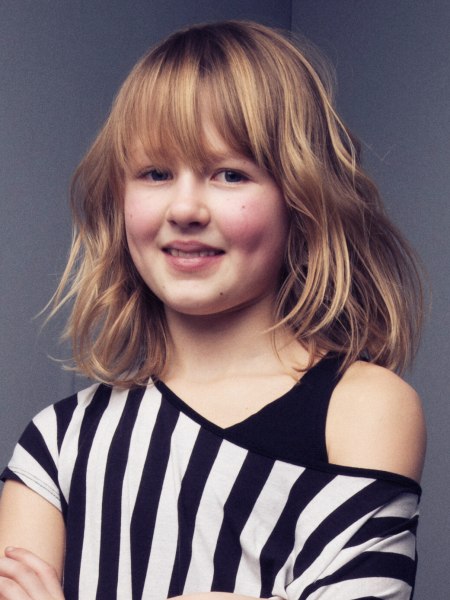 A simple and fun cut for active little girls. Her bangs are cut just below the eyebrows and are styled neat and sleek with just a little slant to the side, which gives it a natural and un-styled, effortless feel. The sides are fluffy and also follow the natural direction of the hair, with just a little touch of a curling iron in the tips to round of the edges.

The hair is long enough that she can wear it in a ponytail or in a cute upstyle and with some mousse and ruffling it turns into a voluminous and feisty little mane, as you can see in the small picture below.


Cool and Sleek Hair for Kids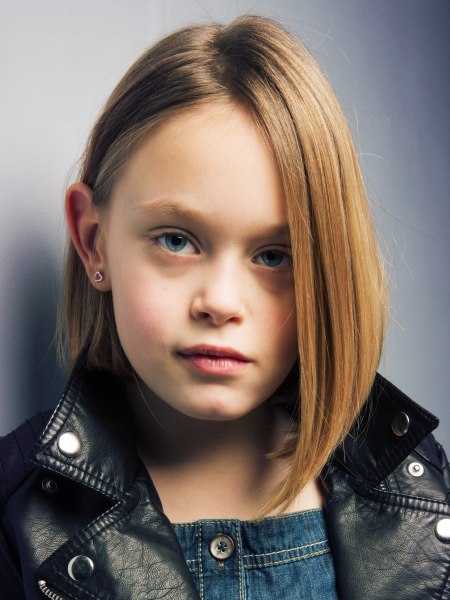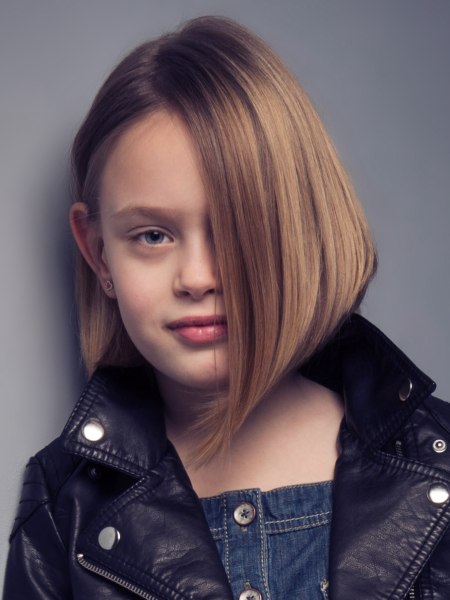 She loves her little leather jacket and pronounces her tough girl side with a hairstyle that is sleek and geometric. An A-line bob fits little girls and women of all ages and adapts wonderfully to every outfit and mood. Her hair is parted just a wee bit off center so that the fringe is wide on one side, while the other part is tugged behind her ear.



Blow dry over a thick round brush to get it this smooth and to add that chic little curve to the bottom. Cool as can be!


Modern Haircut for Boys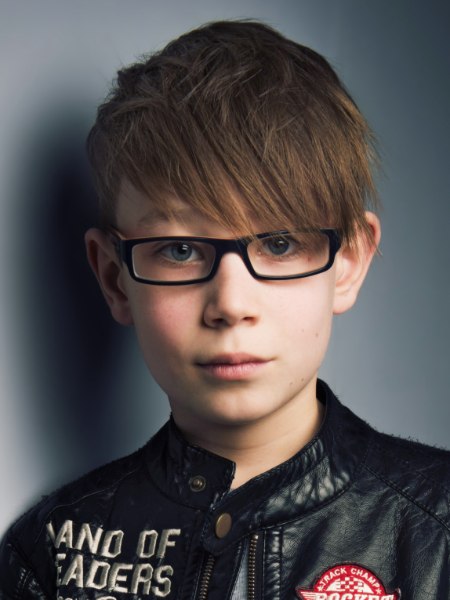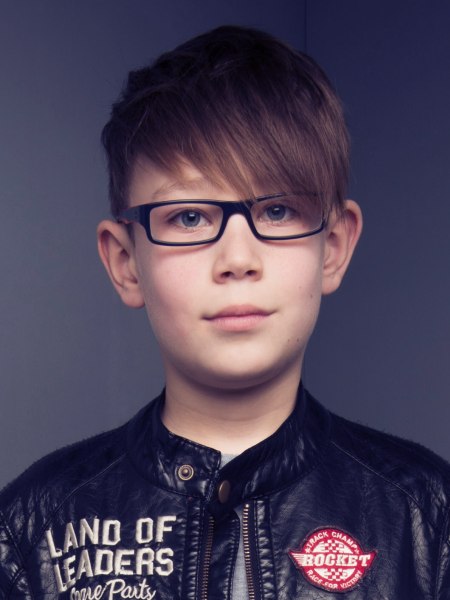 This little heartthrob chose the right hairstyle to work with his small, rectangular glasses. The textured bangs are styled diagonally, which offsets the strict geometry of his black specs and just a few of the rips reach the rim on one side.

His hair is very short on the sides and in the neck, but has enough length on top to play with. Here the hair was combed forward from the very back. A little bit of hair wax will keep it in place. Try spiking it up too!


Smooth Spiky Look for Boys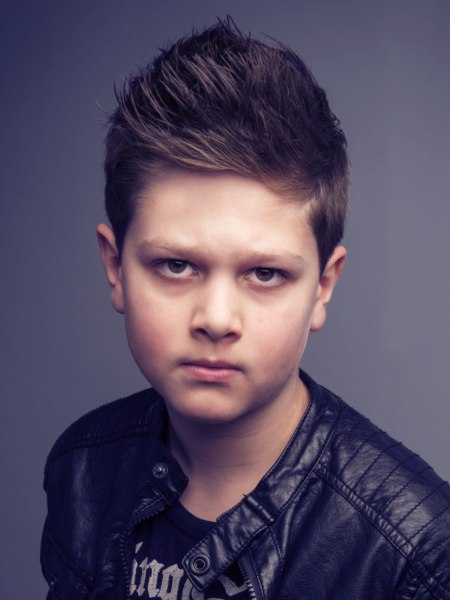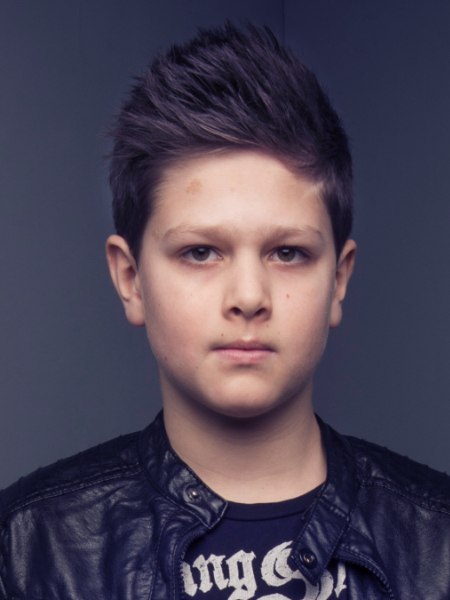 In terms of low maintenance, this is perhaps the winner. Short and practical, but with much personality, this haircut for boys is a mom's dream and he will not complain. In fact give him a tube of hair gel and he will have fun creating all kinds of new looks.

In this photo the sides are neat and snug, but the top hair is shaped to soft spikes with a diagonal draw. A cool accent strand above the forehead is a chic finish.


Medium Long Hair for Boys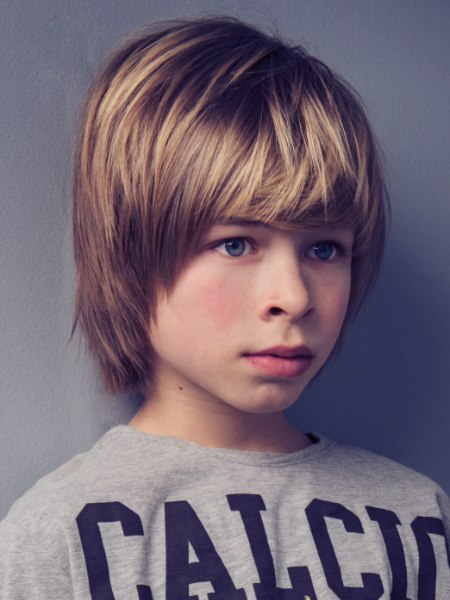 He needs a hairstyle that will stand up to all of the activities in his life. Always ready for a new adventure, styling would be a waste of time. This is were the perfect cut comes in that always seems to fall into the right place.

Long bangs and ear covering sides come with fine layers throughout the hair. To style it up a couple of notches add a trendy twist to the edge of his bangs.

Hair: J.7 artistic team
Make-up: J.7 artistic team
Photography: Vlado Golub