Chin-Length Bob

We see here a simple bob, transformed from a chic look to a slightly sassier display. The rich auburn color adds a touch of warmth and spice while the chin-length cut gives a classic look of beauty to the model's strong face. The fringe is cut on the angle and lightly textured to give it a wispy air without too much feathering.

The first look is the more subdued, smooth curves. This hairstyle is all about cleaner lines and softer curves. The lengths frame the face and draw focus to the mouth and nose while the fringe brings attention to the bright eyes.

The alternative style shows a playful side, more casual and romantic. The shorter lengths are formed into large curls and the added volume raises the focus of the hair to the upper portions of the face, creating the look of strong cheekbones and enhancing the slight smile on our model's face. The fringe is still focused on the eyes, though now they work together to make a happier expression from what is otherwise a Mona Lisa smile.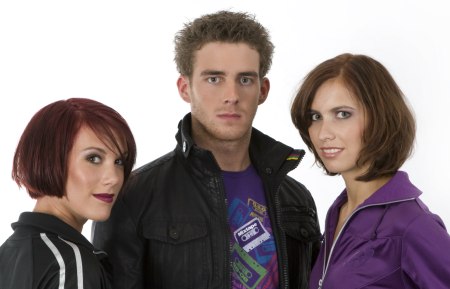 Click to enlarge

Collection: Winter 2008-2009 Hairstyles

Hair: Team John Beerens Hairstudio - Tilburg
Hairproducts: CHI by Farouk Systems USA
Make-up: Kelly Koorn for Pupa
Photography: Paul Bekkers
Models: www.cachetmodels.nl
Apparel: Gio-Goi