Miley Cyrus' Long Coils (2)
Previous Page
Styling: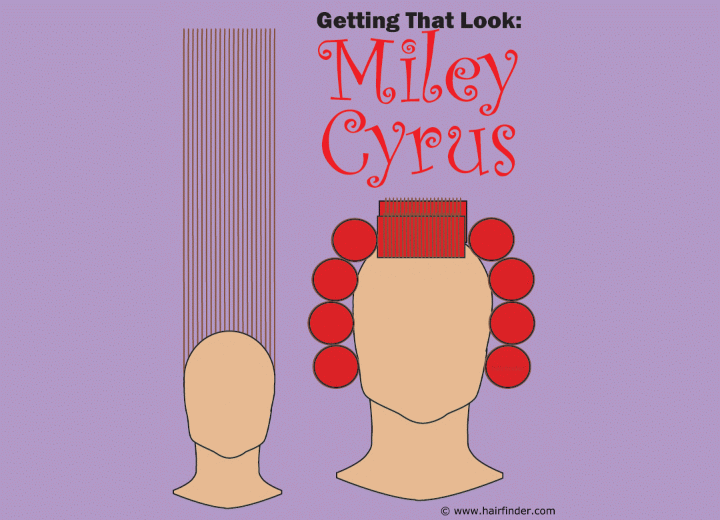 To achieve this cascade of curls in such long hair, your best option is going to be a wet roller set using styling gel for maximum hold. Given the length of the hair involved - and its subsequent weight - you want to roll the hair using on-base placement to get maximum lift at the scalp.

Depending on the exact length of the hair you are dealing with, you may find you need to use a "piggy-back technique" to wrap the hair fully. You may also opt to use large-sized spiral perming rods to wrap the hair. Whatever technique you choose, you will find that longer hair takes much more time to dry, so be sure to allow for the extra needs in your allotment of time.

Using a bonnet or hooded dryer is recommended to speed the drying process, but you can opt to let the hair dry naturally, as long as you can wait the required time. Even if you do decide to let the hair dry naturally, you may want to use a hair dryer to heat the hair and allow it to cool again before taking it down to give it that extra "setting" power from the heating and cooling process.



(Click to enlarge)

Once the hair is dry, carefully take down the curls and use a wide-tooth comb to soften the curls. Use the comb and your fingers to arrange the hair into the desired configuration. The finished result should be a cascade of soft, silky and shiny curls.

Stacy - Hair Stylist ©Hairfinder.com

Related posts:

Miley Cyrus hairstyles

Celebrities with long curly hair

Long hair roller set

Roller styling techniques