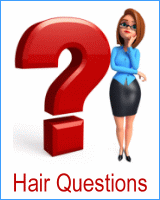 Hair Fashion with Pearls
With a One Pearl Jewelry 70" strand necklace, you can turn one piece into at least ten different looks:

1. Wrap it around three to four times around your neck, and make an eye-catching choker.
2. Wrap it once around your neck, then knot the middle, creating a look that gives a simple t-shirt a new style.
3. Wrap three times around and wear it on the outside of a blouse with a suit.
4. Wrap two, three or four times, graduate the strands, creating a layered look.
5. Wrap it multiple times and wear it as a bracelet. No one will ever know it started as a necklace!
6. Loop it low around your waist and it turns into a chic belt.
7. Loop twice around your neck, leaving one loop long, the other close to your neckline. Brings elegance and
sophistication to the most casual outfit.
8. Loop around your neck, make a knot close to your throat, then continue to knot it, making sure the knots are
continual, touching each other, creating a "line" of knots. This looks great with an open necked blouse.
9. To wear with a "chunky" sweater, loop around your neck, begin tying knots below the neck of the sweater, tie
3, 4 or 5 knots, leaving space in between them.
10. Loop around your neck, make a knot at about the middle of your chest, then take the end and loop it back
over your neck again, creating a "scalloped" effect.



The idea is simple: Take a single pearl necklace and turn it into a bracelet, a belt, even an ankle bracelet; or into one of many different necklace styles achievable by simple knotting techniques anyone can master. But these aren't the ONLY uses a One Pearl Jewelry 70" strand can be put to. Take a look at some Hair Fashion ideas:

1. Wrap the necklace a couple of times and loop a ribbon through the loop on each side then use the pearls as
an Alice band to dress up a simple style. Simply run the pearls across the top of the head and tuck the ends
under the hair and behind the ears. Use the ribbons to tie the pearls taut and hairpins to secure the positioning of
the pearls.
2. Bring the strand of pearls across the forehead in circlet fashion and bring the ends together at the crown of the
head, weaving them into the hair as the third strand of a French Braid.
3. Use hairpins to wrap the pearls into place around the base of an otherwise boring bun. This adds some dazzle
and drama to a classically dull hairdo.
4. Create a classic curly up-style and thread the pearls throughout the curls. You'll be amazed at how much
elegance can be created with the shine of a well-groomed curl and the glow of a cultured pearl.

One Pearl jewelry features several 70" strand necklaces that can turn the simplest outfit into something uniquely your own. The One Pearl line consists of both necklaces and bracelets made of pearls as well as semiprecious stones. Styles range from classic pearl necklaces to modern beaded strands that can be worn as bracelets, necklaces, belts, or even anklets. Additionally, there is a One Pearl Girl line with items designed especially for young girls. Learn more about One Pearl products by visiting www.onepearl.com.

Related posts:
Leather ribbons to put in your hair
How to combine hairstyles and jewelry