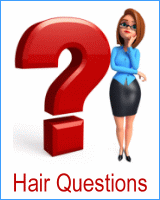 Hair Coloring for Men (Continued)
Previous Page

A Few Words on Gray Hair

It's important to know that some gray hair is resistant to haircolor. In these cases, a special additive must be included in the haircolor formula to allow the haircolor to penetrate the denser cuticle found on gray hair. If the strands of your gray hair are especially shiny (even when they aren't freshly shampooed) you probably have resistant hair.

In addition, you must also note that the color you choose to use to cover partially gray hair depends on the amount of gray hair you have. If you have less than 10% of your hair that is gray, choose a haircolor that is 3 shades lighter than your desired color. If your gray makes up 10-30% of your hair, go with 2 shades lighter. If you're 30-50% gray, use an equal mixture of one part 2 levels lighter and one part 1 level lighter. If you're 50-70% gray, use one level lighter. If you're 70-90% gray, use equal parts of 1 level lighter and one part the desired color. For hair that is more than 90% gray, use the desired color. These guidelines will yield the best color results for your percentage of gray hair.

However, you should be aware that in the cases of people with more than 90% gray hair or hair that is totally white (and even in some people who have areas of the hair that are totally white) the color you apply can look flat or brassy. This is because of the lack of variation in the color, and can be corrected by simply going back and adding highlights or lowlights to the areas where needed.

Whatever your reason for wanting to try haircolor, you shouldn't hesitate. Just think carefully before making your choices and doing something permanent. Or, adopt the attitude expressed by one of my male clients who likes to experiment with haircolor. When I cautioned him against making a drastic change in his haircolor, he looked me in the eye and said, "Hey! I'm a guy! If I really hate it, I can always shave my head and start over."

Stacy - Hair Stylist ©Hairfinder.com


Related posts:

More about hair coloring

Why hair turns gray

Hair care for men

Are only gay men coloring their hair?