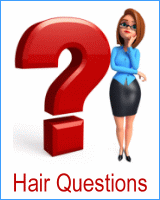 What Makes a Hairstyle Work (2)
Previous Page

In our illustration, we wanted to show what would happen if Ms. Weaver had long, straight layers. The resulting look is one that is not wholly unpleasant, but appears too elongated and makes her nose and forehead appear much too prominent. The straight lines in this case also tend to age her appearance which is never the desired effect.

Julianne Moore:

Julianne Moore is an Oscar-nominated actress (one of only ten women to be nominated for best actress AND best supporting actress in different films in the same year) and has become one of the hotter names in Hollywood. She is also known as one of the most beautiful women in Hollywood. Her atypical beauty makes her a change of pace from the usual cookie-cutter starlets, and her status as a great beauty is confirmed by her recent selection as spokesperson for Revlon Cosmetics.

Ms. Moore has an oval face, which is normally the ideal, but she also has very strong cheekbones, a wide mouth and a prominent chin that require consideration when looking at hairstyle choices. Her trademark red hair is always lovely, and has to be taken into account because the color will cause whatever haircut style she wears to appear that much bolder.

Ms. Moore's hair is cut into long layers and styled smooth with soft curves to frame her face and minimize her cheeks, mouth and chin. Her silky locks feature highlights and lowlights to add dimension to the warm red color. The soft layers are razor textured to give a maximum of movement, and the overall effect is soft and romantic.

In our illustration we've given Ms. Moore a chin-length blunt cut and curled her normally straight hair. It's a classic look that is attractive, but as you can tell it adds too much width to Ms. Moore's already prominent features and makes her mouth and chin appear much larger than would be preferred. And, as mentioned earlier, the fiery red hair only makes the problem worse.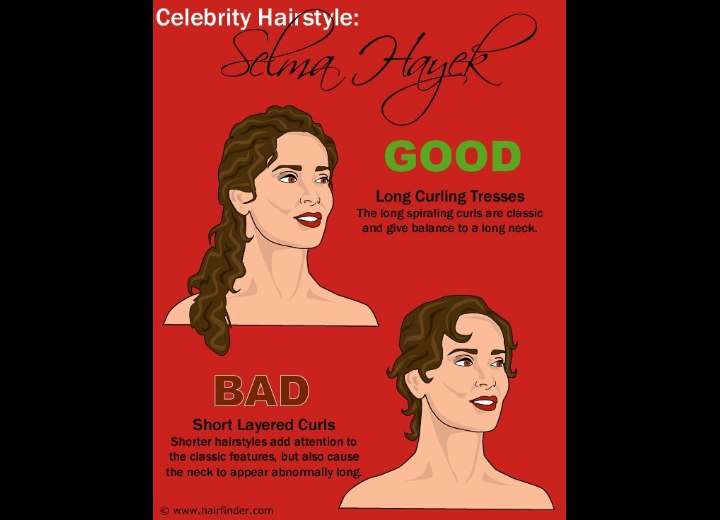 (Click to enlarge)


Selma Hayek:

This beautiful young actress has proven herself capable in comedies (Dogma, Wild Wild West) as well as dramas (Frida). She is considered one of the most dazzling actresses today and is as smart and driven as she is beautiful. The Mexican-born actress has the smoldering sensuality most often associated with Latin women. Her lush, raven-colored hair is only the crowning glory.

Ms. Hayek has a beautifully proportioned face with a near-perfect oval shape. Large liquid eyes and full, lush lips are almost trademarks for this lovely woman. The problem area for Ms. Hayek is a prominent jaw line and a long graceful neck. While such things would not be considered flaws by any stretch of the imagination, they do present challenges for selecting a hairstyle.

Ms. Hayek's long, thick, wavy tresses are cut to a blunt length and simply styled. The top and sides are pulled back from the face and gathered at the nape of the neck to blend with the remaining hair in a curling cascade down the back. The look is completely natural while being classic, soft and romantic.

Our illustration shows the dangers inherent when dealing with a woman who has a long neck and strong jaw. We've given her a shorter layered style, keeping the curl, and find that her neck suddenly appears too long. Even leaving some length at the nape isn't sufficient to prevent making the neck appear disproportionate. I would always recommend at least neck-length hair for Ms. Hayek, and in fact, have never seen her with hair shorter than the top of the shoulders.

There are certainly other celebrities on whom this process could be applied, but I hope you find our demonstration informative as well as enjoyable. There is a lot of value to be found in the ability to identify what makes a hairstyle work. Once you understand why a hairstyle looks good on someone else, you are better able to recognize what would work for you. More importantly, you can better identify what hairstyles to avoid.

Stacy - Hair Stylist ©Hairfinder.com