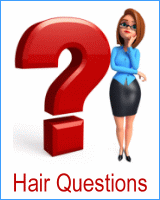 Hair, Beauty & Fashion News
Vivid Haircolor Goes SPLAT

Corona, California, USA - The Developlus Corporation has been in the business of haircolor and hair care products for over a decade and this family-run business has taken advantage of its competitive size to carve out a secure place in some niche markets. In the world of non-traditional hair colors – adored and used by those rebellious souls who want to express themselves in dramatic ways – the available options were often disappointing. The colors were never vivid enough, and would wash out too quickly.

Then along comes SPLAT, an easy-to-use do-it-yourself kit that will give you vibrant, bold colors in non-traditional shades that are long-lasting and most-importantly – affordable. Developlus is introducing its five hottest-selling shades for mass market sale along with a sixth "multi-color pack" which features three new colors. The single color kits come in Lusty Lavender, Luscious Raspberry , Neon Green, Pink Fetish, and Blue Envy with a retail price tag of around $9.99 (U.S. dollars). The multi-color kit sells for $12.99 (U.S. dollars). Developlus offers all sixteen of its SPLAT colors in beauty supply outlets.



Apart from the rich, bold colors, SPLAT's biggest selling point is its lasting color formula. Typical "bold color" products only last through 10-20 shampoos at most, while SPLAT color will last from 4-6 weeks on average. This means that not only does the SPLAT kit cost less, you save money on color maintenance by having to retouch your color less often.

(2009/10/24)


---

Salon International 2009

London, United Kingdom - For three days EXCEL, London was the epicentre of inspiration, product launches, education and motivation for the tens of thousands of hairdressers who attended Salon International.

With over 200 exhibitors, The Hair Show had something for everyone. Show stopping live stages from companies including Wahl UK, The Fellowship for British Hairdressing, BaByliss, Affinage and Keune ensured the audience was entertained and inspired. On stand demonstrations from Toni & Guy, Denman, Rusk, Hair Tools, Farouk and TIGI allowed visitors to get up close and personal in order to see the latest techniques and product developments. This year, HJ's British Hairdressing Awards Gallery, sponsored by Schwarzkopf Professional, was bigger and better than ever with a fabulous stand-alone gallery which showcased two images from each of the nine regional and six specialist categories along with four images from each of the British Hairdresser of the Year Nominees. Four other images from each of the finalists were presented in the Gallery with the remaining four images from the British Hairdresser of the Year Nominees on the HJ stand.

More ...



(click to enlarge)



(2009/10/24)


---
Earlier News