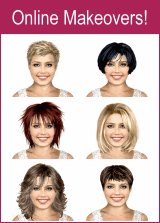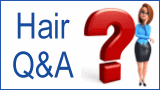 Hair, Beauty & Fashion News
Miss Virgina 2008 Shaves Her Head for Charity

Miss Virginia 2008, Tara Wheeler, shaved her head for charity! The shave took place in Arlington on September 21st 2009 at a St. Baldrick's event.

At the beginning of this year she made a pledge to shave her head in solidarity with children with cancer if she could raise US$ 500,000 to support the fight against pediatric cancer.



(click to view video)


How about following Tara's example? Shaving your head is a great way to show your support for kids undergoing chemotherapy treatment while raising funds for research. Register on www.stbaldricks.org, then post a photo of yourself with hair, send an email to friends and family to solicit donations, and then go to an event where you'll have your head shaved! Be brave and shave!

(2009/09/25)


---

Breast Cancer Cause Finds Help From Business Sources

October is National Breast Cancer Awareness Month . The focus of the designation is to spread awareness and provide education about the disease. Every family has been touched by breast cancer in some way, and the illness is expected to take the lives of 40,610 women and men in 2009, according to the American Cancer Society. However, a number of companies havemade arrangements to help this cause. Below is a list of beauty products that will donate proceeds to breast cancer research:

For those undergoing cancer treatments or for anyone who wants to use all-natural, certified vegan products, there's Pristine Beauty, created by a young breast-cancer survivor. When any product is purchased from ShopPristineBeauty.com or a retail establishment a portion of the proceeds will benefit the Young Survival Coalition® and the Cancer Prevention Coalition. The Horray for Brallywood Butta Skin Renewal & Scar Treatment Cream ($36) repairs and promises to improve the appearance of scars. No Scary Hair ($32) is gentle on fragile hair. Take a Whiff! Deodorant ($22) is aluminum free. The line is free of silicones, sulfates, glycols, parabens, phthalates, artificial dyes and mineral oil.

e.l.f. PINK KISS LIP GLOSS, $1. This Super Glossy SPF 15 formula fights environmental damage while leaving your lips with a healthy glossy glow. The delicious flavor and sweet scent will leave you licking your lips in delight! The perfect on the go tube that is mess proof for anywhere and anytime! 100% of proceeds from e.l.f's gloss in Pink Kiss will benefit the Breast Cancer Research Foundation (available at eyeslipsface.com ) e.l.f. will donate 100% from the purchase of each Bubble Gum Pink Nail Polish and 50% from the purchase of each Pink Mini Makeup Collection ordered in the month of October to The Breast Cancer Research Foundation®. BCRF is dedicated to preventing breast cancer and finding a cure in our lifetime by funding clinical and translational research worldwide. (available at eyeslipsface.com)

PHILOSOPHY has two shower gels perfect for this month. Philosophy is donating 100 percent of the net proceeds to the Women's Cancer Research Fund when you buy their Shower for the Cure, $20. Or you could try She Colors My Day Charity Bubble Bath, $20, 100 percent of the net proceeds go to the Entertainment Industry Foundation's Women's Cancer Research Fund.

AVON BUBBLE BATH, $8.America's #1 selling Bubble Bath leaves skin delicately scented – and now it gives back to the cause of breast cancer. Rich luxurious foaming bubbles refresh the whole body and mild and gentle to the skin. $7.07 from the proceeds benefit the Avon Foundation.

AVON LIP BALM, $1.50. Moisturize for the cause with this SP 15 lip balm that'll leave your lips smooth and healthy. $1.33 from each sale benefits the Avon Foundation.JESSICA NAIL POLISH, $6.50. Jessica Vartoughian, "the first lady of nails," has created the Empowered collection of polish, a set of beautiful, feminine colors that can take you from day to evening with ease. 100% of the proceeds benefit the World Cancer Research Foundation.

PRESCRIPTIVES SUPER LINE PREVENTOR XTREME, $76, AND SUPER LINE PREVENTOR XTREME LIFTING CONCENTRATE, $38. This targeted concentrate gives you a 49% immediate reduction in the appearance of lines and wrinkles and after eight weeks, skin looks more lifted by 58%. Use them both together to help protect and perfect skin and you'll experience an amazing skin transformation. Prescriptives will donate $30,000 to the Breast Cancer Research Foundation.
(note: Stock up on this product during October while it can benefit Breast Cancer Research and also ensure your supply since distribution of Prescriptives will cease January 2010!)

BEAUTY BLENDER, $19.95. The rounded curves of this ultimate makeup tool give makeup application a clean, even finish with no hard or visible edges. The shape also allows access to hard-to-reach areas like under the eyes and the sides of the nose. In October, BeautyBlender will donate 10% of all sales to the National Breast Cancer Foundation.

MÉLANGE SOLID PERFUME, $15. Mélange Perfume will donate 30% of all sales of their portable Pink Solid Perfumes in floral fragrances such as Honeysuckle, Iris, Lilac, Polynesia, Frangipani, Japanese Tea Rose and Melati Jasmine to the National Breast Cancer Foundation, Inc., (Mélange owner, Denise Estrada's grandmother died of breast cancer -- in large part because she did not receive regular screening.) Mélange's Solid Perfumes are a combination of fragrance notes and essential oils formed in a base of natural Beeswax and Jojoba Oil. The result is a perfectly solid perfume that glides onto the skin without feeling sticky. Each note and blend is sheer perfection on its own or can be combined with others to create your own custom fragrance. Available at melangeperfume.com.

BORBA LIP TINT, $14. Borba Lip Tints make you feel good on the inside and out. This soft pink balm, in "Lovely, is infused with soothing Cashmere Fibers, Shea Butter and Borba's clarifying and anti-aging nutraceutical technology, leaving lips soft and smooth. 10% of proceeds benefit the Breast Cancer Research Foundation. Available at www.borba.com.

SHISEIDO LIP GLOSS, $20.50. This Shiseido Lip Gloss in Pretty Pink contains Hydro-Wrap Vitalizing DE for hydration and 3-D Power for natural depth and highlights to color. Slick some on for a pop of color. $5 from ever sale will benefit CEW's Cancer and Careers. Available at www.macys.com and www.sephora.com.SHISEIDO will donate $5 for every unit of Shiseido Makeup Luminizing Satin Eye Color in Peony sold throughout the month of October to CEW'S Cancer and Careers, a non-profit organization dedicated to supporting working women living with cancer ($25 at dillards.com or sephora.com

BOSCIA ROSE BLOTTING LINENS, $10. Let your personality shine, not your skin! Instantly blot away excess oil and perspiration without disturbing your makeup with Boscia Rose Blotting Linens. 10% of proceeds benefit the Dr. Susan Love Research Foundation. Available at www.boscia.netMURAD LIP PROTECTOR, $16.50. Murad Pomegranate Lip Therapy revitalizes and protects dry, dehydrated lips by improving texture to restore suppleness and infusing antioxidants to fight free radicals. 10% of proceeds benefit the Breast Cancer Research Foundation. Available at www.sephora.com.CO BIGELOW CANCER VIXEN KIT, $29.50. C.O. Bigelow has teamed up with Marisa Acocella Marchetto, author of the graphic novel "Cancer Vixen: A True Story" and breast cancer survivor, to create a special edition Cancer Vixen Collection. Acocella Marchetto will give C.O. Bigelow classics a vixen twist with her illustrations. The kit includes the Lemon Cream Body Wash, Lemon Body Cream, Mentha Lip Tint in Pink Mint, Mentha Foot - Tingling Foot Cream, and Dr. Hiosous Quince Hand Lotion. C.O. Bigelow will donate $250,000 to the Breast Cancer Research Foundation. Available at www.bigelowchemists.com.

COR SILVER SOAP, $125. The soap not only cleans with silver, one of the most effective antibacterial agents, it also helps even skin tone, maintain moisture, and replenish collagen. The natural estrogenic properties of these molecules have been known to help rejuvenate the skin and minimize the appearance of wrinkles. Winner of Self Magazine's 2007 Health and Beauty Awards for Best Normal Skin Cleanser and Improper Bostonian's Best of Boston 2007 . 10% of proceeds benefit the Libby Ross Foundation. Available at www.corsilver.com.

DECLEOR TONIFYING LOTION, $36. For skin that feels unbelievably soft and fresh - finish your cleansing routine with this soft pink toner. Infused with lavender and petit grain essential oils, and orange, kiwi, and mallow essential waters, this soothing toner is ideal for all skin types. 15% of proceeds benefit cancerandcareers.org. Available at www.nordstrom.comLA MER CREME DE LA MER, $130. Synonymous with skin care miracles and ultimate luxury, the legendary Creme de la Mer has inspired a devoted following. A special pink box has been created especially for Breast Cancer Awareness month. See what it can do for our skin. La Mer will donate $30,000 to the Breast Cancer Research Foundation. Available at fine department stores and www.lamer.com.ONE WITH NATURE ROSE PETAL SOAP, $3.79. With a 100% vegetable base, aloe, shea butter and actual rose petals, this soap is silky smooth and has a terrific scent. Wonderful for dry or sensitive skin. 10% of proceeds benefit Susan G. Komen for the Cure. Available at www.onewithnature.com.

(2009/10/01)


---
Earlier News