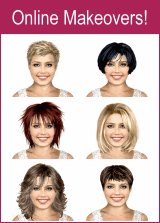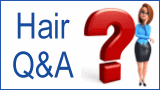 Hair, Beauty & Fashion News
Virtual Makeovers to try Katie Holmes' Haircuts!
Virtual Makeover Software - Katie Holmes surprised everyone last week with her gorgeous new short hairstyle! Will this be the new trend after her trendsetting short bob? Will the "Katie Holmes Crop" soon replace the "Katie Holmes Bob" as buzz word in hair salons?

The back of Katie Holmes' new short crop is tapered and the nape has been left wispy to add some softness. The sides have been left a bit longer to be worn in front of the ears, but can be styled into an "bare ears" look quickly. This is an easy to maintain haircut and only little product is needed for styling. The perfect hairstyle for busy women that still want to look stylish!

This short hairstyle is suitable for oval, oblong and square face shapes. Cutting your hair this short might be a huge step, but the good news is that these days you can try out celebrity hairstyles with virtual makeovers software. Upload your own picture and see what hair styles look good on you.

(2008/08/15)


---
New Book Helps Women Stage A Beauty Comeback
Minneapolis, Minnesota, USA - We all see the stories of the Hollywood celebrities who are reaching "a certain age" and still manage to look "good", yet the average woman lacks the resources to keep her looks the way celebrities can.

Enter Christopher Hopkins. He isn't interested in the way Hollywood stars maintain their youthful beauty. He KNOWS that most women aren't air-brushed, surgically-enhanced, OR personally-trained. He knows that most women live in a little world called "reality". This is why he wrote his new book: Staging Your Comeback: A Complete Beauty Revival for Women Over 45. The book is filled with real-life makeover stories of women who had gained weight, relied on the same dress for 30 years, or continued to relentlessly perm their hair.

In short, the book addresses the fact that many women find themselves settling into a comfortable "rut" when it comes to their look. Hopkins hopes to help women realize when it is time to let go of the habits that no longer serve them well. The book avoids specific, hard and fast rules, and focuses on helping women determine their specific body type, hair type and image profile. The book then offers ideas to help women work within those parameters.

You can read an excerpt from Hopkins' book on his website at www.makeoverguy.com and order the book from Amazon.com

(2008/08/15)


---

Economic Troubles Force Beauty Cutbacks

Boston, Massachusetts, USA - As Americans cope with the increasingly-tough economy some once-staples of minimal luxury are being cast to the sidelines by budget-conscious women. Women all across the U.S. are cutting back on their salon services. According to a survey of salon owners by the National Cosmetology Association, 70 percent of salon owners report that customers are spending less on services. 60 percent have also reported that customers are tipping less.

"To be honest, I don't get facials anymore and I don't whiten my teeth. I just brush them like a madwoman" says one Boston professional. Cosmetic procedures like face lifts are being "down-sized" to cheaper options like Botox and Restylane, and even these cheaper options are being "budgeted". According to the office manager of a Boston cosmetic procedures center, " [Patients] are stretching those out too. They'd come in every four months for Botox, and now it's five. They'll by two syringes for Botox instead of three."

The one area where women seem unwilling to go half-way is their hair color. It seems that many women are swearing that they'll never go gray again, regardless of the budget. In fact, one salon owner has reportedly heard customers saying, "I won't eat, but I'll get my hair done."

The faltering economy also seems to be encouraging some women to stick to as much of their beauty routine as they can manage to afford, for fear of job cuts. Many women seem to feel that the better they look the less likely they are to be selected among the first to go in a job cut.

(2008/08/15)


---

hob salons announced as finalists in the 2008 British Hairdressing Awards

London, United Kingdom - Award-winning hairdressing group hob salons are celebrating as they have two finalists short-listed in two of the most competitive categories at the prestigious British Hairdressing Awards 2008 – Christel Lundqvist for the Schwarzkopf Professional British Colour Technician of the Year and the hob salons' creative team for the Artistic Team of the Year Award, led by British Hairdresser of the Year 2008 nominee, Akin Konizi.


The British Hairdressing Awards, launched in 1984 by Hairdressers Journal International and sponsored by Schwarzkopf Professional, have celebrated and rewarded the best of British hairdressing creativity for the past 24 years and have fast become known as the 'Oscars' of the hairdressing world.

Having entered the British Colour Technician of the Year and Artistic Team of the Year categories, hob salons have secured an incredible three finalist places at the British Hairdressing Awards, with the additional nomination for the ultimate accolade - the 2008 British Hairdresser of the Year title, for which International Creative Director Akin Konizi has been short-listed.

To enter the competition, Christel Lundqvist and the hob salons' creative team had to submit four photographic hair images. Now as one of six regional finalists in two of the most competitive categories, they will have to submit another four images which will be judged by industry experts, members of the British Hairdressing Awards Hall of Fame and journalists from only the most influential, and fashion aware consumer magazines.

"Each year the standard of entries in each category becomes more creative and inspirational," comments Publisher/Editor-in-Chief of Hairdressers Journal International, Jayne Lewis-Orr. "British hairdressing is perceived throughout the world as being the best, and the British Hairdressing Awards recognise and reward creativity and excellence in hairdressing skills. The hob salons' Artistic Team and Christel are both very worthy finalists in their respective categories."

Ecstatic at reaching the finals in her first year of entering the awards, expert colourist and hob salons' creative team member Christel Lundqvist added, "I was absolutely delighted to learn I had made it to the finals both individually for the British Colour Technician of the Year Award and as part of the hob salons' creative team for the Artistic Team of the Year category. Having only joined hob salons earlier this year, I've enjoyed an incredible journey with the company heading up their technical education and being recognised for my colour work in this way is the icing on the cake!"

Both Christel and the hob salons' creative team will have to wait until Monday 24 November 2008, to find out if they will be awarded the title of the Schwarzkopf Professional British Colour Technician of the Year and/or Artistic Team of the Year at the glittering awards ceremony, held at the Grosvenor House Hotel London. Furthermore, the entire hob salons' team will be waiting with baited breath to hear whether the ultimate 2008 British Hairdresser of the Year Award will be presented to hob's International Creative Director, Akin Konizi - which will be announced by a leading media personality hosting the evening.

(2008/08/15)


---
Earlier News