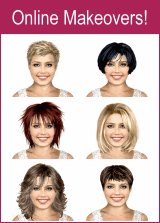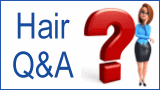 Hair, Beauty & Fashion News
Eva Longoria Loses Her Long Locks for 'Housewives' Role
Hollywood, California, USA – "Desperate Housewives" star, Eva Longoria, has been seen without the long flowing tresses that have been her signature look for the last several years. She's now sporting a snazzy asymmetrical bob, reportedly for her role as Gabrielle Solis. When the season ended last May, "Desperate Housewives" had jumped five years into the future, and Gabby (Longoria's character) had become a disheveled, exhausted mom of two toddlers, and needed a logical change of hairstyle.

According to reports, Longoria's husband Tony Parker did the honors, wielding the scissors and lopping off her long hair. However, not willing to leave everything into her husband's hands, she had celebrity stylist Ken Paves on hand to finish the deed, transforming Longoria's husband-shorn hair into a perky new bob with lots of bounce. Longoria has been quoted as saying: "Tony cut my hair. Ken fixed it. He set it up for Tony and said, 'You do the first cut. I don't want her to be mad if she hates it'."

Longoria's new short hair is flattering for the star. Her oval face makes her suited to wear virtually any style but the soft layering and razor texture at the bottom portion of the style serve to beautifully frame the actress' face while the base length and fringe layers draw attention to her smoldering eyes and cupid's bow mouth. It's a look that suits her.

The normally lean-and-mean actress has also reportedly been enjoying some dietary freedom. She's been quoted as saying that she's gaining weight for her role as well, since her character now is supposed to sport a larger frame. The actress says that she's enjoyed being able to let loose and enjoy some of her favorite foods with less inhibition.

(2008/07/26)


---

Good-for-the-Earth Hair Care Products Inspired by a Star

Los Angeles, California, USA - What happens when one of Hollywood's hottest stylists and one of Hollywood's hottest leading ladies – both of whom share a passion for conservation – decide to team up and use their powers for good? The answer is that you get a line of hair care products that are cruelty-free, environmentally sound and which benefit a global wildlife conservation organization. The stars in question are Kate Hudson and stylist David Babaii, and the organization that receives the benefit of their efforts is WildAid.


According to reports, Hudson and Babaii have collaborated on the line of cruelty-free, good-for-the-Earth hair-care products for more than two years. Hudson has served as muse and lab assistant. In fact, Hudson endured the role of lab rat as well, as it was that the products (made of volcanic ash, blue algae and white ginger) were tested only on her head. According to Babaii, "Kate epitomizes the modern woman, not only with her unique personal style, but her commitment to global concerns. She's a dream client and the perfect partner in this project."

And the admiration, it seems, is mutual. "I've been asked to do a lot of campaigns in the past and this feels like the perfect fit for me. David is the best at what he does and he's put so much of himself into the development of this line." says Hudson, "And the fact that we can do it in an ecologically responsible and animal-friendly manner that can help preserve wildlife is what makes this truly special."

The product line, called 'David Babaii for WildAid' is paraben-free and packaged in containers made with 10-percent recycled plastics. The company donates 10 percent of the profits to the WildAid conservancy group. FHI Heat, a leading innovator in professional styling tools is also a partner and supporter in the venture. For information on release dates and locations from which to purchase these products, please visit www.db4wildaid.com.

(2008/07/26)


---

New Line of Hair Jewelry Unites Style and Technology

Atlanta, Georgia, USA - Goody Luxe ™ is the newest line of hair jewelry that is being offered through Newell Rubbermaid Corporation. The purpose of the line is to address the needs of consumers that have previously been unavailable in this type of market.


The Good Luxe ™ collection of hair jewelry use technological innovations that they call the StayPut Hold ™ to help hold the hair securely no matter what environment you are in.

The collection includes fashionable, high quality headbands, barrettes, fashion combs, and ponytail holders. There are four styles available, Deco, Starburst, Vine, and Antique. The designs range from modern to classic and are made to match any woman's fashionable desires. The hair jewelry is available at mass market retailers in the United States as well as food and drug stores. The prices of the pieces range from $2.99 to $6.99. The collection will expand to Europe later in the year.

(2008/07/26)


---

Beauty Master™ Clipper Now Available from Andis Company

Sturtevant, Wisconsin, USA - Powerful New Clipper Has 40% More Power for All Around Styling.


The new Beauty Master ™ clippers that are offered by Andis Company offer 40% more power than other clippers of this type. The high speed magnetic motor allows the clippers to handle over 14,000 cutting strokes per minute. This is the best clipper available on the market for all around styling techniques. Tapering and texturing are made simple when you use these clippers.

The Beauty Master ™ is extremely quiet and quite durable. The clipper level is adjustable and can do cuts ranging from fine to coarse, from 000 to 1.

The motor is very powerful and can handle any type of cutting. If you are a stylist that wants a clipper that is durable and hardworking and will be reliable day after day, this is what you have been looking for.

Andis Company has been around since 1922 and has been designing handheld trimmers since then.

(2008/07/26)


---
Earlier News