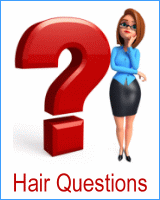 Hair, Beauty & Fashion News
Hair & Beauty - Frankfurt am Main 12 - 14 May 2007

Successful hairdressers from all over the world will present the latest trends in hairdressing trade at Hair & Beauty 2007, the industry's leading international trade fair in Frankfurt a.M.

Hair & Beauty offers trade visitors the successful mixture:

• informative, trendsetting and forward-looking
• meeting place for the industry
• the only national trade fair of the industry
• platform for networking

Which companies will be exhibiting at Messe Frankfurt's Hair & Beauty premiere from 12 to 14 May 2007? Gradually the secret of who will be taking part is coming out. Practically all the brand name suppliers who, with their stands, shows and seminars, give the event its sparkle, glamour, creativity and know-how, have already confirmed their participation. Goldwell, KMS California, Paul Mitchell, Schwarzkopf and Wella head up the list of companies and brands already registered to take part.


In November, six months ahead of the event, the list of other companies already registered to exhibit at Hair & Beauty, Germany's biggest pan-regional industry get-together, features Alterna Professional Haircare from the Netherlands; extensions specialists Bergmann and Great Lengths; wholesalers Efalock and Uschi, KMS Friseurbedarf, Fripac-Medis, GS Friseurversand and Robert Gieseke; professional tools suppliers, Jaguar Stahlwarenfabrik, Kai Europe and Miele; salon fitters Olymp, Pietranera from Italy and Welonda, plus cosmetics experts CNC. What is also certain is that all the major trade publications will be exhibiting to their readers at Hair & Beauty. "Our foreign representatives, particularly from Germany's neighbours, plus Spain and Italy, are reporting significant interest in Hair & Beauty from the hair cosmetics industry in their respective countries", said Eva Olbrich, Director. Messe Frankfurt is expecting around 400 exhibitors from Germany and Europe to take part in the event from 13 and 14 May 2007. A gala evening will form the prelude to the meeting point in Frankfurt on the evening of Saturday, 12 May.

(Photo credit: Messe Frankfurt Exhibition GmbH / Pietro Sutera)


---
Sidlab Haircouture Launches New Product Line March 1, 2007
When it comes to fashionable hair products that do not contain harmful ingredients, Sidlab Haircouture is leading the way. Due to the ingredient paraben, that is common in most beauty products, being linked to breast cancer, Sidlab Haircouture has created a line of products that are completely free of both sodium laureth sulfate and paraben.

Sodium laureth sulfate is commonly used as a foaming agent in hair care products. This ingredient has been replaces with a coconut based ingredient that is safer to use on colored hair.

Each of the new products available has a pink ribbon on the package to show the companies support for breast cancer patients.

This revolutionary line of color safe and health conscious products was created by Eric Alan Nelson, the founder/stylist of Sidlab Haircouture, and James Humphreys, a world renowned chemist.

The product line consists of a Chic Styling spray, ultra care shampoo, and ultra care conditioner. The products can be found at accredited salons around the world.


---

Reds Hair & Beauty - 2007 Spring Summer Hairstyles

Sexy, Provocative, Beautifully finished hair with subtle colour is the look for Spring Summer. Wave & Curl sit alongside Shiny Glossy 50's inspired Bobs will be the major influence in 2007.


---

Cosmobelleza - Barcelona 10th, 11th & 12th March 2007

Mediterranean is its inspiration and Cosmobelleza has become the professional trade show of South Europe. It is also, the top platform which directs its efforts towards the Mediterranean market, and sees it as a source of great professional and business related prospects.

Cosmobelleza 2007 will be hosting the top brands of the beauty, aesthetics and wellness sectors worldwide and will be once more the most avant-garde meeting of the continent and an essential exchange point.

Barcelona, creative and economic country town of the Mediterranean, will be host the XII edition of Cosmobelleza.

Cosmobelleza 2006 pictures:


---
Try Hairstyles