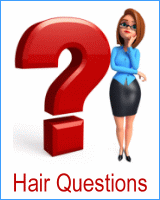 Hair, Beauty & Fashion News
Aveda Autumn/Winter 2006/2007 Collection

Antoinette Beenders for Aveda: Retro Active
Layers float, flow, fall into infinitely shiftable shapes. Sexy, flexy forms move, making halos of highlights glint and pop in the urban daylight while celestially sheer shades on skin fashion a retro-chic city of angels.


---
Hair Style 07 - 11 & 12 February 2007 in Kortrijk XPO - Belgium
Preparations for HAIR STYLE 07 are in full swing. This 7th edition of the top Benelux event for hair stylists will be held in Kortrijk Xpo, Belgium, on Sunday 11 & Monday 12 February 2007.
This year, HAIR STYLE will be taking over the entire Kortrijk Xpo complex, and looks set to be the hairdressing sector's heaven! No less than 170 exhibitors will be displaying the latest hairstyling trends, presenting a packed programme of demonstrations and showcasing their latest products, tools and salon fittings in stylish stand presentations.


Fourteen Look & Learn sessions will focus in detail on a whole range of hairstyling techniques. And then you can view the total look trends at the new Total Look Forum, and of course they will again be staging 3 shows full of new ideas every day, in which top stylists will present the very latest spring and summer styles in a spectacular, large show theatre.





---
Mario Cantone and Celebrity Guests Celebrate the Official
"Coming Out" of Sunsilk™ at a Star-Studded New York Launch Party
Sunsilk, one of the world's biggest hair care brands, "came out" with a bang last night at a star-studded party at New York City's hot spot, The Plumm. Hosted by "Sex and the City's" Mario Cantone, the event celebrated the launch of Sunsilk's new Collections featuring shampoos, conditioners and 24/7 Cremes. The party was also the official coming out party for the three Sunsilk Hairapy Guys - Ethan Mechare, Robbie Laughlin, Micah McCain - who gave Hairapy (where hair meets therapy) to party-goers all night long. DJ Paul Sevigny kept the tunes spinning as hipsters from NYC's social scene danced the night away.

Guests included:

Jamie Lynn Sigler - HBO's Sopranos
Brooke Burns - Pepper Dennis
Haylie Duff - Broadway's Hairspray and upcoming movie Material Girls with sister, Hillary

Lauren Conrad (with boyfriend, Jason Wahler) - MTV's The Hills
Damon Dash - Rocawear founder and music executive
Callie Thorne - Rescue Me
Michelle Ray Smith – Guiding Light
Chloe Doa - Winner of Heidi Klum's Project Runway
Kat Mac – Model, currently dating Axl Rose
Lydia Hearst – Model
Nadia Dajani – Victoria's Secret Model
Linda V – Victoria's Secret Model
Cameron Douglas – Actor and DJ (Son of Michael Douglas)
Alice Roi – Fashion Designer
Anne Dexter Jones - wife of Foreigner's Mick Jones


---

Spotlights on Hair at Cosmoprof 2006

Like every year, the last two days at Cosmoprof were a star showcase for the latest trends in hair styling, a sector that has experienced a enormous boom in recent year. This year hairstyling occupied 2,500 square metres of display space, more than it had in the previous edition.

The stands hosting all the world's leading names in professional products for hairdressers were a ceaseless sequence of demonstrations, as stylists displayed their interpretations of this year's spring and summer fashions for hair. While videos and music created a spectacular setting of glamorous events for showcasing the creations of these hair artists, they also constituted a crucial opportunity for the audience of professional hairstylists who flocked to the beauty event in great numbers on these two days to acquire continuous professional development and also inspiration.
Although fashion shows are the main source of ideas for hair artists, they also keep an alert eye on trends in architecture, product design, music and movies when they develop their creations, as well as closely monitoring what happens in city streets.

As for the cuts, the eighties are back, duly reviewed and updated, with volumes that are small and defined, yet never flat. Medium lengths are the ones that enable hairstyles to be developed better, as longer locks interfere with shorter ones, creating an effect of movement.
Another very strong feature that stays with us this year is the fringe, short and irregular or diagonal, though those with strong facial features are advised to avoid them. Having said that much, though, recent market studies have indicated that women these days are less prepared than they used to be to revolutionise their look with excessively radical cuts, although they are not afraid of quite audacious changes in hair color.



---
Hairstyler