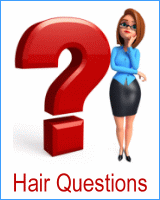 Kid's Hair
Your Child and the Hairdresser
Some parents experience a lot of drama and also the stylist has to prove his expertise while a lot of his patience is required at the same time. It is just a fact, most young children simply can not sit still for about half an hour while their hairs are being cut. They just do not have that patience yet, they need action and want to move and look around. Learn more ...



Babies Hair
Babies' hair is fascinating. When a baby 'pops out' into the world one of the first things ecstatic, proud and often slightly overwhelmed parents do is check what kind of hair their bundle of joy has. What color is his hair? Does she have much hair? Are the questions eagerly anticipating family and friends excitedly ask. Learn more ...



Girls Will Be Girls
For those girls who do not want to cut their locks, there are a lot of cute styles for long hair. Let's start with the cut. This is kind of all over the page; straight, layered, bangs, no bangs, really long, medium, etc. For very thin hair layering the hair can help to give the appearance of a thicker mane. Girls with thick straight hair look great with a blunt cut. Learn more ...

Adopt a 'Do - Cute Girls Hairstyles
Step-by-step instructions for cute girls hairstyles.

Princess Hairstyles
Girl's hairstyle ideas for special occasions, sports, dance, recitals, gymnastics, cheerleading, church, school, parties, holidays, ballet and figure skating.

The Wright Hair
Amber shares her thoughts and ideas for styling the hair of girls with easy to style and with unmanageable hair.

Previous Page